A gallery of diatoms depicted on postage stamps
Based on the list compiled and reported by Mark B Edlund

compiled by David Walker, UK (March 2013)
Updated March 2016 with three more stamps issued since 2013.
The stamps depicting a microscope or closely related theme have been progressively catalogued by a number of workers and 480 stamps had been identified to 1996 by William Heathwood (1-2); the last published list I believe was in 2006 (3). If the list was to include all microscopic subjects depicted on stamps, the number could be considerably larger. Like other enthusiasts of this type of thematic or topical stamp collecting, I like to seek out smaller subsets of microscopy / microscopic life stamps as they are eminently more cost effective to collect—both in time and money!
Over this last winter I wondered how many diatoms had to date been represented on stamps and an Internet search revealed valuable resources. A paper in 1989 by Wynne and Taylor entitled 'A Report on Philatelic Phycology' illustrated an attractive selection of algae shown on stamps and this included a diatom stamp from their collections (4). Two attractive individual stamps have also been illustrated in 2007 and 2009 issues of the 'Amateur Diatomist' (5,6). Later in 2009 Mark B Edlund presented a poster entitled 'Diatoms in Philately: Postage Stamps Depicting Diatoms' and the text of this is available online (7). His careful research identified 13 stamps in this category up to 2009 and he has since found stamps or related material to bring the total up to ca. 18 (8). Benefiting from Mark's invaluable research (who notes his own interest was inspired by Mike Wynne's earlier article (8)) it was therefore a much easier task seeking out my own examples of these stamps.
My favourite stamp source nowadays is the website www.delcampe.net which has a vast section offering thematic stamps by many different dealers (both fixed price and on auction), the prices are often markedly lower than the eBay equivalents. Bar a couple of stamps, all the diatom thematics were found on this site, many for barely a Euro or so. There is an option for many of these stamps to just buy the stamp of interest, but a number form part of larger sets which often included other attractive plankton; I sometimes bought this type of set if reasonably priced.
The gallery below presents all currently reported stamps depicting diatoms. To supplement the gallery a checklist of the stamps will be included at a later date.
Seeking out existing catalogued stamps is usually straightforward, the interesting challenge is seeking out any unreported examples or latest issues as dealers won't be aware of diatoms as a thematic keyword unless stated on a stamp.
The first six stamps shown below have a common theme of illustrating either the biomass / food chain of a whale and/or krill and each show one or more diatom types. The 1963 South Georgia stamp is the oldest reported to date showing diatoms (7); although diatoms form a small feature of this stamp they are crisply presented and depict recognisable genera. Chaetoceras sp. and Corethron criophilum are two diatoms that feature; some stamps also include algae and dinoflagellates. The diatoms shown in the first two stamps are low key but crisply shown (vertically presented just to the right of 'Terres').
The four stamps below all have diatoms as the dominant subject of the stamp, either a single species or more. These are my favourites, particularly the first from Macedonia issued in 2010. This stamp provides not only the full species name but also the authority, "Surirella spiralis Kützing"—impressively thorough! The distinctive diatom Corethron criophilum seen in outline on some stamps shown earlier, features in more detail as a single species on a British Antarctic Territory stamp. It's also good to see that contrast enhancement techniques are made use of, with darkfield for the Monaco and Republique Togolaise stamps and what may be phase for the Portuguese stamp labelled Tabellaria sp..
Unsurprisingly, a number of stamps depicting diatoms are associated with stamps featuring oceanography and these are shown below. Some are also associated with anniversaries. Port Erin is a marine laboratory on the Isle of Man; Monaco has a world famous oceanographic museum. Many of the stamps shown in this gallery form parts of larger sets, often much larger, but it's not practical to show them here. Sometimes the other stamps in a series are designed to work as a whole and the British Antarctic Territory foursome is shown as an attractive example. The themes cleverly progress across the stamps from satellites, to ship and to lower depths to illustrate aspects of oceanography.
The British Antarctic Territory stamps celebrate the 20th anniversary of the CCAMLR, The Commission for the Conservation of Antarctic Marine Living Resources.
© Stamp Design Royal Mail Group Ltd (1992).
The three stamps below are an attractive set on 'The Ocean Environment' issued by Tonga in 1997. As with a few of the stamps above they may be designed directly from photomicrographs.
Niuafo'ou is one of the islands in the kingdom of Tonga. Three of the stamps in a set of four show plankton that includes recognisable diatoms.

Darkfield imagery is again used to good effect.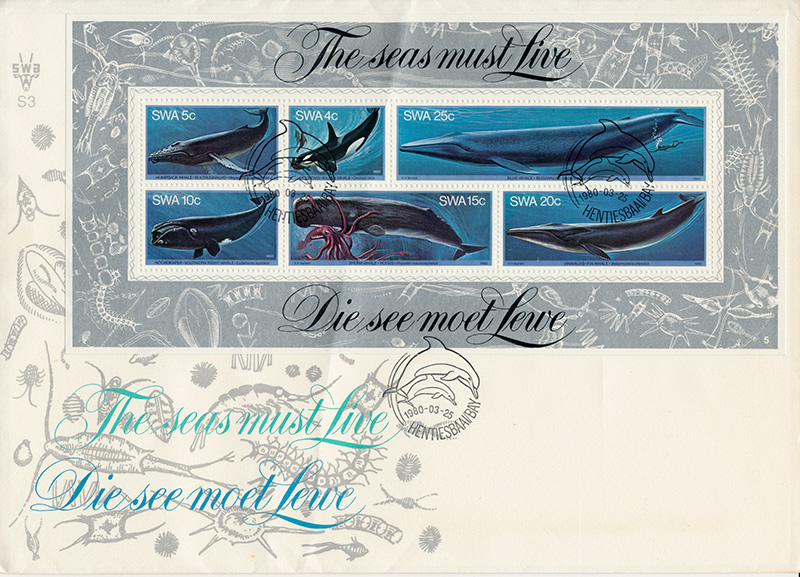 This first day cover does not show diatoms on the stamps but there are a number of recognisable genera on both the
adhesive stamp sheet and on the envelope itself.

Update March 2016. Thank you to Mark B. Edlund who kindly notified me of three recent stamps showing diatoms. These have been added below.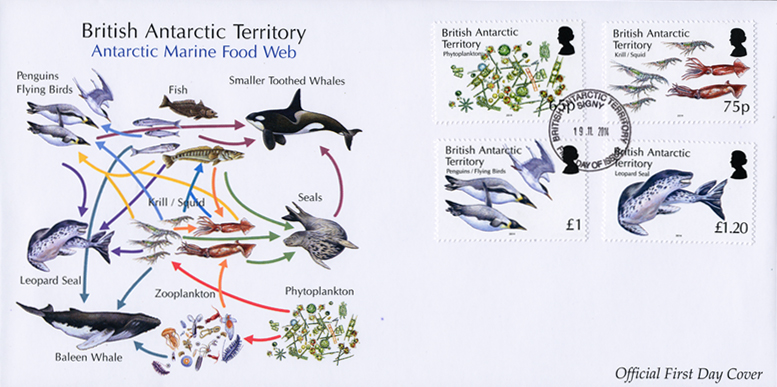 An attractive set of stamps showing the 'Antarctic Marine Food Web' where one of the stamps depicts a range of phytoplankton including diatoms. A set of four attached stamps also shows the image on the envelope including the red arrows. © Stamp Design Royal Mail Group Ltd (2014).

Left to right:
Germany 2015, one of two in the 'Microwelten' series, an attractive postmark depicting a diatom accompanies this example.
Territory of the French Southern and Antarctic Lands 2016 (design credited to S. Beaujard). The diatoms have slightly raised inking, providing a 3D impression to each example.
British Antarctic Territory 2014, one of four in the 'Antarctic Marine Food Web' series. Detail of the phytoplankton stamp shown on the first day cover above. © Stamp Design Royal Mail Group Ltd (2014).
It's interesting to study how different stamp designers approach the presentation of a narrow topic. I have a great admiration for the designers' skills—in the limited space of a stamp, they create both striking and informative designs.
There could well be more stamps issued in the future on this theme or already issued examples but not documented. The stamps above show clear trends on what countries / territories are more likely to issue these type of stamps and/or the subject themes that may use diatoms in the design. For me, seeking out elusive stamps on very narrow thematics is largely part of the fun.
Comments to the author are welcomed.
Acknowledgements
To compile my own set of stamps, I am deeply indebted to Mark Edlund for his work summarised in his poster and also for personal communications where he generously shares his recent finds. He also kindly provided a copy of ref. 3.
Thank you also to Mark Wynne who has presented a very attractive colour poster of 'Postage Stamps Depicting Algae' which the author kindly provided a copy of in pdf format.
I also received a delightful series of letters during correspondence with William Heathwood (ref. 2) in 1997 who generously shared his knowledge and enthusiasm on thematic stamp collecting and other shared microscopy related interests.
Footnote: The facsimiles of the stamps have been used under the US 'Fair Use' of copyrighted material guidelines for an educational article in Micscape, a not for profit free e-Zine which is hosted in the US. The copyrights of the stamps are retained by the original holders. Right clicking to save an image offline has been disabled.
Note added February 22nd 2015. Since writing this article, the server has moved from the USA to the UK. 'Citing the US 'Fair Use' policy for third party image use (widely used e.g. by Wikipedia) is thus no longer valid where it was not possible to either find and/or contact the copyright holders of the images. The article has been retained as an educational resource on this not-for-profit website. If a copyright holder wishes to contact the author, please use the email above. Thank you.
References
1) 'Microscopes and Postage Stamps' by William P. Wergin, Proceedings of the Royal Microscopical Society, 1990, volume 25, pages 115-121, 212-214, 249-253, 324-327,416-422. A series of definitive articles and coloured plates. Also see for references to earlier work by Delly and others. The last set of pages is a list of stamps depicting microscopes up to August 1990. The list includes the country, date of issue and the Scott catalogue number. Also provides references to articles published prior to 1990 on similar topics.
2) 'Microscopes on Stamps: A Checklist to 1996' by W Heathwood. Quekett Journal of Microscopy, 1997, 38(1), pp37-47. This invaluable list provides the SG catalogue number, the face value, year of issue and a brief description of the stamp. Useful guidelines on starting a collection are also provided in the accompanying article.
3) The American Topical Association published a 12 page checklist for 'Microscopes' on stamps dated 2006 but this is only available to members.
4) M J Wynne and W R Taylor, 'A Report on Philatelic Phycology', Phycologia, 1989, vol. 28 (issue 3, September), pp.395-396. Mark Wynne has also presented a very attractive poster which the author kindly provided a copy of in pdf format.
5) Amateur Diatomist, 'Diatom Philately', July 2007, vol. 4, part II, p.24.
6) Amateur Diatomist, 'Another Stamp', January 2009, vol. 4, part III, p.43.
7) Mark B Edlund, North American Diatom Symposium 2009, Poster entitled 'Diatoms in Philately: Postage Stamps Depicting Diatoms'.
8) Mark B Edlund, personal communication.
---
© Microscopy UK or their contributors.
Published in the March 2013 edition of Micscape.
Please report any Web problems or offer general comments to the Micscape Editor .
Micscape is the on-line monthly magazine of the Microscopy UK web site at Microscopy-UK
---
© Onview.net Ltd, Microscopy-UK, and all contributors 1995 onwards. All rights reserved.
Main site is at www.microscopy-uk.org.uk.