Beatrix Potter - advanced amateur microscopist.

compiled by David Walker, UK


Less well known microscopists: An occasional series on Micscape.
A short introductory note is offered with a selection of primary and secondary sources.

Right: "Beatrix Potter (Mrs Heelis) by Charles G.Y. King.
Vintage snapshot print, May 1913, NPG P1825.
© National Portrait Gallery, London."
Helen Beatrix Potter (1866 - 1943) became widely known for her series of children's books which were illustrated with captivating drawings of her story characters such as Peter Rabbit. The books are still in print with the original publisher Frederick Warne (now a division of Penguin Books) and have been translated into many different languages.
Perhaps less well known is that before she started publishing the stories, she produced high quality drawings and paintings from nature that included studies using a microscope. She also carried out original research on both mycology and lichenology which would have involved preparing microslides and studies under the microscope up to high magnification. As a microscopy enthusiast, this particular aspect of her work was fascinating, and a selection of resources that I have found useful in learning about these studies in the wider context of her life and work are offered below.
The most useful resources seen to date to learn of her studies potentially involving a microscope was the biography by Linda Lear, John Clegg's booklet, Potter's own journal painstakingly decoded by Leslie Linder and the multi-author 'A Victorian Naturalist'.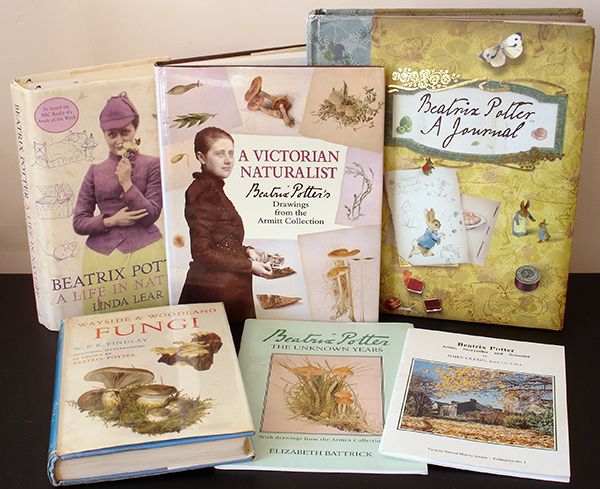 A variety of resources which I've found useful and mentioned below. The booklet bottom right,
whose title can't be distinguished, is by John Clegg.
What is known of her microscopes and techniques?
Linda Lear in her extensive biography 'A Life in Nature' of Potter mentions Potter's microscopes and microscopical work quite frequently. When Beatrix's brother Bertram went away to boarding school in 1887, now aged 21, she was able to use his 'old microscope'. Lear notes (p. 71) that its magnification was 'probably no higher than 200 X'. By 1896 Lear notes (p. 112) that Potter had a 'new Beck's microscope with 600 X magnification' which she was using for her spore germination studies.
An entry in Potter's own journal for November 20th 1896 (aged 30) notes that she had a 'misfortune' with her 1/6th inch lens for a compound microscope which fell off a table. On the 30th she notes that she went to 'Becks in Cornhill', London and 'got a splendid 1/8 [inch] lens'. If for an older 10 inch tube microscope, the 1/6th and 1/8th inch objective would have a primary magnification of ca. 60X and 80X respectively or ca. 38X and 50X on a 160 mm tube. The delivery books for the famous firm R & J Beck are available and have been carefully compiled and published by Brian Bracegirdle and Steven Gill in their 'Archive CD' series (available from Savona Books). These are very useful for dating stands, but the books provide details of shipping from the factory to Cornhill rather than sales records at the latter shop, where if extant, perhaps a record of Potter's visits may have been invoiced.
Beatrix Potter's known mentors included Charles McIntosh who was the postman during her early holidays in Perthshire, Scotland with her parents. A very experienced naturalist, he is regarded as her main mentor on the fungi to help bring her studies and illustrations up to a high scientific standard. He used a microscope and the biography of him 'A Perthshire Naturalist : Charles MacIntosh of Inver' by Henry Coates 1923 has a frontispiece which shows a photograph of him with a microscope.
Beatrix's uncle Sir Henry (Harry) Enfield Roscoe FRS (Wikipedia entry) was a well known chemist and is also known to have advised Beatrix with laboratory techniques (as well as providing much advice and support in having her paper presented at the Linnean Society). The cool reception which she received from some scientific staff members at London institutions when seeking their help and observations on her research work is well discussed in a number of the resources listed below.
Above. Four models made by Beck ca. 1898. Left to right. Pathological, Large 'Continental Model', National binocular, Star as shown in Jabez Hogg's 'The Microscope', fifteenth edition. Beatrix Potter may have owned one of these stands or an earlier model. Work with a 1/6th or 1/8th objective would require a well corrected condenser for optimum results, so an intermediate to advanced model such as the first two may have been likely.
Possibilities for future research?
Many aspects of her scientific studies have been studied and reported, notably on mycology and lichenology where she is particularly noted for her work on spore germination of fungi, including a paper being presented on her behalf at the Linnean Society. However, there does seem to be aspects of her work that to date I have found no material on and listed below, which if literature is lacking (any sources on topics below welcomed), could be a potential area of study for the person prepared to visit the locations of the primary resources and liaise with staff.
- Does Beatrix Potter's one or more microscope(s) still exist (i.e. Bertram's microscope and her Beck)?

- What were her techniques for lower power studies and to create illustrations such as butterfly wing scales in situ. Did this involve a hand lens, low power microscope or low power objectives on a compound microscope? Examples of these colour illustrations can be seen on the Victoria and Albert Museum's website 'Beauty in the Detail, Beatrix Potter'.

- What can be gleaned of her techniques for e.g. spore germination and their studies under a higher power microscope? John Clegg in his booklet referenced below makes a suggestion on this aspect.

- Has her microscopical artwork not related to mycology / lichenology been catalogued and assessed (the Armitt Museum website notes that they have '140 microscopic drawings') and what do they reveal of her wider microscopical interests and techniques?

- Do any of her microscope slide preparations still exist? If any are extant, what can be learnt from them regards preparation techniques and her skills as a preparer of permanent slides? Possible locations of remaining slides could include the Armitt Museum, the Victorian and Albert Museum, the Linnean Society, Natural History Museum, Kew Gardens, Royal Botanic Garden Edinburgh - the latter if any slides passed between her and her mentor, the Perthshire naturalist Charles McIntosh.

A tantalising image of the Beatrix Potter room exhibition on the Armitt Museum website shows part of a microscope displayed near the back wall. The high positioning on the stand of what looks like both a side operating coarse and fine focus may suggest a later design than Potter's late 19th century microscope. An arranged visit and permission to inspect the microscope displayed or any other equipment maybe of value to a researcher.
Web resources (or web versions of paper based resources)
Armitt Museum This museum is in Ambleside at the heart of the English Lake District where she lived and worked for much of her life. It holds many of her original artworks including a folio of '140 microscopic drawings' requiring a microscope. Holds exhibitions on aspects of her life and work.
Victoria and Albert Museum Beatrix Potter collections Holds a wide variety of her work.
The Beatrix Potter Society. The timeline is very valuable to put her earlier studies in natural history in the wider context of her life. Mentions when she gained access to her brother Bertram's microscope and when her microscopic drawings were created.
'Beatrix Potter, scientist', by Manasee Wagh, online article in 'The Scientist', April 6, 2007 with web links. The sub-title reads 'The acclaimed children's book author also was an ahead-of-her-time botanist'.
'Helen Beatrix Potter' by Roy Watling, The Linnean Newsletter and Proceedings of the Linnean Society of London, 2000, January, 16(1), 24-31. (Link is to full access pdf.) Discusses many aspects of her mycology and lichenology studies and the paper presented on her behalf at the Linnean (women weren't allowed as members at the time) in 1897 when Potter was aged 30. The same newsletter has an essay on her geological studies.
Australian National Herbarium. Case Studies: Beatrix Potter by Heino Lepp. A valuable essay surveying Potter's mycology and lichenology studies in the wider context of the scientific understanding of the topics at the time. Cites the Lear biography (below) as the major source.
'The Secret Life of Beatrix Potter' by Naomi Fitzpatrick, 'Natural History' (The Journal of the American Museum of Natural History), vol. LXXXI no. 8, October 1972, 38-41 and 88-97. Link is to www.archive.org copy of journal, others formats can be downloaded.
The subtitle to the author's article is succint: 'When England's chauvinistic male scientists ignored the shy naturalist, she turned to a new career... and delighted generations of children'. Illustrated in colour with a selection of her fungi drawings (with the limitations of publication printing at the time and the compressed online file).
Books, including examples of her natural history illustrations and artwork
(For books, links in the titles are to Amazon UK as an example source; unsourced quoted prices are for used examples from Amazon Marketplace sellers.)
'The Journal of Beatrix Potter from 1891 - 1897. Translated from her code writings by Leslie Linder' Published by F. Warne, third reprint 1966. Used from £7. Kindle edition £6.64 for download. After painstaking work Leslie Linder successfully decoded her journal, an article in the back describes this work. This journal offers a first person insight into her studies and thought processes. The Kindle version is useful for keyword searches, e.g. microscope, lens etc.
'Beatrix Potter, Naturalist and Mycologist and Charles McIntosh, the 'Perthshire Naturalist' by Mary Noble, Notes of the Royal Botanic Garden Edinburgh, 1987, 44(3), 607-627. (Link is to full free access.) Publishes in full the surviving letters known to date between Beatrix Potter and Charles McIntosh.
'Beatrix Potter. A Life in Nature' by Linda Lear, publishers Allen Lane, 2007, 584 pages, illustrated with many monochrome and colour plates.
Prices from £0.01 for the hardback. This extensive, heavily referenced and annotated biography was the most useful source for me. It is widely cited by others and led to some of the other references listed in this present article. Despite its depth it is an engaging read. Some early chapters are devoted to her studies prior to establishing herself as a published children's writer.
'Beatrix Potter. Artist, Storyteller and Scientist' by John Clegg, Torquay Natural History Society, Publication No. 3, 1989. 'The substance of a lecture given to the Torquay Natural History Society on 14th October 1987', 22 pages with illustrations. Occasionally available e.g. from Abe Books from $6.
A concise but valuable overview of her studies. He remarks that the hanging drop slide method may have been used for her spore germination studies. The late author will be very familiar to most British microscopy enthusiasts. He wrote some classic works on identifying pond life, including the first book I was able to afford as a teenager on the subject - see the Micscape tribute 'A Little Gem: The Observer's Book of Pond Life'.
'Beatrix Potter. The Unknown Years' by Elizabeth Battrick, Armitt Library and Museum Centre, 1999. The preface notes that it was 'A companion booklet to 'Beatrix Potter at the Armitt', an exhibition shown at the Armitt during the autumn of 1999'.
Available from the Armitt Museum online shop at £3, 32 pages with very high quality colour and monochrome illustrations.
'Beatrix Potter. A Journal', published by Penguin Books 2006, 32 card pages in full colour with attached resources such as letter, maps, proofs of her illustrations etc and a separate facsimile of her privately published book 'Peter Rabbit' hidden in back cover. Price from £5. I bought this accidentally thinking it was the Linder decoding of Potter's Journal above. Intended for ages 6+ it is a delight for the young and young at heart, with interesting resources for all ages.
'A Victorian Naturalist. Beatrix Potter's Drawings from the Armitt Collection' by Eileen Jay, Mary Noble, Anne Stevenson Hobbs. Published by F. Warne 1992, 191 pages. Five heavily illustrated essays with very high quality reproductions of a wide variety of Beatrix Potter's work including some work requiring a microscope. A more expensive book. Prices from £20 or $30 (Abe Books).
Chapters include 'Beatrix Potter's Scientific Art' by Anne Stevenson Hobbs which include a full page reproduction of two of Potter's paintings of butterfly wings and scale detail.
The essay 'Beatrix Potter and Charles McIntosh, Naturalists' is by the late Dr. Mary Noble who did much to bring Potter's mycology studies to a wider audience. In Dr. Noble's obituary in 'The Scotsman' 2002 there's the remark,
'She reinstated Beatrix Potter in the public domain as a mycologist as well as a popular but at the time rather out of fashion writer of children's books, and showed that she was an accurate observer, a competent illustrator and an able scientific thinker.'
'Wayside and Woodland Fungi' by W P K Findlay, publishers Frederick Warne, 1967. A high proportion of the colour illustrations of fungi (59) selected for the book are by Beatrix Potter. The author notes in Chapter 3 'The Role of the Amateur in Mycology' that it was seeing Potter's work that inspired him to write it. Includes extensive introduction and guide to their ecology, identification and other aspects. Widely available from British secondhand book dealers e.g. via Abe and forms part of the publisher's classic 'Wayside and Woodland' series.
Comments to the compiler David Walker are welcomed.
Acknowledgements:
Thank you to Armitt Museum staff for answering an email query on Beatrix Potter's microscope(s).

Any errors in the article are solely that of the compiler, David Walker.
---

© Microscopy UK or their contributors.

Published in the March 2015 edition of Micscape.

Please report any Web problems or offer general comments to the Micscape Editor .

Micscape is the on-line monthly magazine of the Microscopy UK web site at Microscopy-UK

---

© Onview.net Ltd, Microscopy-UK, and all contributors 1995 onwards. All rights reserved.
Main site is at www.microscopy-uk.org.uk with full mirror at www.microscopy-uk.net .