Page 28 - pp-Suter-Miscellany
P. 28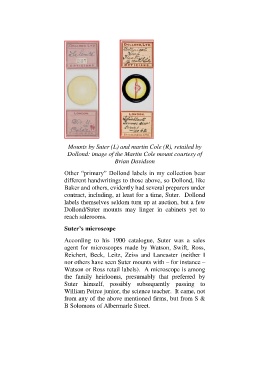 Mounts by Suter (L) and martin Cole (R), retailed by
                               Dollond: image of the Martin Cole mount courtesy of
                                                    Brian Davidson

                              Other "primary" Dollond labels in my collection bear
                              different handwritings to those above, so Dollond, like
                              Baker and others, evidently had several preparers under
                              contract, including, at least for a time, Suter.  Dollond
                              labels themselves seldom turn up at auction, but a few
                              Dollond/Suter  mounts  may  linger  in  cabinets  yet  to
                              reach salerooms.

                              Suter's microscope


                              According  to  his  1900  catalogue,  Suter  was  a  sales
                              agent  for  microscopes  made  by  Watson,  Swift,  Ross,
                              Reichert,  Beck,  Leitz,  Zeiss  and  Lancaster  (neither  I
                              nor others have seen Suter mounts with – for instance –
                              Watson or Ross retail labels).  A microscope is among
                              the  family  heirlooms,  presumably  that  preferred  by
                              Suter  himself,  possibly  subsequently  passing  to
                              William Peirce junior, the science teacher.  It came, not
                              from any of the above mentioned firms, but from S &
                              B Solomons of Albermarle Street.