Page 40 - pp-Suter-Miscellany
P. 40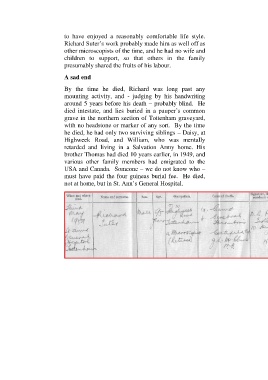 to  have  enjoyed  a  reasonably  comfortable  life  style.
                              Richard Suter's work probably made him as well off as
                              other microscopists of the time, and he had no wife and
                              children  to  support,  so  that  others  in  the  family
                              presumably shared the fruits of his labour.


                              A sad end

                              By  the  time  he  died,  Richard  was  long  past  any
                              mounting  activity,  and  -  judging  by  his  handwriting
                              around 5 years before his death – probably blind.  He
                              died  intestate,  and  lies  buried  in  a  pauper's  common
                              grave in the northern section of Tottenham graveyard,
                              with no headstone or marker of any sort.  By the time
                              he died, he had only two surviving siblings – Daisy, at
                              Highweek  Road,  and  William,  who  was  mentally
                              retarded  and  living  in  a  Salvation  Army  home.  His
                              brother Thomas had died 10 years earlier, in 1949, and
                              various  other  family  members  had  emigrated  to  the
                              USA and Canada.  Someone – we do not know who –
                              must have paid the four guineas burial fee.  He died,
                              not at home, but in St. Ann's General Hospital.