A gallery of radiolaria depicted on postage stamps and postal stationery

compiled by David Walker, UK
I wouldn't describe myself as a philatelist but as a microscopy enthusiast I do like collecting philately items on themes related to microscopy. I particularly like the challenge of the detective work often involved in seeking them out from the vast numbers of stamps issued.
Radiolaria are a group of protozoa with intricate ornate silica skeletons and I already had one USSR stamp in my collection depicting one. I wondered how many other stamps specifically showed this group and in what context. A search of my favourite thematic stamp source www.delcampe.net highlighted a beautiful set of five issued by Senegal in 1972 and 1973. As radiolaria featured so prominently, this set had been catalogued as such by the dealers, but this is not commonly the case for many narrow themes.
A search of the Web for 'radiolaria on stamps' revealed a more recent stamp issued by Norway in 2005 highlighted by the splendid website radiolaria.org. To date the USSR, Norwegian and five Senegal stamps are the only stamps that I've found featuring radiolaria plus two related envelopes. I would be pleased to hear from readers who know of other examples. This is in contrast to another major group with silica skeletons, the diatoms, which are better represented on stamps.
The gallery below presents these radiolaria themed items with comments on each one and links where relevant to related information.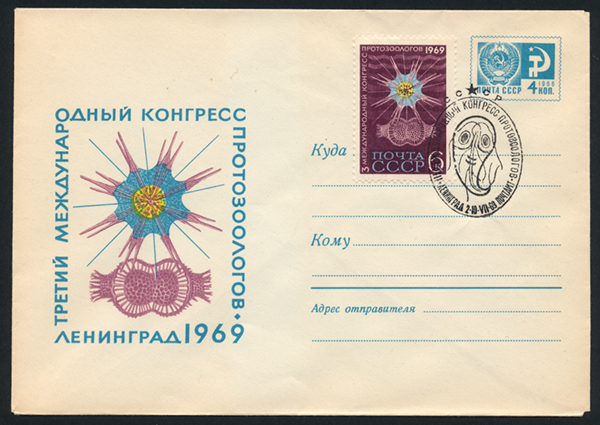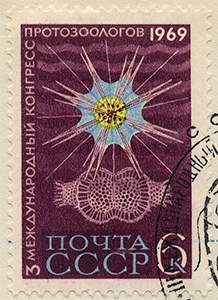 USSR 1969, 3rd International Protozoologists Congress held in Leningrad October 2nd 1969.
I already owned an example of the stamp but had only recently come across the attractive related envelope which repeated the design. I'm not entirely certain what microorganism is depicted in the postmark!
The specialist Russian website biostamps.narod.ru notes that the species depicted are Acanthometra tetracopa (upper) and Peripanicium amphicorona (lower). I'm also indebted to this website for the details of the congress which the stamp celebrates.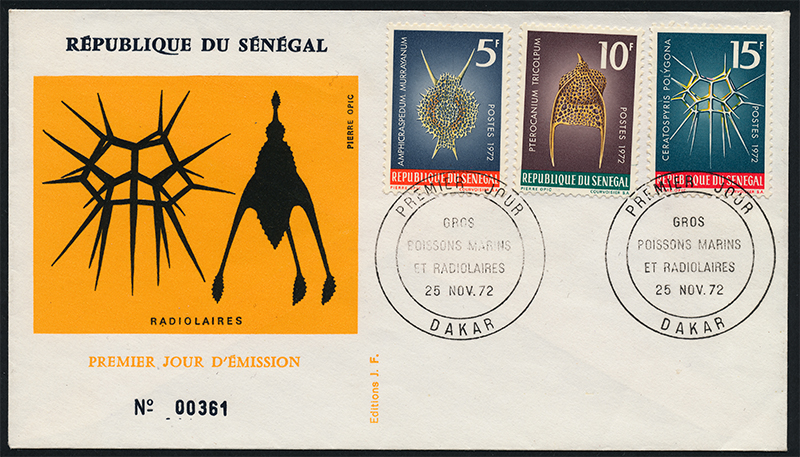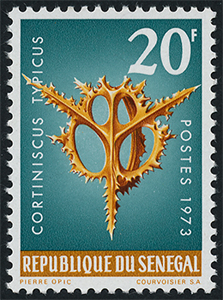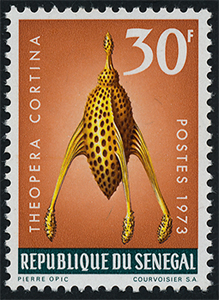 Senegal 1972 (5, 10 and 15F) and 1973 (20 and 30F). These are five stamps with the designs credited to Pierre Opic and are beautifully coloured and shadowed drawings. The first day cover also features two of the species as silhouettes.
The species are noted on the stamps and listed below. Also given for each is the plate and figure no. that shows that species in Ernst Haeckel's 1887 stunning book of radiolaria plates Zoology - Vol XVIII accompanying his report for the HMS Challenger Expedition 1873-76 (available on www.archive.org).
5F: Amphicraspedum murrayanum (Plate 44, Figure 12).
10F: Pterocanium tricolpum, (Plate 73, Figure 1).
15F: Cerotospyris polygona, (Plate 86, Figure 1).
20F: Cortiniscus typicus, (Plate 92, Figure 12).
30F: Theopera cortina, (Plate 92, Figure 8).
Thank you to the stamp designer Pierre Opic for permission to use the stamps and for providing a fascinating background into his work. He tells me that he lived and worked in Senegal for 14 years and proposed the designs to the Senegal post office. He has co-authored / illustrated many publications including books on fishes.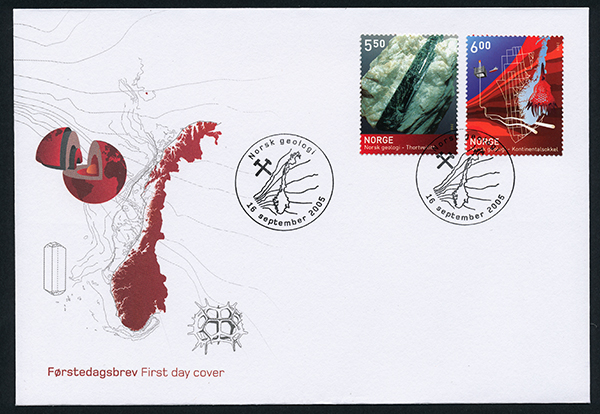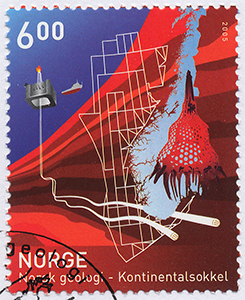 Norway 2005, 'Centenary of the Geological Society of Norway'. The species depicted are Lamprocyclas maritalis on the stamp and Lamprospyris pentagona on the envelope (source biostamps.narod.ru). The design on the stamp is based on an SEM photograph as shown on the specialist website www.paliophilatelie.eu which also has a detailed description of the design elements and what they are intended to represent. The stamp 'author' is credited by the site to Ashley Booth.
The stamp it is paired with shows the mineral Thortveitite which Wikipedia notes is a scandium yttrium silicate and is the primary source of scandium. The mineral is named after the Norwegian Olaus Thortveit.
It's interesting to study how different stamp designers approach the presentation of a narrow topic. I have a great admiration for the designers' skills—in the limited space of a stamp, they create both striking and informative designs.
There could well be more stamps issued in the future on this theme or already issued examples but not documented. For me, seeking out elusive stamps on very narrow thematics is largely part of the fun. It's also quite inexpensive, none of the stamps and envelopes shown above were more than a few Euros each.
Comments to the author are welcomed.
Image acknowledgements. The copyright of the stamps and envelope designs remains with the originators and have been credited where known. They are presented here as an educational resource on this not-for-profit website. If a copyright holder wishes to contact the author please use the email above. Thank you.
---
© Microscopy UK or their contributors.
Published in the March 2016 edition of Micscape.
Revised May 5th 2016.
Please report any Web problems or offer general comments to the Micscape Editor .
Micscape is the on-line monthly magazine of the Microscopy UK web site at Microscopy-UK
---
© Onview.net Ltd, Microscopy-UK, and all contributors 1995 onwards. All rights reserved.
Main site is at www.microscopy-uk.org.uk.