Snowflakes on stamps. Part 1 - photomicrographs.

by David Walker, UK
Seeking out a new thematic to collect over winter on a microscopy theme I decided to collect those stamps depicting snowflakes. It turned out to be very appropriate as in the UK we've had a harder winter than typical with some record breaking sub-zero temperatures and heavy snow. Unsurprisingly, snowflakes as an attractive design element are widely depicted in some form on stamps, especially on Christmas issues. To narrow down contenders and to keep within budget, I just concentrated on those showing either photomicrographs or accurate drawings of snowflakes. Although where a more stylised example appealed I also added those. Part 1 presented here shows those depicting photomicrographs, part 2 to follow will show those for drawings. In-line links are to Wikipedia entries of certain biographies.
Wilson A Bentley (1865 - 1931) is famous for his studies and photography of snowflakes taking his first photomicrograph in 1885. Reprints of his classic work co-authored with W J Humphreys 'Snow Crystals' are widely available (first published in 1931, Dover reprint 1962 with 2453 illustrations) and there is a recent biography of him 'The Snowflake Man' by Duncan A Blanchard published in 1998.
Micscape is fortunate to have two contributors James Benko and Ted Kinsman who have developed and shared their skills in the challenging art / science of collecting and photographing snowflakes. See Resources at the foot of article.
Snowflake or snow crystal? As writers on the topic point out, snow crystal is the more correct term when illustrating and discussing discrete crystals. Snowflake is a wider term that can include both crystals and agglomerates, although is often adopted where crystals are the main subject under discussion as it's the more widely used term outside of meteorology and scientific circles. In the north of England where I live, most snow showers seem to be agglomerates rather than discrete crystals. The Serbian 2003 stamp below shows an example of the former.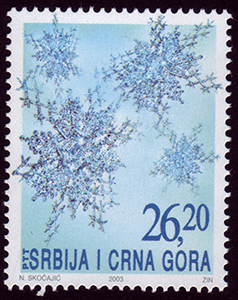 Serbia 2003. 'Winter snowflakes' was the dealer's description. Design credited to N Skočajić.
Stamps using photomicrographs by Kenneth G Libbrecht (Professor of Physics at Caltech) A number of issues are based on the stunning imagery by this leading expert on the scientific study and photography of snowflakes. They are illustrated below but intentionally at a low resolution as I encourage readers to visit his website snowcrystals.com where he shows high resolution images of the stamps, the original images on which they are based and offers a wealth of resources on snow crystals. He has published a number of books including a field guide. I have a copy of 'The Snowflake. Winter's Frozen Artistry' which he co-authored with Rachel Wing and published in 2015 by Voyageur Press. The book is stunning in all respects and heartily recommended.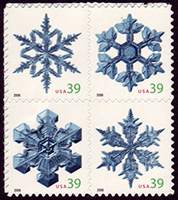 Left - USA 2006 Christmas issues, Kenneth Libbrecht describes on his website how the designs were derived from his photomicrographs, right USA 2013.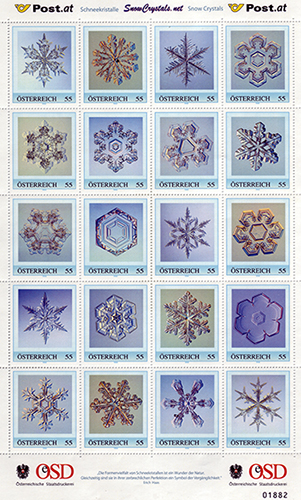 Austria 2006 issue under their personalized stamp scheme. This striking sheet of 20 stamps is ca. A4 in size. The snowcrystals.net website is credited in the sheet header.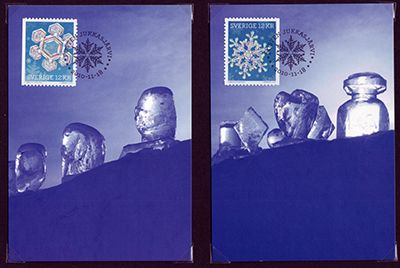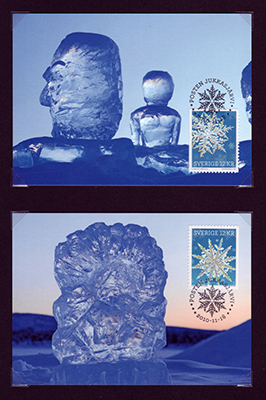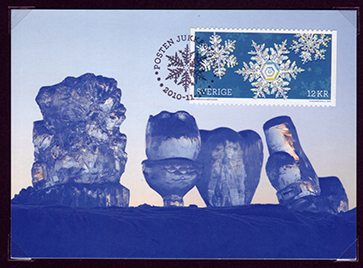 Sweden in 2010 issued an attractive set of five stamps, including a presentation of the stamps on maximum cards illustrating ice sculptures. For collectors of maximum cards like myself, a branch of philately called maximaphily (see my Micscape Feb. 2013 article), these would have high concordance as the stamp, postmark and postcard images depict allied subjects. Credited on each stamp is 'K. Libbrecht / G. Mårtensson' and 'P. Naszarkowski sc 2010'. Further image source / design credit details are on each card.

The scans of the stamps are of my own examples but thank you to Kenneth Libbrecht who generously offered for me to use his own images of the parent stamps if desired for educational articles.
Japanese issues Japan has an illustrious history in the scientific study of snowflakes, notably by Nakaya Ukichiro (1900 - 1962) who was the first to grow them artificially—the tips of rabbit hairs played a key role! The scientist shown using his microscope featured on the stamp below issued in 2000, the centenary of his birth. He developed the Nakaya diagram which shows how the temperature and humidity affects snow crystal morphology. Bentley is credited at first remarking that no two snowflakes from Nature are alike. This is because each is effectively a snapshot of the unique temperatures and humidities and other aspects that each crystal experienced during their long descent.
I was fortunate to track down a more modestly priced copy of Nakaya's 'Snow Crystals. Natural and Artificial' published in 1954 by Harvard Press (mine is the 2013 reprint). It's very well written and illustrated for those interested in his scientific studies. Wikipedia has a meticulously compiled 'Timeline of snowflake research'.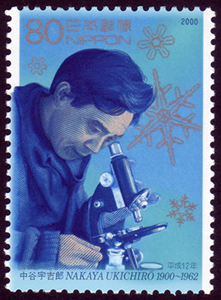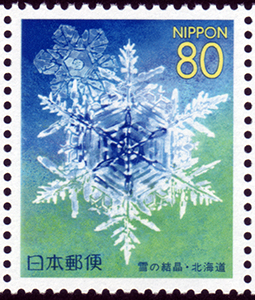 Left - Japan 2000.
Right - Japan 2011 one of a set of six to celebrate the 50th anniversary of an Antarctic treaty. The detail suggests that this derived from a photomicrograph. The other stamps showed species of penguin.
The five splendid stamps below are from two A4 sheets showing 16 stamps with attractive design features. Sadly, the mint sheets are uncommon and beyond what I'm prepared to pay (typically £26 a sheet) so have been acquiring individual used examples for modest sums when they crop up. I'm indebted to Takao Kobayashi in Japan who scanned his examples of the sheets and who has kindly allowed me to share them.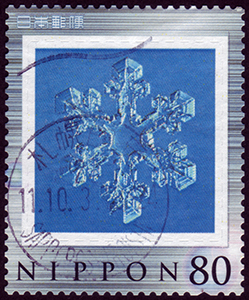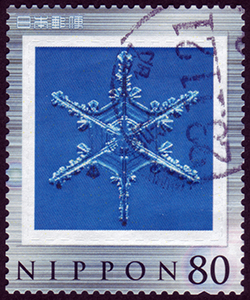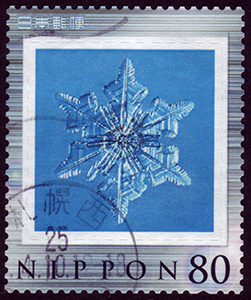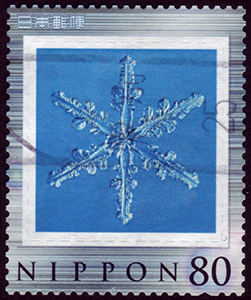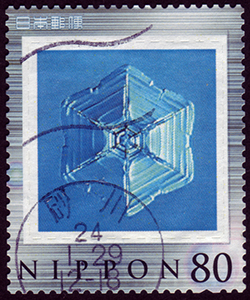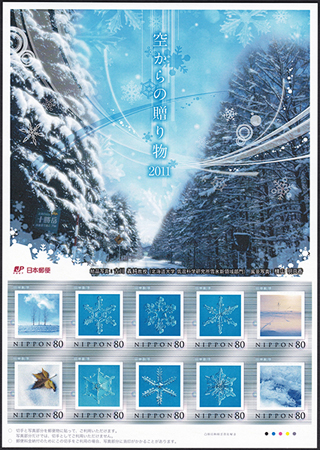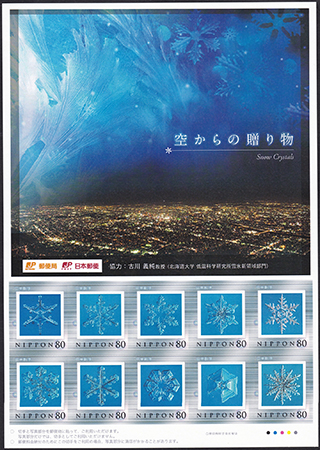 Japan 2011. Reduced sized images from high resolution master scans kindly supplied by Takao Kobayashi and used with permission. He tells me that the sheet titles are 'Gifts from the sky. Snow crystals.' and that they were produced in cooperation with Prof. Furukawa Yoshinori, Institute of Low Temperature Science, Hokkaido University.
The six-fold symmetry of snow crystals reflects the hexagonal crystal structure of ice at the molecular scale. A model of ice is shown below. The author has a fascination for physical molecular model kits in this age of software (see Micscape Lite section of the Library).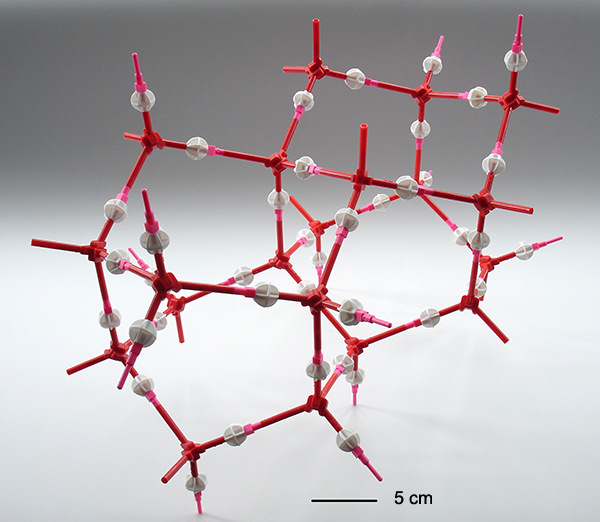 Above. Model of the ice structure, Molecular Visions Kit #12. The tetrahedral centres are oxygen atoms. The white balls are hydrogen atoms. The pink connectors are in the direction of the hydrogen bond where a hydrogen atom is weakly bonded to the electron lone pair of an oxygen. These bonds are longer than the covalent bonds between the two hydrogen and oxygen atoms in each water molecule. This kit is well worth the $12 from the Molecular Visions website (instructions are provided).
The symmetry of this structure is especially appealing and instructive showing how the unique properties of water are associated with the hydrogen bonding between water molecules. A physical model clearly shows that the six membered rings of water molecules are in the 'chair' conformation in the horizontal planes and in the 'boat' form between the layers.
Comments to the author are welcomed.
Micscape Resources
Micscape articles on microscopes / microscopy on stamps.
Selected topics in microscopy, photomicrography, diatoms, radiolaria, Van Leeuwenhoek / Robert Hooke and marine plankton / oceanography by David Walker.
Microscopes and Stamps by Fritz Schulze.
Micscape articles discussing and illustrating techniques for collecting snowflakes for photography under a microscope.
Snow crystal photography by Ted Kinsman, May 2001 issue.
More notes on photography of snowflakes or snow crystals by Ted Kinsman, March 2003 issue.
How to preserve a snowflake by James B Benko, February 2000 issue.
External resources
snowcrystals.com Kenneth Libbrecht's website, a definitive resource.
A Flurry of Snowflake Stamps, Kenneth G Libbrecht, Philatelia Chimica et Physica, vol. 29, no. 2, Spring 2007, pp. 76 - 81.
Snowflakes on Stamps: A Pictorial Survey, Daniel Rabinovich, Philatelia Chimica et Physica, vol. 29, no. 2, Spring 2007. pp.82 - 95.
Image acknowledgements. The copyright of the stamps and envelope designs remain with the postal issuing authorities and the designers have been credited where known. They are presented here at a limited size as an educational resource on this not-for-profit website. If a copyright holder wishes to contact the author please use the email above. Thank you.
Additional acknowledgements not in the text.
Thank you to Professor Daniel Rabinovich for copies of the two Philatelia articles above. Philatelia is the journal of the Chemical and Physics on Stamps Study Unit of the American Topical Association (I'm a member), website at www.cpossu.org.
Thank you to the many unsung compilers of the Wikipedia entries which are invaluable as a first point of research into a wealth of topics.
Sourcing stamps. For readers interested in seeking out one or more of the stamps on the above or other topics, one of the best portals for thematics is delcampe.net. Catalogue numbers aren't needed and often not stated. Searching for country with year and keyword of theme can usually show all the dealers offering them. Where not offered on delcampe.net, eBay is the second choice.

---
© Microscopy UK or their contributors.
Published in the March 2018 edition of Micscape.
Please report any Web problems or offer general comments to the Micscape Editor .
Micscape is the on-line monthly magazine of the Microscopy UK web site at Microscopy-UK
---
© Onview.net Ltd, Microscopy-UK, and all contributors 1995 onwards. All rights reserved.
Main site is at www.microscopy-uk.org.uk.