A favourite diatom slide: Klaus Kemp's 'Scottish Antarctic Survey. Recent Marine. 47 Form' arrangement.

How a single slide can prompt a wealth of background reading

by David Walker, UK

I enjoy studying live diatoms from local freshwater habitats—spring fed water troughs in the South Pennine upland district where I live are a good source of samples. I have never ventured into cleaning and preparing my own slides of diatom frustules for various reasons. Without a dedicated wet area for the work and with a work background in chemistry at the lab. bench, perhaps I was reluctant to do more chemistry in my leisure time! So I am deeply indebted to both current and past skilled practitioners for my modest collection of cleaned diatom slides. Most are single species or mixed strews but my particular favourites are a limited set of arrangements of selected single species.
Klaus Kemp requires no introduction as a contemporary world class preparer of diatom slides and for his arrangements. My most used slide by far of his are the eight form test plates, so much so that both my brother Ian and I have multiple examples to split dry and oil immersion studies. One of my favourite arrangements is Klaus's 'Scottish Antarctic Survey. Recent Marine 47 Form' mounted in Styraclor and dated 11/09. It was bought on eBay in 2009 direct from Klaus for a modest two figure sum considering the work involved in its preparation.
Multiple arranged selected species on one slide (as opposed to a mixed strew) have a number of potential benefits. Strews are invaluable but for the casual study of diatoms by someone like myself, preselected arranged species slides have a benefit. A single slide can provide countless hours of study without the need for changing out for another single species slide. New dimensions for background reading are added if it is from a named locality and more so if it was collected either by a named person or on an expedition. This 'Scottish Antarctic Survey' slide ticks all these boxes. It is also from a part of the world that am never likely to visit and adds that evocative pleasure of 'polar exploration' of my own.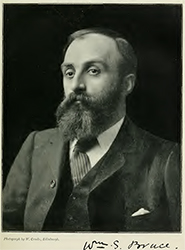 The Scottish National Antarctic Expedition 1902-04 led by William Speirs Bruce
Despite a fascination for the history of polar exploration and owning a range of books on the topic, this expedition was unfamiliar. Unfortunately, as is often the case, the 'heroic' failures of the early 19th century have garnered most attention such as the doomed British Antarctic Expedition (1910-13) led by Scott or the remarkable survival of the members of Shackleton's 'Endurance' expedition (1914-17). There were many successful scientific expeditions of the Antarctic by people like Bruce or the Australasian Antarctic Expedition (1911-14) led by Douglas Mawson but are much less well known. This slide prompted me to buy two books on Bruce and the Expedition and to explore the wealth of papers published on their studies in the public domain online. The slide has provided a wealth of enjoyable background reading in addition to exploring the slide.
There are excellent online resources on the man, his life and work so will not attempt a summary here. Wikipedia also provides a useful biography of W S Bruce and a separate entry on the expedition. Bruce's character and his understandable pride in completing a Scottish led and run expedition caused some political rankles in London with both the government and learned societies while seeking support and funding—none of the expedition members were awarded the customary Polar Medal.
Photo right: Dr. William Speirs Bruce, credited to 'W. Crooke, Edinburgh' (after p.24 of ref. in next paragraph).
Maps have always held an appeal, especially the detailed engraved maps typical of the time and the journals reporting the expedition have some wonderful large foldout examples. Unfortunately the compressed scans on archive.org cannot really do them justice and have been unable to source to date used copies of the journals to buy. The first two below are from The Scottish Geographical Magazine, Vol. XXI, 1905 (public domain on archive.org) to supplement early reports on the expedition. The third map from the 'Transactions' link below.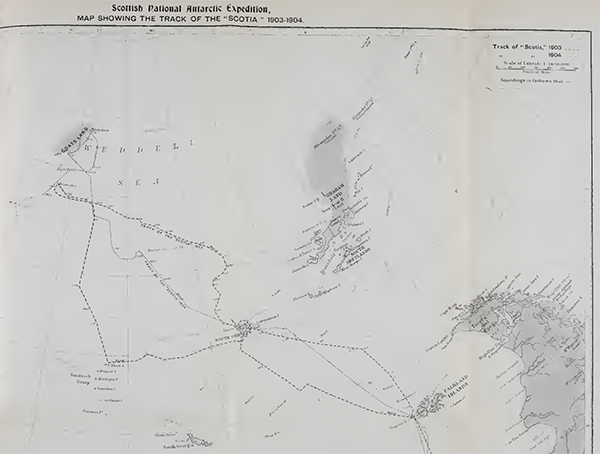 Above. Detail from a map showing the route of the Scotia in the Weddell Sea on two trips (overwintering on Laurie Island, South Orkney Islands).
Note the imprecision at the time of mapping the Antarctic coastline.
The splendid coloured bathymetric survey. The Scotia took both plankton samples and deep sea deposits.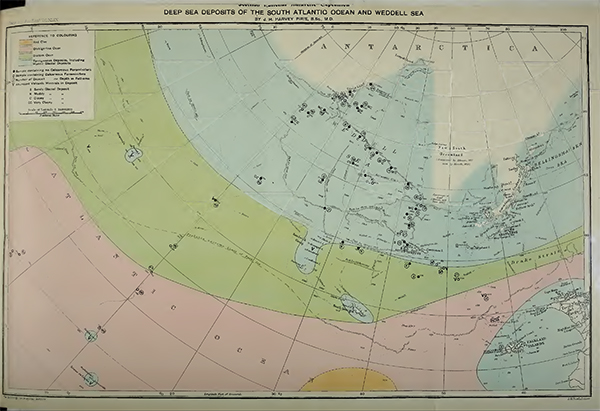 The coloured map showing sites where deep sea deposits were taken. Click image to view full screen version. The green area denotes a band of 'Diatom Ooze'.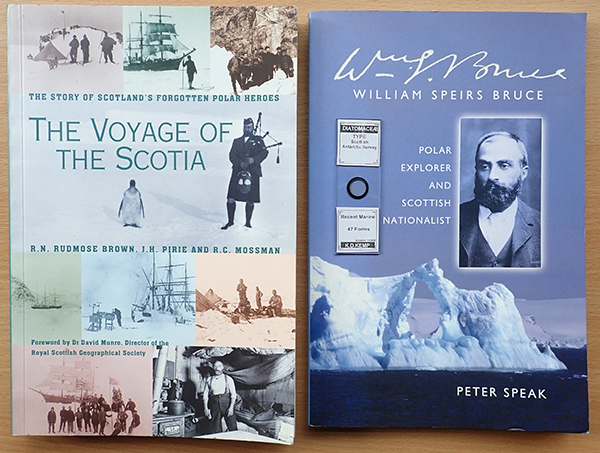 Two books owned on Bruce and the expedition are shown above, with Kemp slide inset. The Voyage of the Scotia are the period essays by three of the scientists (first published in 1906, modern Mercat Press reprint). Such accounts can be a formal, dry read but all contributors have an easy light style and a delight to read. The biography on the right by Speak (pub. 2013, National Museums of Scotland) is a modern account of the life and works of Bruce. Given the importance of the 'Scotia' expedition, this chapter seemed quite short.
Reports of the diatoms collected
I have enjoyed studying the slide on a casual basis since buying in 2009 but have deferred more detailed studies pending sourcing the reports of the diatoms collected. These reports have eluded me until recently as they were not included in the formal seven volumes of the expedition; Report of the scientific results of the voyage of S.Y. "Scotia" during the years 1902, 1903, and 1904, under the leadership of William S. Bruce (all public domain on archive.org). Volume III was devoted to botany but the Algae section did not include diatoms. I had been using the wrong keywords and 'deep sea deposits' revealed them as the reports included all the groups collected including the forams. J. Pirie of the expedition made a brief report in a 1904 overview in The Scottish Geographical Magazine, Vol. XX, 1904, p.29 (public domain on archive.org).
The most detailed report on the diatoms collected found to date were published in The Transactions of the Royal Society of Edinburgh, vol. XLIX in 1914, p.675-677 by J H Harvey Pirie (public domain on archive.org) forming part of his paper "X. Scottish National Antarctic, Expedition, 1902-04: Deep Sea Deposits". Pirie notes that fifty-five ocean floor deposits were collected during the two seasons and that 'a selected series of deposits containing diatoms' were sent to 'Professor H. H. Gran of Christiana' for identification. I am unclear at present whether plankton samples were identified separately and where reported nor if the species on the slide possessed are of either deposits, plankton or both. Lists of diatom species and some genera are reported but no plates.
The slide
The 47 forms have been arranged as 34 pennates and 13 centrics. With the newly found resources on the diatoms collected I will look forward to trying to identify to genus and possibly species.

Whole slide, 4X objective.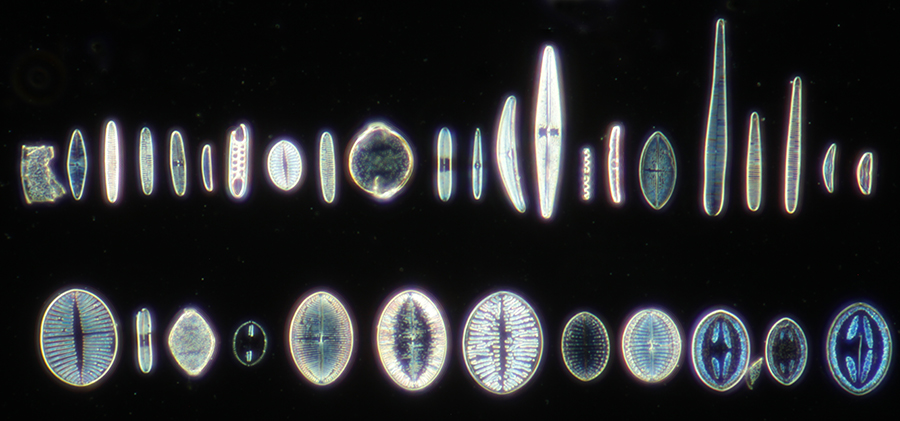 Pennate group, 10X objective.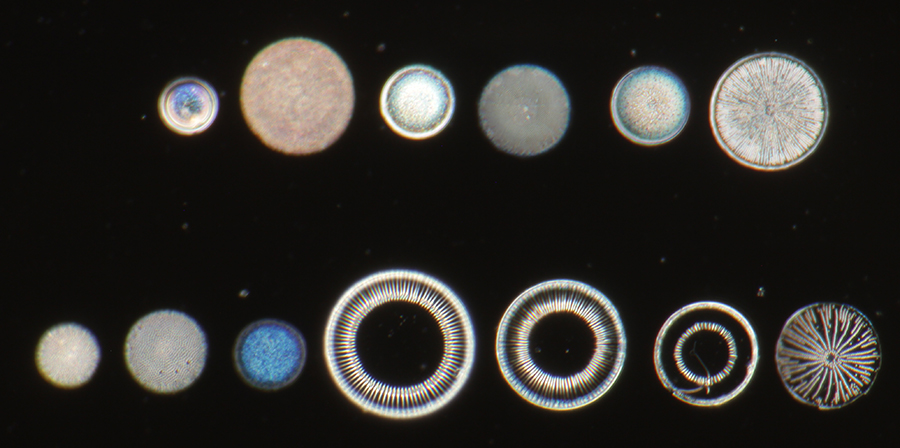 Centric group, 10X objective.
Comments to the author are welcomed.
---
© Microscopy UK or their contributors.
Published in the March 2020 edition of Micscape.
Please report any Web problems or offer general comments to the Micscape Editor .
Micscape is the on-line monthly magazine of the Microscopy UK web site at Microscopy-UK
---
© Onview.net Ltd, Microscopy-UK, and all contributors 1995 onwards. All rights reserved.
Main site is at www.microscopy-uk.org.uk.