!- was a call to change title function. Removed -->
Some Common Garden Seeds
by Chris Thomas, Milton UK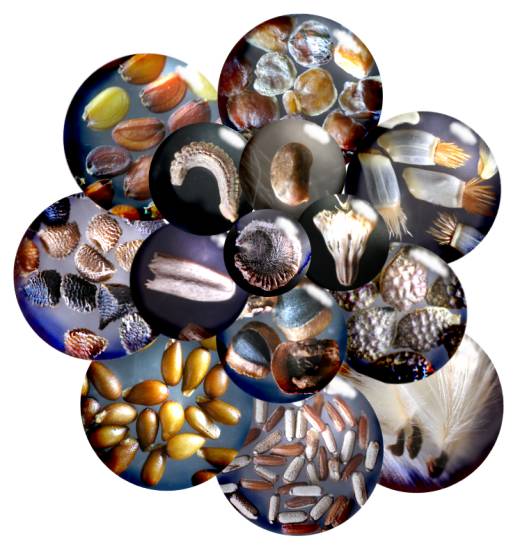 Key to images
1. Althaea sp. (Hollyhock)

2. Scabeous atropurpurea

3. Lupin hybrid

4. Calendula officinalis (Marigold)

5. Echinacea purpurea

6. Coreopsis sp.

7. Passiflora cearulea (Passion flower)

Scale: image diameters equivalent to 7mm

8. Centauria cyanus (Cornflower)

9. Mathiola longipetala (Summer scented stock)

10. Iberis umbellata (Candytuft)

11. Delphinium consolida (Larkspur)

12. Viola x wittrockiana (Pansy)

13. Verbena bonariensis

14. Clematis montana
Images © Chris Thomas
Seeds are a very rewarding subject. If you are not an avid gardener yourself (and I am not) you are likely to know someone who is and can give you a few seeds. My thanks go to Jane and Marcia & Co for contributing to my collection. If all else fails, buy a packet of mixed seeds from any garden centre and prepare to be entranced!
Seeds are best viewed with a low power stereomicroscope or with a hand lens. Since they are easily related to by most people, they are also good subjects for demonstrations that will be guaranteed to ensure a further supply of material.
The above pictures were taken with a Unilink adaptor linked to a digital camera focussed at infinity and placed in the eyepiece tube of a simple ex-Open University low power stereomicroscope. I get vignetting but am able to live with it especially as the image size in pixels for Internet pictures is not great.
Other Micscape contributions with images of seeds are:
You are heartily invited to visit my site at
http://homepages.tesco.net/~chris.jrthomas/
---
© Microscopy UK or their contributors.
Published in the May 2003 edition of Micscape Magazine.

Please report any Web problems or offer general comments to the Micscape Editor.

Micscape is the on-line monthly magazine of the Microscopy UK website at Microscopy-UK
---
© Onview.net Ltd, Microscopy-UK, and all contributors 1995 onwards. All rights reserved. Main site is at www.microscopy-uk.org.uk with full mirror at www.microscopy-uk.net.