'The Rotifera or Wheel-Animalcules'

by Hudson and Gosse
Published by Longmans, Green, And Co. London 1886.
In Two Volumes with Text and Illustrations.
An overview by Ian Walker. UK.
(Editor's note added Dec. 28th 2008.The two volumes plus supplement described are now free to download and declared 'Not in Copyright',
courtesy of the 'Internet Archive' project at www.archive.org .)
Introduction.
This two volume work completed in 1886 is becoming scarce to find either on the second hand book market or as a reference work in the majority of UK libraries. In this short article I will show some of the drawings and paintings from the plates of my copy to give microscopists an overview, since many will not have the chance to see any content from the books either on the Internet or elsewhere. Some time ago I contacted the publishers, Longmans to determine whether the book is still under copyright either by them or through the descendents of C. T. Hudson & P. H. Gosse but I received no answer from them. I have decided to show some of the Plates from Volume II but these have intentionally been kept to a modest size, have not been shown in their entirety except for Plate A and some are only a single or group of drawings from more complex plates; none of the images have larger versions attached.
The Rotifera.
'The Rotifera or Wheel-Animalcules' is a substantial two volume work by C. T. Hudson & P. H. Gosse, describing 250 British species. Volumes I & II were completed before P. H. Gosse's death in 1888 and a Volume III supplement published in 1889 added foreign Rotifera and updated the findings of new British forms since the original publications. This article is not intended to be an in-depth review or a detailed account of the lives of Hudson & Gosse but a short essay to show the quality of work achieved. The three books are all of the same dimensions being approximately 8" wide by 11" high but differ considerably in thickness due to the different nature of their content. My particular copy uses a dark blue-green cloth cover augmented by leather to prevent wear to the corners and spine and overall are in reasonably good condition. Although by the 1850's there were several highly regarded published works including on Rotifers, there were few, if any, that specialised in Rotifers alone and their classification was still in its infancy. Even today there are relatively few books devoted entirely to these fascinating microscopic animals, so historically 'The Rotifera' remains a fundamental work on Rotifers.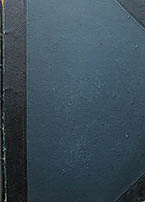 Two views of 'The Rotifera' Volume I.
---
Charles Thomas Hudson. [1828-1903].
Little information seems to be available on the life of C. T. Hudson but it is thought that his studies on Rotifers started in the 1850's when he was still fairly young; the latter half of the 1850's he was busy with being headmaster at Bristol Grammar School. The drawings by C. T. Hudson are uniformly good in contrast with P. H. Gosse whose drawings I think are somewhat variable in quality in 'The Rotifera'. However this may be excused since he was coming to the end of his life and died before Part III, the Supplement was published in 1889. At 61 years of age Hudson became a Fellow of the Royal Society and was also a Fellow of the Royal Microscopical Society [R.M.S.] making President for two years [1888-1890] and not long before his death made Honourable Fellow in 1901.
Philip Henry Gosse. [1810-1888].
A lot more is known about Gosse compared to Hudson and information can be found quite easily on the Internet. Suffice to say that he was an author of several well known works including 'Omphalos' published in 1857 (this being an attempt to link 'Creationism' with geological and historical events of the earth), several zoological and wildlife books and the small book 'Evenings at the microscope' but he is also well remembered in microscopical circles as co-illustrator/author of 'The Rotifera.' He is sufficiently well known to be listed in Encyclopaedia Britannica, had his biography written by his son Edmund Gosse in 'Father and Son' in 1907 and more recently in 2002 by Ann Thwaite in 'Glimpses of the Wonderful'. Gosse was a deeply religious man and somewhat at odds with the Evolutionary theory 'On the origin of species by natural selection' by Charles Darwin, published in 1859.
---
Volume I.
[Text 144 pages including index].
Chapter I.
Introduction, an essay on the pond, leading to paragraphs on the anatomy of Rotifers.
Chapter II.
Historical literature of Rotifers leading up to 'The Rotifera' which starts in the last quarter of the 17th century with John Harris* F.R.S. Rector of Winchelsea discussing his findings in a drop of rainwater in his book 'Philosophical Transactions' through to Leeuwenhoek in 1703 publishing in the same 'Transactions' some of his findings of Rotifers living in sheaths found on green weed. The Pastor of St. Catharine's church Danzig, Johann Conrad Eichhorn publishes his work in 1781 'Natural History of the Smallest Aquatic Animals' with further publications from many familiar microscopical naturalists of the time and concludes with Pritchard's 'History of Infusoria' by Dr. Arlidge et al published in 1861 not long before 'The Rotifera' came on the scene.

*Editor's note added August 25th 2014. Hudson and Gosse (Vol. I, p.15) cite John Harris as providing the 'earliest notice' of rotifers in his letter dated 1696 published in the Philosophical Transactions of the Royal Society, but they may not have been aware of Antony van Leeuwenhoek's letter dated 17th October 1687 sent to the Royal Society but which was not translated and published in the Philosophical Transactions. This letter was translated and published in 1964 in Volume VII of the 'Collected Letters of Antoni van Leeuwenhoek'. Freely available on the DBNL website.
http://www.dbnl.org/tekst/saveas.php?filename=leeu027alle07_01.pdf&dir=leeu027alle07_01&type=pdf
On page 95ff of the 'Collected Letters', Leeuwenhoek unmistakably describes the features of a rotifer in this letter as noted by the translators in their footnote 15. Where they also cite Clifford Dobell in his biography of Leeuwenhoek in 1932 (page 110), who note that a description of some 'little animalcules' in Leeuwenhoek's letter dated September 7th 1674 refers to 'Probably Rotifers—seen under a low magnification.'
A number of modern sources on the Web by citing Edmund and Gosse rather than that by more recent workers, incorrectly state that Harris was the first to describe rotifers.
Chapter III.
On the classification of Rotifera.
Chapter IV.
The haunts and habits of Rotifera.
Chapter V.
Text going through the various species classified.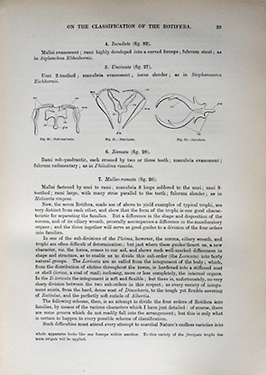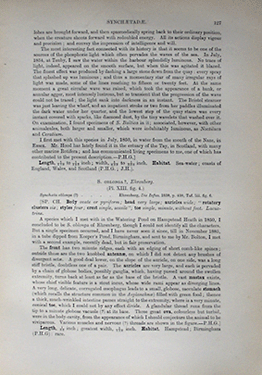 A composite of two pages from Volume I. to give an idea of the layout and content.
---
Volume II.
Volume II covers all the illustrations for the main text and is substantially thicker than Volume I due to the extra thick paper used for the 34 Plates with each having an explanatory text accompanying the drawings. It must be noted that some of the names used for the various Rotifera shown may have changed over the years so although I have used the names given with the Plates these may be incorrect under current classifications.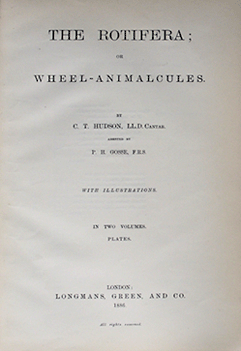 Frontispiece to Volume II.
---
A small selection of images from the Plates.
All the images were taken using a tripod mounted Canon G6 digital camera using daylight under cloudy sky conditions as an illumination source. I have tried to show the Plates with sympathy to the originals in terms of not over-sharpening or increasing contrast beyond which can be found on the original drawings, however there are some inevitable variations between exposures. All the black and white images are saved as GIF's and the colour as low compression JPEG's. Attempts at keeping file sizes down resulted in obvious artifacts so I have to accept that some downloads of the article may be slow on poor Internet connections. There is one major difference between the images below and the original Plates and that is in the colour balance. The original paper has a light cream finish but I had difficulty in replicating this on my camera so the images below have a much 'cooler' whiter look than the originals. The first four Plates in Volume II are labeled A-D rather than the Roman numeral system used for the following thirty Plates, the first four illustrate the anatomy, past illustrations from various microscopists and classification.
Plates A - D.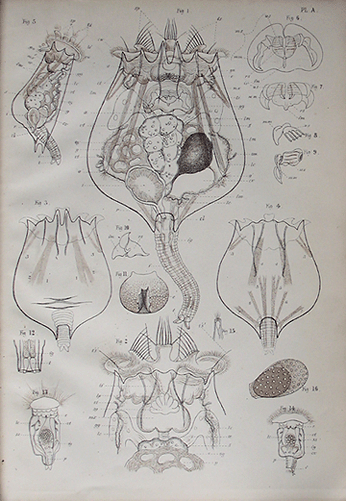 From Plate A.
The only full Plate imaged minus a small section of the border, the central drawing of Brachionus Rubens by C. T. Hudson could be found in several old books and derivatives can still be found today, Plate A. covers the anatomy of a typical Rotifer, each drawing through the book could be traced to either C. T. Hudson or P. H. Gosse by 'G' or 'H' on the accompanying text in Volume II. These particular drawings are illustrated in sepia and dark grey inks and on this Plate there are several illustrations from both Hudson & Gosse.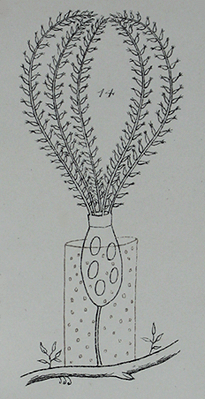 A single drawing from Plate B.
Plate B. Illustrations from past microscopists in this case Stephanoceros Eichhornii from Eichhorn, 1775.
From Plate C.
Plate C. Bottom half, Coronae, Trophi and Feet of some of the principal Families of Rotifera.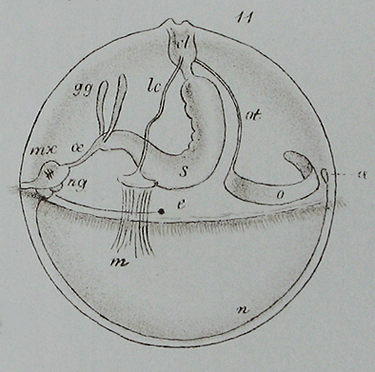 A single drawing from Plate D after Prof. C. Semper.
Plate D. Further anatomical features of Rotifera in this case the female side view of Trochosphaera aequatorialis.
---
A selection of images from Plates I to XXX.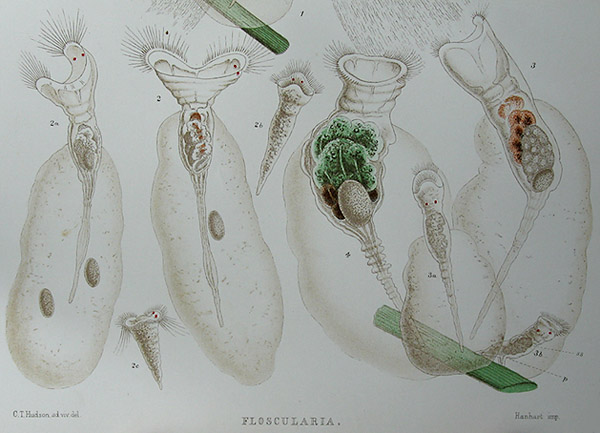 From Plate III.
An attractive drawing of three species of Floscularia by Hudson.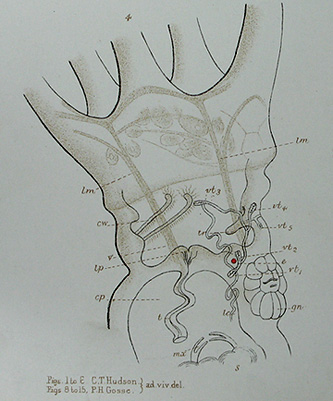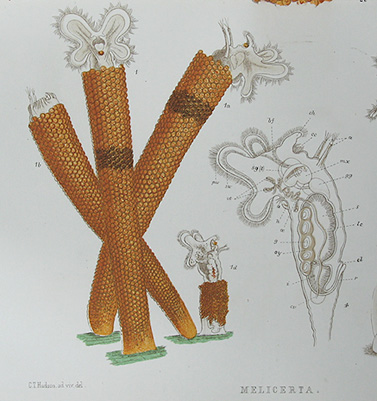 From Plate IV and Plate V.
Left, detail of Stephanoceros Eichhornii and right, Melicerta ringens both by Hudson.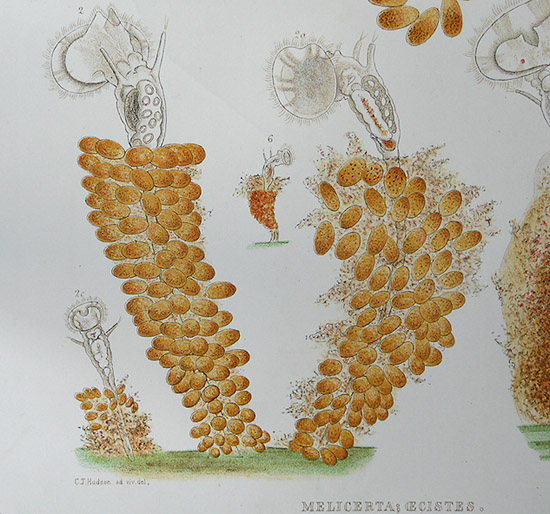 From Plate VII.
The main drawing is Oecistes pilula drawn by Hudson.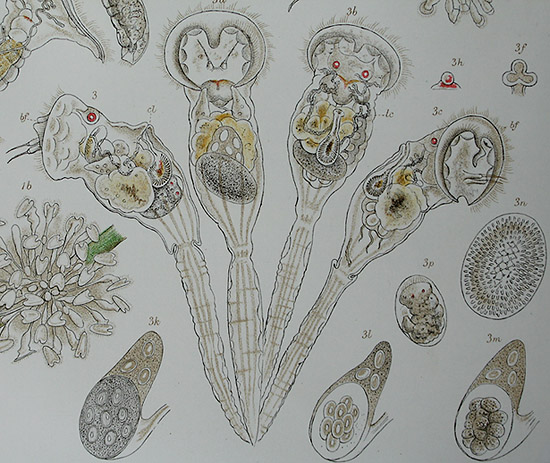 From Plate VIII.
Main subject, various views of Conochilus volvox. The Plate, [from which this is taken from the bottom half] is beautifully drawn by Hudson.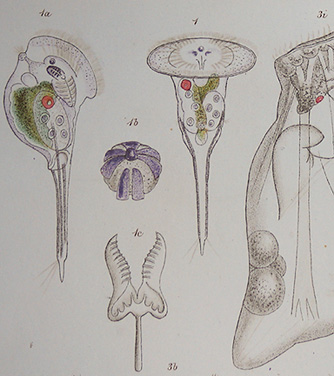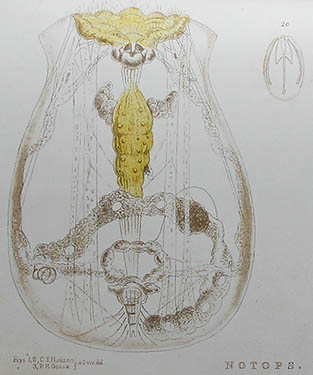 From Plate XI and Plate XV.
Left, small sketches showing views of Microcodon clavus after Dr. Grenacher and right, a large drawing by Gosse of Notops clavulatus.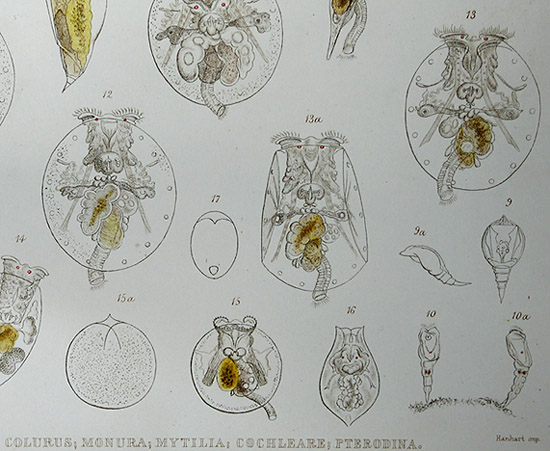 From Plate XXVI.
Various views of Rotifers including Pterodina patina by Hudson, smaller drawings by Gosse.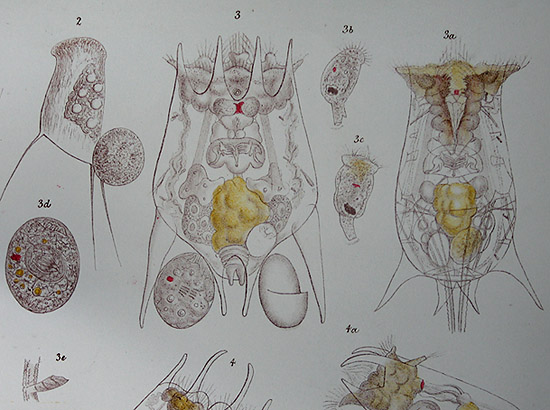 From Plate XXVIII.
Main views of Brachionus pala, Fig. 3 by Hudson, Fig. 3a by Gosse.
---
From Volume III. The Supplement.
The supplement published in 1889 consisted of 64 pages of text including the index and a further 4 Plates drawn in black ink and was intended to include foreign species and update new British species found since the original publication. This added 150 new species to the already catalogued 250 species from the first publication.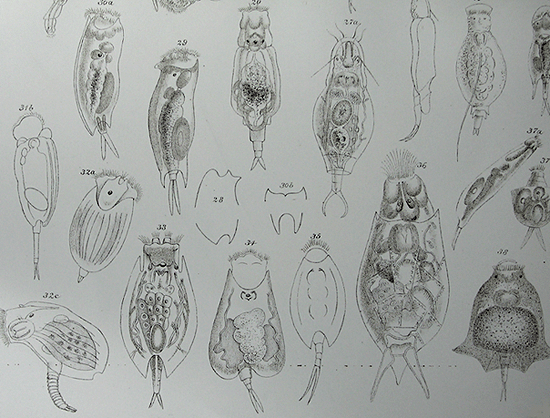 From Plate XXXIII.
Rotifera illustrations by European microscopists such as Ehrenberg, Bartsch, Eckstein etc.
---
Addendum.
A strange thing happened whilst I was editing the final version of this article when I was selecting the whole text for font colour, when doing this my software web editor inverts all parts of the article including the images and I was struck by the way the Rotifer drawings took on a transparent nature showing the internal structure very well. I include two to demonstrate the effect.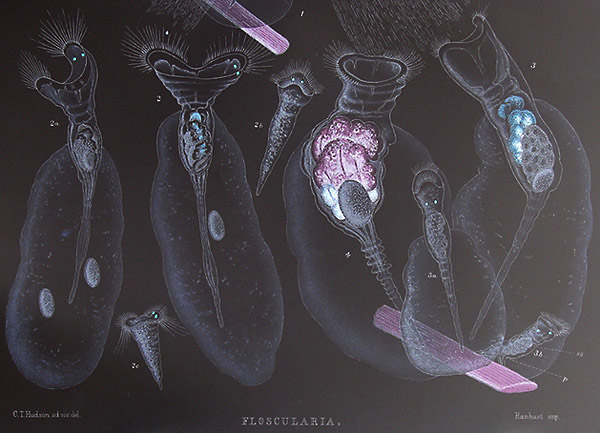 From Plate III.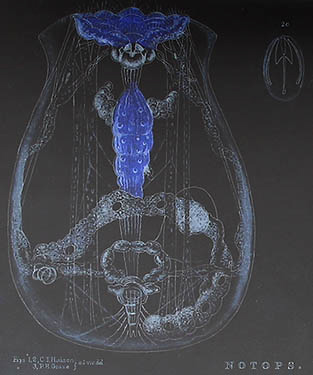 From Plate XV.
---
If you have enjoyed looking at the plates here you may wish to take a look at a previous article of mine on old Victorian microscopy books also on the Micscape site: http://www.microscopy-uk.net/mag/artfeb05/iwoldbooks.html
References / Sources.
Those of you who have access to 'The Quekett Journal of Microscopy' may like to read an article by E. D. Hollowday in Vol. 35 Part 6 [July-December 1986] Pages 424-440, where he writes an interesting account on Hudson & Gosse and 'The Rotifera' as part of his article on 'Milestones in Micro-Natural History'.
Conclusion.
C. T. Hudson & P. H. Gosse 'The Rotifera' is a splendid work being well written and accompanied by fine drawings many of which are in colour. At the time it was a 'milestone' in the identification, classification and anatomy of Rotifers and shall remain in the history of microscopic study of 'wheel-animalcules' a thorough and compelling reference.
---
the end.
Comments to the author, Ian Walker, are welcomed.
(The images must not be distributed or used in any commercial form.)
---
© Microscopy UK or their contributors. Published in the May 2005 edition of Micscape.
Please report any Web problems or offer general comments to the Micscape Editor.
Micscape is the on-line monthly magazine of the Microscopy UK web
site at Microscopy-UK
---
© Onview.net Ltd, Microscopy-UK, and all contributors 1995 onwards. All rights reserved. Main site is at www.microscopy-uk.org.uk with full mirror at www.microscopy-uk.net .