A microscopic investigation of cytoplasmic streaming in the inner epidermis of Allium cepa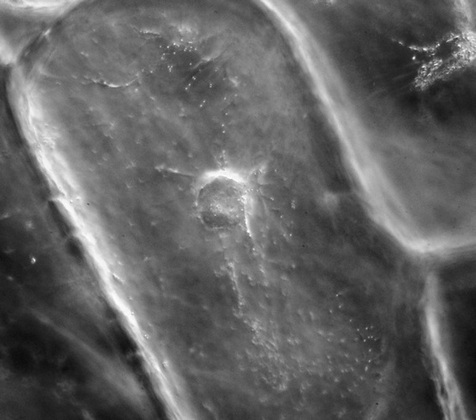 Inner epidermis of Allium cepa in oblique illumination (400x)
Cassandra Overney, San Jose, USA
Introduction
This paper describes experiments of important life processes at a microscopic scale observed with a light microscope. The study of cytoplasmic streaming in the inner and outer epidermis of an onion bulb scale (Allium cepa) is a fascinating and rewarding activity.
This article is in Adobe Acrobat® 'pdf' format. Right mouse click the link below to save to your PC, where it can be opened and read in Acrobat Reader®. This software is freely downloadable from Adobe's web site if required.
'Cytoplasmic streaming in the inner epidermis of Allium cepa'
1st Edition of April 15, 2013
by Cassandra Overney
(pdf format, size 3881 kbytes)
For a short video of cytoplasmic streaming, please visit my YouTube section at http://www.youtube.com/watch?v=6Inf7VUcyiA&feature=youtu.be

---
Comments to the author, Cassandra Overney, are welcomed.
---
---
© Cassandra Overney
Article published in the May 2013 edition of Micscape Magazine.
Please report any Web problems or offer general comments to the Micscape Editor,
via the contact on current Micscape Index.
Micscape is the on-line monthly magazine of the Microscopy UK web
site at http://www.microscopy-uk.org.uk.