A painting of 'parrot tulips' inspired by the photography of Brian Johnston
by Harva Carbone, USA
Editor's note: We are delighted when a contributor's article and imagery inspire a reader to create their own artworks. Below is a painting by Harva Carbone inspired by the illustrated article on 'A Close Up View of Two "Parrot Tulips" Tulipa x hybrida' by Brian Johnston which is one of his splendid suite of articles exploring the macro and microscopic detail of plants 'A Flower Garden of Macroscopic Delights'.
Harva writes: This painting of your parrot tulips was done for my Aunt Esther's 90th birthday this Easter. She is the last of 11 children from a very Dutch family in Grand Rapids, Michigan. I live in Southern California so tulips are slim-pickin' and parrot tulips even more so. I wanted to do something special for her and when I saw the photos posted on Micscape, I knew they would be perfect for her. I am a retired 3rd grade teacher and am just beginning to paint. My favorite subject is close-ups of flowers. Thank you for your wonderful website and for giving permission to paint your parrot tulip.
Email: harvamom AT mac DOT com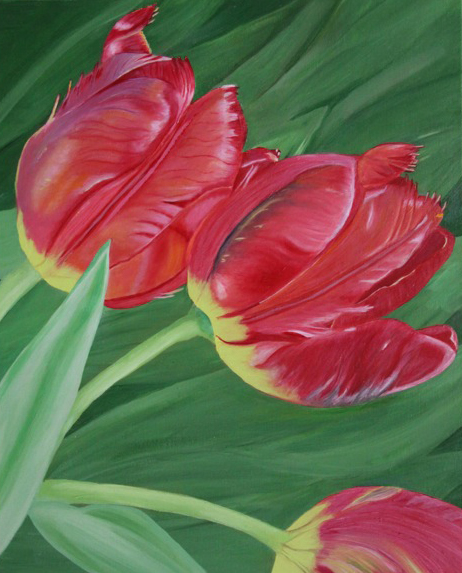 ---
© Microscopy UK or their contributors.
Published in the May 2014 edition of Micscape.
Please report any Web problems or offer general comments to the Micscape Editor.
Micscape is the on-line monthly magazine of the Microscopy UK web
site at Microscopy-UK
---
© Onview.net Ltd, Microscopy-UK, and all contributors 1995 onwards. All rights reserved. Main site is at www.microscopy-uk.org.uk