'Interactive' postage stamps - those that require user intervention to reveal their design secrets.

compiled by David Walker, UK
Some of the thematic stamps that I enjoy collecting have examples of what I would loosely call 'interactive' stamps i.e. where some form of user intervention is required to reveal aspects of their designs. The gallery below shows examples of these types of stamps.
Magnification - microtext
I've always been interested in microscopic text in its various forms and one of the earliest articles I shared on Micscape was entitled 'How Small Can You Write'. The ultimate in microtext of course is now down to the atomic scale but still find examples of printed microtext rather fun as it involves the use of a lens or low power microscope to reveal the text.
There are many examples issued worldwide and has become a thematic to collect in its own right. Two examples from GB Royal Mail issues are shown below.
GB 2001 Nobel Prize 100th anniversary: This splendid set of six has four that require some sort of interaction. The Royal Mail Presentation Pack No. 327 for this issue provides details for each stamp. The microtext example celebrates Literature and shows a poem by T S Eliot 'The Ad-dressing of Cats' in the open book. Three of the others feature below.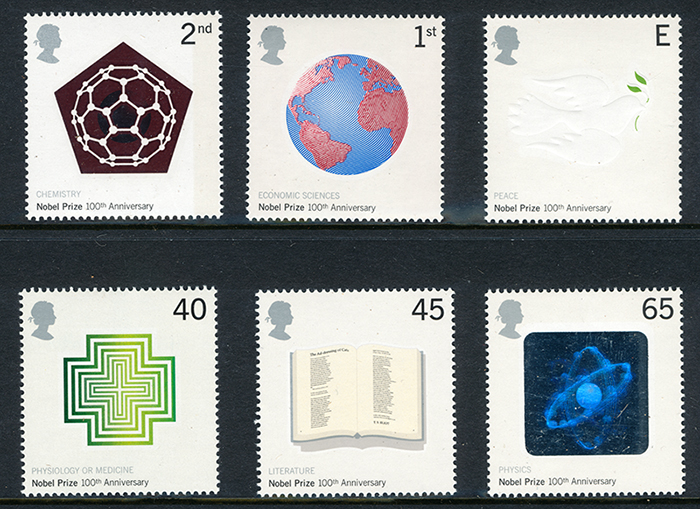 GB Nobel Prize 100th Anniversary set of six. © Royal Mail Group Ltd 2001.
Stamp designs: HGV Design and © Consignia plc 2001.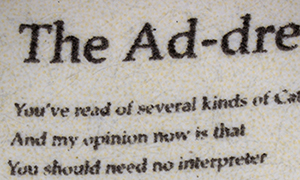 Literature prize, text from the book. Smaller text height 0.12 - 0.15 mm.
GB 2016 Agatha Christie: This set of six celebrates the author's wealth of crime novels. As befits the subject matter the ingenious and delightful designs have a number of hidden clues for the user to discover by various means. I must confess that I've never been a fan of the crime novel genre so the significance of the clues in relation to the novels are lost on me but it is fun to discover these clues. All six feature microtext in some forms. A modest 5 - 10X hand lens can make the text readable but a stereo microscope allows closer study, measurements and photography.
This stamp set could make quite a neat gift for someone to show how magnification can reveal hidden detail in objects manmade or natural. The eye cannot resolve unaided any of the microtext.

Agatha Christie stamps set of six. © Royal Mail Group Ltd 2016.
Design Studio Sutherl&, illustrations Neil Webb.

'Murder on the Orient Express'. Names of novel characters presented along the bottom black border. Text height 0.24 mm.

'The Mysterious Affair at Styles'. Poison bottle on the table. The white background design also doubles as a stylised skull. There is evidence that UV also reveals text on this background but have been unable to make it out. Text height 0.18 mm.

'The body in the Library'. Titles of the author's other novels above the body chalk outline.
Text height 0.21 mm.

'And Then There Were None'. Poem bottom right. Text height 0.21 mm. and a name on the window reflection in the water. Text height 0.15 mm.

'The Murder of Roger Ackroyd'. Detail of the letter in the dead person's hand. Inverted.
Text height 0.12 - 0.15 mm.

'A Murder is Announced'. Newspaper held by the lady.
Text height of main story 0.09 - 0.15 mm.
The smallest text on any of the Christie stamps is the fine print above 'Gazette' starting with 'THE NORTH ... ' but becoming too small to be reproduced accurately and to read. Text height 0.06 mm.
Directional light - holograms
There have been many stamp issues worldwide showing a hologram and a recent splendid book "Holography and Philately: Postage Stamps with Holograms" by Hans I. Bjelkhagen, (2nd edition 2017) has collated them all and highly recommended. Each issue is illustrated.
GB 2001 Nobel Prize 100th anniversary: The stamp celebrating physics shows a hologram of a boron atom (incorrectly described as a 'molecule' in the Royal Mail accompanying literature). The classically depicted atomic orbitals are in different colours and the electrons 'spin' when the stamp is tilted. The flatbed scan of the stamp shown earlier with multidirectional lighting does not show the hologram correctly. Bjelkhagen in his book notes that a spotlight mimicking the conditions used to prepare the hologram should be adopted. The same form of lighting is also ideally required to visually appreciate a stamp's hologram.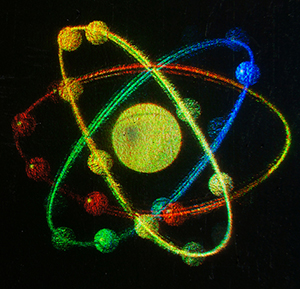 GB 2001 Nobel prize 100th anniversary, chemistry stamp hologram. Celebrates the work of Denis Gabor.
Hungary 2000: This attractive mini-sheet with inset stamp in part celebrates the work of Dennis Gabor who won the 1971 Nobel Prize in Physics 'for his invention and development of the holographic method'. A two channel hologram is used where the hologram shown is dependent on the lighting direction. Lighting from above or below shows a portrait of Gabor, lighting from the left or right reveals a typical optical ray diagram showing the principle of holography.
Further design features celebrate 'outstanding' Hungarian mathematicians but requires UV light to see as shown later. Note the apparent lack of any text around the stamp perforations in visible light.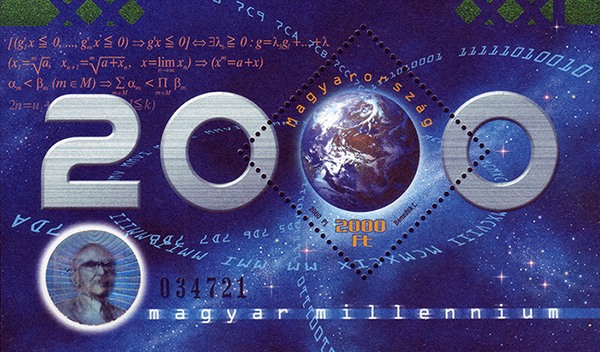 Hungary 2000 (actual size 12 cm wide). Design is credited to Imre Benedek. Hungary 2000 two-channel hologram (actual size ca. 2 cm).
Unlike the boron atom, this is a two channel hologram where the hologram shown is dependent on the direction of the light.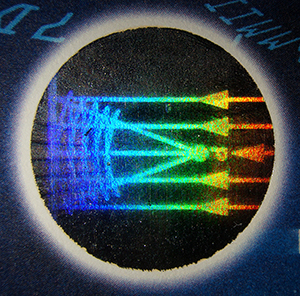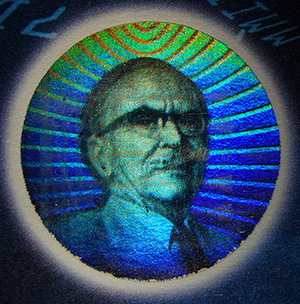 Hungary 2001. Hologram two-channel.
Ultraviolet light - fluorescent ink
GB 2016 Agatha Christie: The stamp depicting a design based on the novel 'A Murder is Announced' reveals the clock face under near UV light. A torch at a wavelength of ca 395 nm reveals clearly. Using a true 'black light' with emission at 365 nm does not reveal this feature. The numbers are clearer visually, the camera seems less sensitive to this colour range.
'A Murder is Announced' stamp under near UV ca. 395 nm torch plus daylight. The clock numerals are revealed.
Hungary 2000: The sheet design shown earlier uses a fluorescent ink not seen in visible light. Bjelkhagen notes that there are 57 Hungarian mathematicians named around the stamp perforation perimeter with a header translated as 'Outstanding Hungarian Mathematicians'. The names are not seen in visible light, ultra violet is required to activate the ink.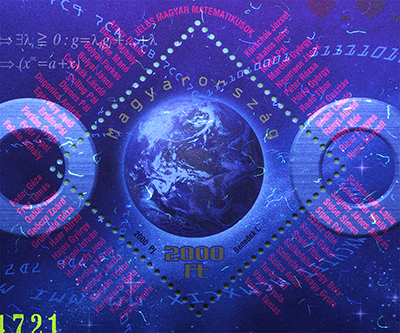 Blacklight 365 nm only, no visible. The names of the Hungarian mathematicians around the stamp border are revealed. Surnames first, the convention in Hungary.
From my own trials, a cheap UV multi-LED torch ca. 395 nm (successful on the Agatha Christie stamp) did not work, the border of visible and near UV. A true 'blacklight blue' (BLB) lamp which emits at a wavelength of ca. 365 nm with visible light in the room blocked was required. I still found it difficult to read the names well which fluoresce in pink but were shown well in a photograph. The image using UV was taken using an exposure of 15 secs, ISO 100, f8. The stamp serial number seen black in visible light also fluoresces in green.
Heat - thermochromic ink
Some stamp issues use thermochromic ink where heat is required to reveal some aspect of the design. The GB 2001 Nobel Prize chemistry stamp below showing buckminsterfullerene reveals an ion trapped within the structure as the background lightens with heat. This stamp celebrates the work of Sir Harry Kroto.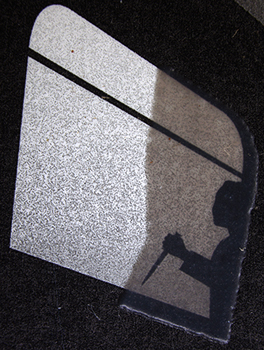 Left - GB 2001 Nobel Prize 100th anniversary, heat applied to Chemistry stamp.
Right - GB 2016 Agatha Christie, heat applied to 'Murder on the Orient Express' stamp.
The GB 2016 Agatha Christie stamp above showing 'Murder on the Orient Express' shows a figure hidden behind the black curtain in a train carriage (second from left on the stamp) when heat is applied. Both these stamps required gentle heat from a hair dryer, my finger didn't activate either although the Royal Mail information card suggests that it should.
Scent - 'scratch and sniff'
GB 2001 Nobel Prize 100th anniversary: Stamps emitting a scent when rubbed have been widely used by many postal authorities. The example here for the Physiology or Medicine Nobel Prize smells of eucalyptus according to the Presentation Pack inset card for the issue. Presumably the oil needs to be encapsulated in tiny capsules that break on rubbing. Oblique lighting reveals some surface proud beads that may correspond to these. They are ca. 0.05 mm in diameter.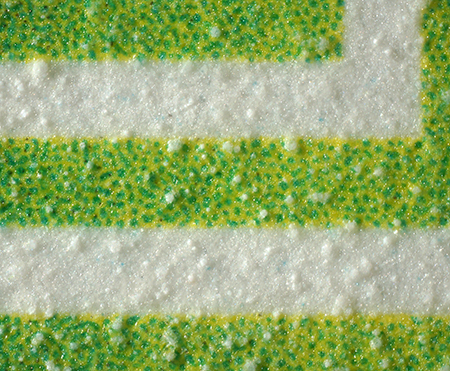 GB 2001 Nobel Prize 100th anniversary, low angle light on Medicine or Physiology stamp.
Detail, 5X optical mag under a stereo.
Very oblique light to show the beaded surface for the scent capsules ca. 0.05 mm in diameter.
Comments to the compiler are welcomed.
Micscape Resources
Micscape articles on microscopes / microscopy on stamps.
Selected topics in microscopy, photomicrography, diatoms, radiolaria, Van Leeuwenhoek / Robert Hooke, marine plankton / oceanography and further photomicrography by David Walker.
Microscopes and Stamps by Fritz Schulze.
Image acknowledgements. GB stamps are © Royal Mail Group Ltd. The copyright of the stamps and envelope designs remain with the postal issuing authorities and/or the designers and have been credited where known. They are presented here at a limited size solely as an educational resource on this not-for-profit website. If a copyright holder wishes to contact the author please use the email above. Thank you.
Sourcing stamps. For readers interested in seeking out one or more of the stamps on the above or other topics, one of the best portals for thematics is delcampe.net. Catalogue numbers aren't needed and often not stated. Searching for country with year and keyword of theme can usually show all the dealers offering them. Many dealers are now aware that EMs are a thematic and often included in the auction title. Where not offered on delcampe.net, eBay is the second choice.

---
© Microscopy UK or their contributors.
Published in the May 2019 edition of Micscape.
Please report any Web problems or offer general comments to the Micscape Editor .
Micscape is the on-line monthly magazine of the Microscopy UK web site at Microscopy-UK
---
© Onview.net Ltd, Microscopy-UK, and all contributors 1995 onwards. All rights reserved.
Main site is at www.microscopy-uk.org.uk.