Notes on an arranged diatom slide labelled 'by K. R. Green, Cottingham'.

by David Walker, UK

'K R Green, Cottingham' is not a name I have come across on slide labels to date. I first came across this attribution only recently when Ian Jones in Switzerland had been sharing his accomplished images of splendid arranged diatom slides with this provenance on the Facebook Diatom Images group page.
Although the name was unfamiliar, Cottingham certainly wasn't and is a 'village' just on the outskirts of north west Hull, UK. The family home from my youth is a mile or so away from Cottingham. My brother and I spent many happy hours cycling in the environs of Cottingham and the hills of the Yorkshire Wolds further north. I was keen to own my own slide example and coincidentally an arranged diatom as described below was selling on eBay UK and acquired at a fairly modest cost.
The label printing style looked quite modern and a Google search gave a Kenneth R Green who had written the book 'Old Cottingham Remembered' Hutton Press, 1988 and 'Cottingham in Old Picture Postcards' 1993. I obtained a used copy of the former and an extensive biography for the author was usefully on the back cover. On page 22 he notes that "the rare diatom now known as Fragillaria Harrisonii" (sic) was discovered in a local spring by "the renowned local botanist Harrison" (a mid 19th century collector). This suggested that the local historian and diatom slide attribution were the same person.
The publishers Hutton Press no longer exist to seek formal permission but include a scan as 'fair use for quotation, criticism or review' of the biography below.

A further Google search revealed a firm confirmation on Microscopy UK's own server! We host the archive of the 'The Amateur Diatomist' magazine for Steve Gill and Dr Kenneth R Green in 2003 (Vol. I, no. IV, March, p.1) had written a sort piece on this rare diatom with an illustration from Schmidt's Atlas. The 'Ricardian Bulletin' (an historical publication concerned with Richard III) note in their June 2008 Summer issue (p.63) "Recently Deceased Members" section "Dr Kenneth R Green, Cottingham, East Yorkshire" a member since 1998.
In October 2019 Flint Auctions (UK) sold as lot 51 'A very good collection of arranged and exhibition diatom microscope slides'. These are described as 'all slides relabelled by K. R. Green, Cottingham in 1972'. My own example states 'by K. R. Green' (with 'by' added later in ink). From discussions with owners of other examples (see Acknowledgements) it is likely that the slide was not prepared by Green but has been relabelled by the owner, a not uncommon practice to normalise a slide collection.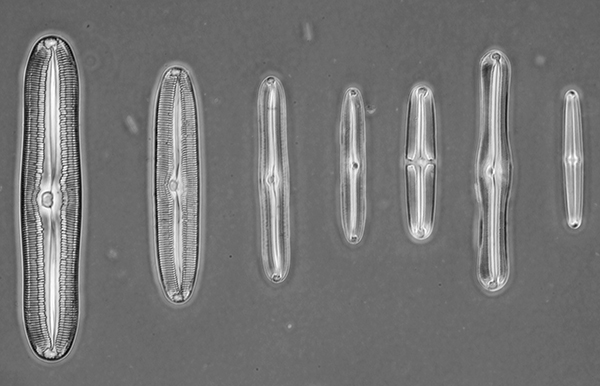 The mount is clean and the arrangement is made to a high standard with precisely spaced and aligned Pinnularia species. Zeiss 10/0.22 phase objective.
From the label the species are P. gigas, P. dactylus, P. major, P. liber, P. diversens, P. pulchella, P. tenella.
I would be interested in acquiring an example of the rare diatom found in an area of my childhood. I believe Fragilaria harrisonii (W. Sm.) is now Staurosirella leptostauron (Ehrenb.) if I understand the hoops that taxonomists seem to delight in making casual diatom enthusiasts like myself jump through! A pity, as it has now lost the Cottingham association with the discoverer Harrison.
Comments to the author are welcomed.
Acknowledgements
Thank you to Ian Jones for sharing his images of the slides he owns by K R Green which prompted my interest and for information on his own slide purchases. Thank you to another owner of a set of Green slides who kindly shared details of the slides and labelling.
---
© Microscopy UK or their contributors.
Published in the May 2020 edition of Micscape.
Please report any Web problems or offer general comments to the Micscape Editor .
Micscape is the on-line monthly magazine of the Microscopy UK web site at Microscopy-UK
---
© Onview.net Ltd, Microscopy-UK, and all contributors 1995 onwards. All rights reserved.
Main site is at www.microscopy-uk.org.uk.