A Little Gem -
'The Observer's Book of Pond Life' by John Clegg
a look back at a classic book by Dave Walker
I suspect many fellow UK amateur naturalists and microscopists have a fond affection for the classic 'Observer's Book of Pond Life' by John Clegg. For me, it was one of the first books as a youngster I could afford with my own pocket money. It was first published by Warne, London in 1956 (coincidentally the year I was born). My copy is a reprint dated 1963.
The author John Clegg has sadly passed away recently, so a short review of one of his most famous works which has and continues to provide many people with pleasure, seemed appropriate.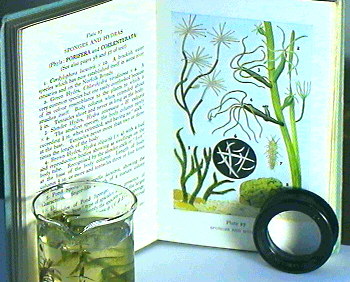 The 'Observers' series of books needs no introduction to UK readers. They are pocketable books published on a very wide range of topics covering many interests. They included 'Birds', 'Butterflies', 'Railway Locomotives', 'Music' and many more. The range published over six decades isn't as extensive as it was, but many are still available in modern versions, including John Clegg's book. Some of the older out of print books in the series are now collectors items. The Observer's series was launched in 1937 with the publication of 'The Observer's Book of Birds'.
Image right above: Happy childhood memories! A jar of pondwater, a cheap 5X hand lens and my early copy of John Clegg's guide to aid identification.
In such a compact book, it's amazing how the author managed to produce such a wonderful overview of pond life.The body of the book contained coloured plates or line drawings (by Ernest C. Mansell) of typical species opposite a descriptive text with short essays on each major freshwater group. Photographs by the author John Clegg were also included. The book covered both macroscopic and microscopic life and I suspect that this book gave me my first inkling of what a microscope could reveal. The author's love of freshwater life shone through the text and was carefully written so that it would appeal and be accessible to a wide readership.
In addition, the book gave a good grounding in ecology, field collecting techniques and also introduced the concept of simple keys and basic taxonomy. A casual interest in all of these topics of which I've kept to this day.
Amongst other publications, the author John Clegg, also published a more extensive and equally classic work 'The Freshwater Life of the British Isles' published by Warne (4th and last edition in 1974).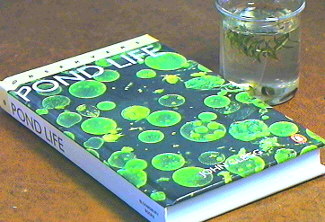 The recent edition (right) is slightly larger and now titled 'Observer's Pond Life' (1986, Bloomsbury, ISBN 1-8547-1063-X). The excellent illustrations (by Gordon Riley, Eric D. Hollowday, R. B. Davis and the late Ernest C. Mansell) in addition to the author's photographs, are now attractively placed within the text. (Cover photo' of Volvox tertius by J. Clegg). I note this edition has a short biography of the author which I quote in part:
'John Clegg was Curator of the Haslemere Educational Museum in Surrey from 1949 to 1962 and later of Torquay Natural History Museum and the Gilbert White Museum of Selborne, Hampshire. As a freelance writer and photographer he has always specialized in freshwater biology.'
After being available for over three decades the 'Observer's Pond Life' by the late John Clegg is still hard to beat as a pocketable book for both the younger and older naturalist keen to learn about the wonders of pond life.
Additional note: since publishing this short note, I now suspect the latest edition may be out of print, as readers have kindly contacted me saying on-line bookshops outside of the UK don't catalogue it. I did note in May 1998 that a British on-line bookshop http://www.bookshop.co.uk did list it as in stock (search via author John Clegg), so when their stock goes it may be hard to obtain. It's listed as under £2 - it really is a gem at that price! Incidentally the book by John Clegg on freshwater life that US bookstores do catalogue, the British Naturalist's Association guide, is also a good introduction to freshwater life. This is a larger guide and based more on illustrated extended essays as I recall.
Readers interested in other UK books on freshwater life may also be interested in the book list in the Stream Dipping article.
Comments to the reviewer Comments to the author sent via our contacts page quoting page url plus : ('dwalker','')">Dave Walker welcome.
---
© Microscopy UK or their contributors.
Please report any Web problems or offer general comments to the Micscape Editor,
via the contact on current Micscape Index.
Micscape is the on-line monthly magazine of the Microscopy UK web
site at Microscopy-UK
---
© Onview.net Ltd, Microscopy-UK, and all contributors 1995 onwards. All rights reserved. Main site is at www.microscopy-uk.org.uk with full mirror at www.microscopy-uk.net.