The Shell Seekers of the North Tirol
by Brian Darnton, UK

After the publication of the first Micscape articles on the Foraminifera (see footnote), there were a series of emails not from microscopists, but from Conchologists of one sort and another, who had noted the Foraminifera in the shell grit that normally fills the empty cavities of the strange and beautiful shells that they normally deal with.
One such person is an Austrian gentleman by the name of Helmut Nisters (see www.netwing.at/nisters/) who asked for a named type slide of the Mediterranean Forams in order to identify some of them. In return I asked him if he would like to exchange the slide for some of the raw shell grit. He explained that together with his mother Dr. Irmgard Nisters (who is now 88 years old) they had become quite infatuated with the Foram interlopers. They are together responsible for maintaining the malacological collection at the Natural History Department of the Tiroler Landesmuseum Ferdinandeum Innsbruck Austria.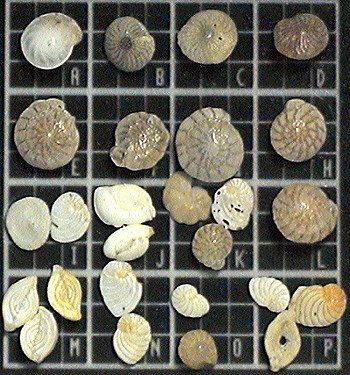 The shell grit A-D is from fossil material from Livorno (It.), E-H is from Rimini (It.), I-L is from Sicily and M-P from Croatia. The accompanying image is the fruit of this Internet activity.

Comments to the author Comments to the author sent via our contacts page quoting page url plus : ('bdarnton','')">Brian Darnton are welcomed.

(The author thanks Helmut Nisters for giving his permission to use his name and that of the museum.) The museum details are as follows.
Natural History Department of the
Tiroler Landesmuseum Ferdinandeum Innsbruck
Malacological collection
Feldstr. 11a
A-6020 Innsbruck / Austria / Europe
Phone: 0043 / 512 / 58 72 86-37


Footnote: Brian's previous Micscape articles (including those on the Foraminifera), can be found by typing 'Darnton' in the Article Library search engine, see link below.
---
© Microscopy UK or their contributors.
Published in the May 1999 edition of Micscape Magazine.
Please report any Web problems or offer general comments to the Micscape Editor,
via the contact on current Micscape Index.
Micscape is the on-line monthly magazine of the Microscopy UK web
site at Microscopy-UK
---
© Onview.net Ltd, Microscopy-UK, and all contributors 1995 onwards. All rights reserved. Main site is at www.microscopy-uk.org.uk with full mirror at www.microscopy-uk.net.