A Vorticella Colony

by Howard Webb (St. Louis, MO, USA)
Introduction

In my hunting for daphnia, numerous other micro-organisms are also captured. This particular instance was a collection made at a pond in Ligonire, PA (UMT 17 657547E 4462831N). At first glance, there did not appear to be anything particular in the collection bottle; but after several days of sitting, a fair bit of life became apparent (daphnia, copepods, ostracods, volvox, stentors). I find that letting a bottle sit for several days always produces good results (unless hydra or other predators are present, which will consume the other residents).
On first visual inspection, the vorticella appeared as a small patch of fungus, about 8mm in diameter. However, when the bottle was moved, the colony would contract - definitely evidence this was not fungus.


About Vorticella1

Vorticella are a small ciliate, filter feeders. While they often appear as a colony, they are not a true colony. Rather than a single shared stalk, every individual has its own stalk; and may thus separate from the group and move about on its own.


Technique

The vorticella were collected via my usual method of a cup on the end of a pole. The contents are then filtered through silkscreening cloth to concentrate the findings. The collection was transported and maintained in a re-cycled 0.5 liter drinking water bottle.


The vorticella were placed on a slide, with the coverslip elevated by several fragments of broken coverslip. Darkfield illumination was used.


Images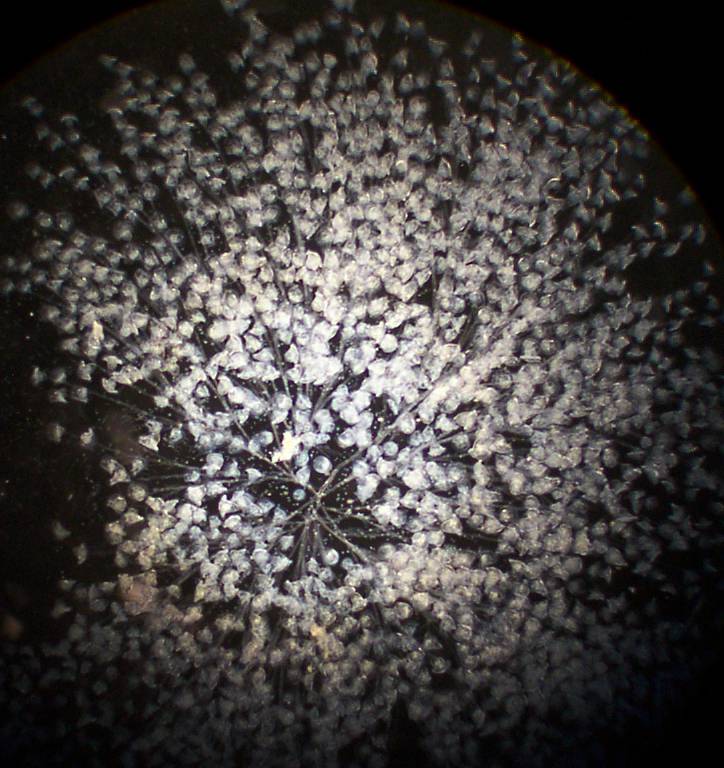 Vorticella 'colony' 10x, resized to 640x480.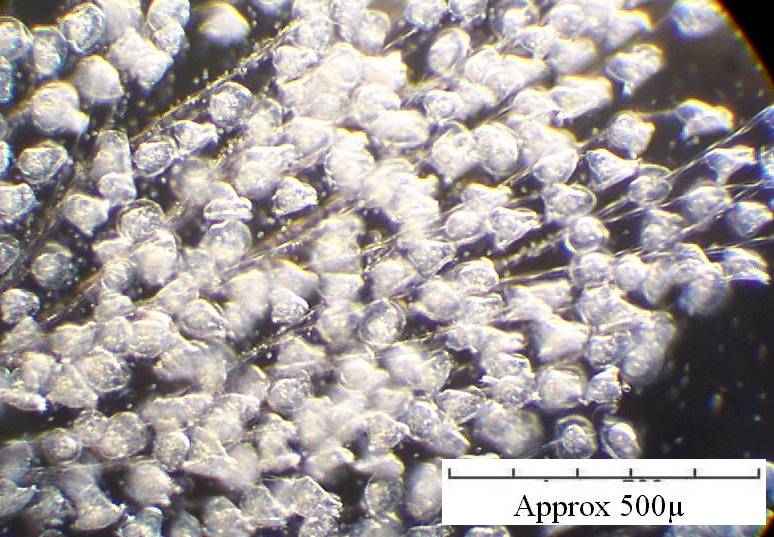 100x, image cropped but not resized.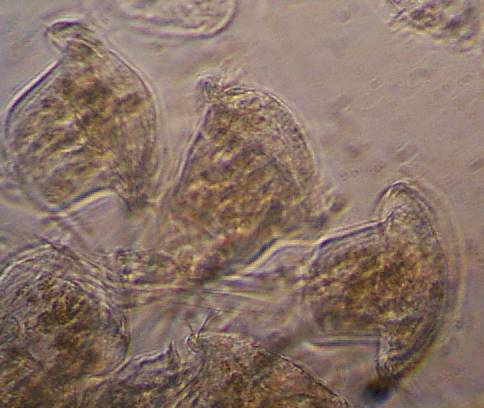 400x, image cropped but not resized.
Technical Details
Taken from Guide to Microlife, by Kenneth G. Rainis and Bruce J. Russell, Franklin Watts, Danbury, Connecticut (USA), 1996, ISBN 0-531-11266-7; this is a good, basic reference, a lot of information without being too technical.

Microscope: Bauch & Lomb monocular, 10x ocular, 4x, 10x and 40x objectives.
Camera: Kodak 3200 Digital, best mode 1152x864.
Software: Photoshop Elements.

---
© Microscopy UK or their contributors.
Published in the November 2003 edition of Micscape.
Please report any Web problems or offer general comments to the Micscape Editor.
Micscape is the on-line monthly magazine of the Microscopy UK web
site at Microscopy-UK
---
© Onview.net Ltd, Microscopy-UK, and all contributors 1995 onwards. All rights reserved. Main site is at
www.microscopy-uk.org.uk
with full mirror at
www.microscopy-uk.net
.