Exploring the microscopic world with
an IntelPlay QX3 microscope
by Ian Jefferies, UK
Editor's note: Ian Jefferies sent us this delightful illustrated letter on exploring the microscopic world with his young children.

I recently inherited a modern, high-powered microscope. This sparked an interest in the microscopic world, both in myself and in my children. My children, (aged 3 & 5) found it hard to view some of the very amateurish slides we produced so I purchased an Intelplay QX3 to make it more fun for them. Here are the results, which, we are quite proud of. They are our first attempts not only in photographing the slides but also in creating the slides in the first place. The definition is not great when photographed but it gives the children an idea of what to look for before looking through the higher-powered scope.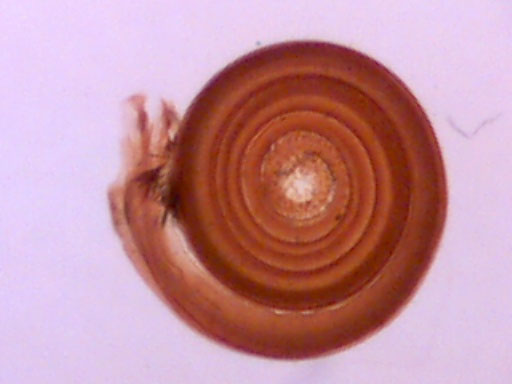 This is the tongue of a moth.
We have used various filters that came with the inherited scope to contrast and enhance the images, giving a clearer view of the samples. We don't have much experience in enhancing the slides or the pictures but have found your site very helpful in taking these first steps. We have also purchased books and other items from Brunel Microscopes that we have found enormously helpful.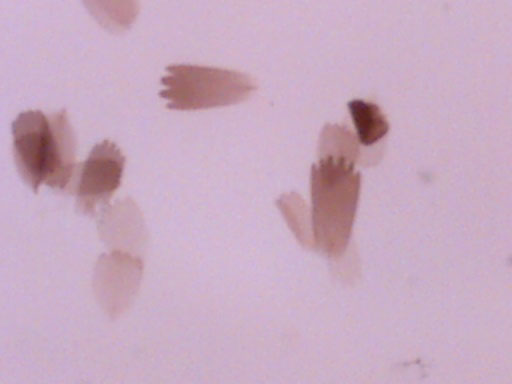 Scales from the same moth.
Some of the pictures show our mistakes in preparation i.e. specks of dust etc. We are finding that, it's the same as anything, in that the more you do it, the more you learn.

We hope that these images may be of some interest to someone, particularly if they are new to the microscope and are worried that it's a very technical and difficult hobby to get to grips with. I'm sure that as you can see, even very green amateurs with basic equipment can get some results!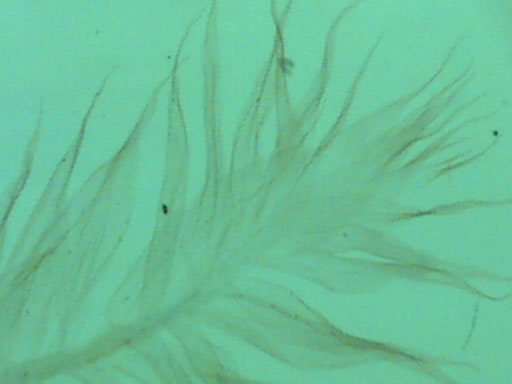 A sample of moss from our lawn.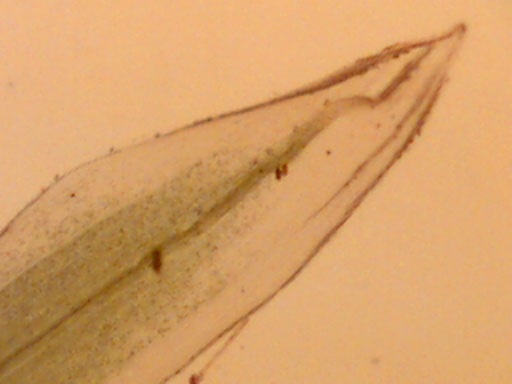 The tip of a blade of grass from the same lawn.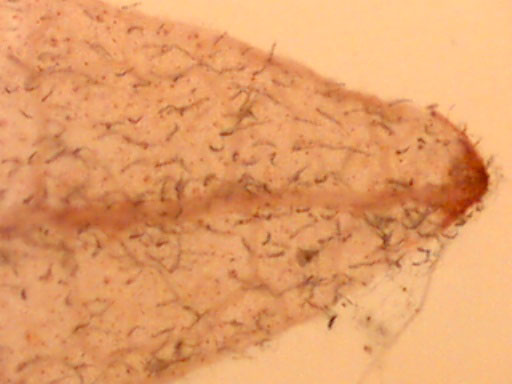 A tip from a Magnolia tree leaf.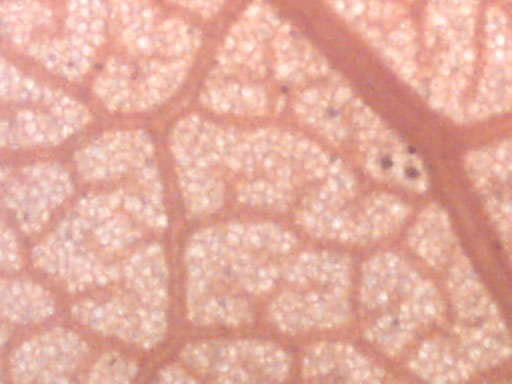 A section of Laurel leaf.
We are in the process of preparing other insect parts, items from the garden and bits from the beach so watch this space!

Ian, Tilly and Ba Jefferies. Comments to the author Ian Jefferies are welcomed.
Related Micscape links: Further information on the IntelPlay QX3 computer microscope can be found in the library.

---
© Microscopy UK or their contributors.
Published in the November 2003 edition of Micscape.
Please report any Web problems or offer general comments to the Micscape Editor.
Micscape is the on-line monthly magazine of the Microscopy UK web
site at Microscopy-UK
---
© Onview.net Ltd, Microscopy-UK, and all contributors 1995 onwards. Main site is at
www.microscopy-uk.org.uk
with full mirror at
www.microscopy-uk.net
.