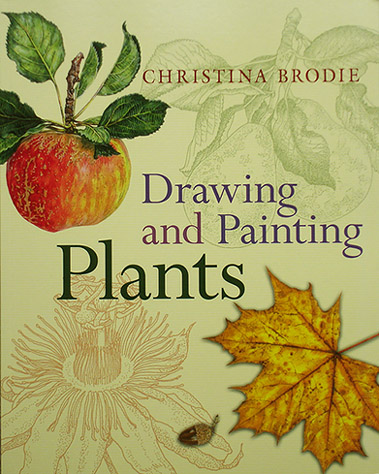 Published 2006 by A & C Black Publishers Ltd, London.

A short review by Ian Walker. UK.




Introduction.


Having enjoyed several articles contributed to Micscape over the years by Christina, I have been waiting for this publication to arrive in the shops to buy my copy since I have an inherent interest in drawing and painting and have many of the materials discussed in the book at home. Although my own interest is mainly in the geometrical & engineering drawing methods I greatly admire the work of botanical artists past and present who have contributed much to the understanding of the nature and structure of plants and trees. Sadly this method of illustration is now disappearing in favour of photographic methods. This is not supposed to be an in depth review but a series of personal notes as I read the book giving a glimpse of the artistry and accomplishment that Christina has managed to attain in this publication.



First impressions.


Aesthetics are important and first impressions are favourable, the soft back book is quite large at 11" high by 8 3/4" wide [28x22cm] closed which gives plenty of space for the drawings and paintings to be shown at their best. The front cover is colourful and well presented as shown in the title picture giving a flavour of the contents within, whilst opening the book for the first time shows a well chosen typeface and matte paper of nice weight and excellent finish. The spine is both sewn and glued suggesting a good life and sits nicely spread on a table or in the lap, but I am surprised the book was not released in both hard and soft back for I certainly prefer the former and would have paid the extra premium for this option but overall I liked the format.



Contents.


The book consists of 144 pages including index and supplementary information such as Bibliography and suppliers of materials and is divided into 12 distinct Chapters. Paintings and text from the book are copyrighted but with kind permission of the publishers A & C Black Publishers Ltd, London, I was given permission to reproduce a couple of images of my choice and the cover to accompany the review but take into account these are representative but not of the same quality as seen in the book. To see some similar paintings you can visit Christina's own article in Micscape 'An Overview Of The Paintings by Christina Brodie' . However the images shown on the website I think lack some fine detail and saturation in comparison. The book starts with an introductory page on Christina's background leading us to Chapter 1.



Chapter 1.

The Plant Kingdom.


Not being an expert on plants and having been confused rather more times than I care to mention on classifications in previous publications, this short chapter of five pages is one of the most concise and well structured explanations I have seen with some well chosen drawings to give examples of plant, fungi and algae with further explanations on genus and species, the most useful terminology being in bold type.


Chapter 2.

Drawing and Watercolour Technique.


This chapter discusses drawing and watercolour technique over 13 pages including pictures of paints, brushes and paper required, these being carefully laid out to show them at their best. Christina goes into some detail on how to start your illustration building up from accuracy in drawing using construction lines through to final preparations with many hints and tips along the way together with suggesting the most suitable materials to obtain a professional finish. A particular mention must be made of the colour wheel known by many artists and photographers but here Christina shows the actual names of paints such as Lemon Yellow, Prussian Blue etc available from suppliers that can be used to obtain the colours within the wheel. This is excellent and allows end users to buy specific paints to build up their illustrations. This is a thoughtful and well written chapter with plenty of step by step processes building up your final painting.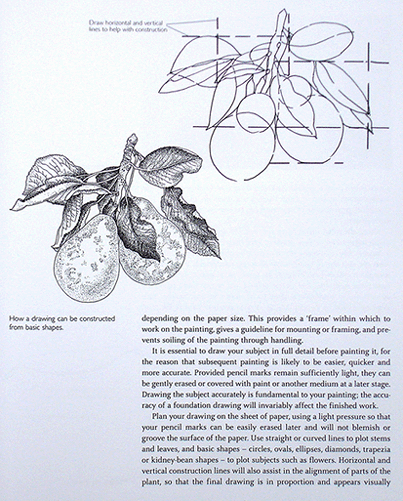 From Chapter 2, Page 17. A drawing can be constructed from basic shapes.

Reproduced with kind permission of the publishers A & C Black, London.


Chapter 3.

Flowering Plants: Flowers, Fruits & Seeds.


Here the different parts of flowers are discussed with line drawings accompanying the text to put them in perspective. This leads onto dissection of flowers using simple tools and the relevant safety precautions again with step by step instructions on how to get good results. Further on in the chapter many new terms are introduced all accompanied with good descriptions, the chapter concludes with painting fruits and germinating seeds. Some wonderful paintings can be found in this chapter my favourite being the study of seed growth painted in colour on a black background.




Chapter 4.

Flowering Plants: Leaves, Stems & Roots.


This follows on nicely from the previous chapter and again introduces relevant terms associated with the title together with numerous drawings of leaves from common trees and plants culminating in paintings of variegated leaves and roots.



Chapters 5 & 6.

More Painting Media and Monochrome Media.


Gouache and acrylics are introduced in Chapter 5 along with typical results expected from these media whilst Chapter 6 discusses pen work in black ink, ink washes and pencil; the chapter ending in the white and black scraperboard technique. I particularly like Christina's scraperboard work and here the results are stunning, my favourites being a maple leaf and pears.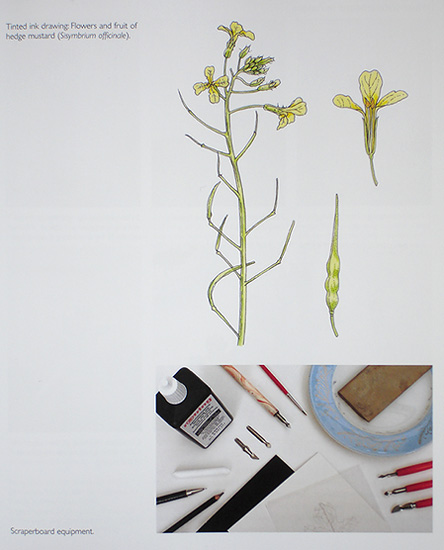 From Chapter 6, Page 77. Tinted ink drawing and scraperboard equipment.

The lower picture of materials is typical of the care and attention to detail.

Reproduced with kind permission of the publishers A & C Black, London.


Chapter 7.

Measuring and Magnifying Plant Parts.


Here we are in more familiar territory in Micscape as the introduction to stereo microscopes and compound microscopes are discussed together with measuring eyepieces and stage micrometers and how they can be used in the context of drawing and measuring plants and plant sections.



Chapter 8.

Trees.


A substantial chapter of 15 pages goes into some detail on recording the shapes of trees, rendering these in different media together with painting catkins, twigs and coniferous foliage. Plenty of individual subjects can be seen throughout the chapter helping the reader in the finer work making up these paintings.



Chapters 9 & 10.

Fungi and Flowerless Plants.


Fungi discussed in Chapter 9 are one of my favourite subjects in macro photography so it is nice to see how Christina goes about drawing and painting these wonderful subjects. Again she introduces all the common terms and distinguishing features leading onto finding fungi and typical habitats. This leads us onto Chapter 10 which include well known subjects such as ferns, horsetails, algae and lichens. Here we have some of the most delicately painted subjects in the book with great attention to colour and detail.



Chapters 11 & 12.

Presenting Your Work and Further Study.


Chapter 11 gives the reader sound advice on organizing and presenting your work both for yourself and exhibitions whilst Chapter 12 supplies information on organizations and field studies together with photographs of typical habitats together with common sense and discretion in obtaining samples in the field.



Conclusion.


You neither have to be an expert in painting technique nor understand the finer detail of plant anatomy to enjoy this book, indeed, I see its purpose in trying to persuade those of us who have never tried painting these subjects to have a go following Christina's step by step processes. The book is lavishly illustrated with many of her paintings and it is a joy just to study the detail of the work she has accomplished. Her background in teaching botanical painting for the RHS at Rosemoor shines through as it is thoroughly readable throughout in a concise and illuminating manner.



Highly Recommended.



Book Details:
Drawing and Painting Plants by Christina Brodie.
First published in Great Britain in 2006
A & C Black Publishers Ltd
38 Soho square
London W1D 3HB
www.acblack.com
Synopsis on publisher's website.
RRP £19. Price £13.19 from Amazon (UK).
Christina Brodie's website is at www.queen-christina.com where contact details can also be found.

Acknowledgement: Thank you to Ms Claire Weatherhead, Permissions Dept at the publisher's A. C. Black for permission to reproduce the book cover and selected pages.



Comments to the reviewer, Ian Walker, are welcomed.
---
© Microscopy UK or their contributors.
Published in the November 2006 edition of Micscape.
Please report any Web problems or offer general comments to the Micscape Editor .
Micscape is the on-line monthly magazine of the Microscopy UK web site at Microscopy-UK
---
© Onview.net Ltd, Microscopy-UK, and all contributors 1995 onwards. All rights reserved.
Main site is at www.microscopy-uk.org.uk with full mirror at www.microscopy-uk.net .