Micscape Image Gallery
Paramecium photographed with a student microscope and
box camera forty years ago by a 14 year old
by Alan Rulis with additional comments by Dave Walker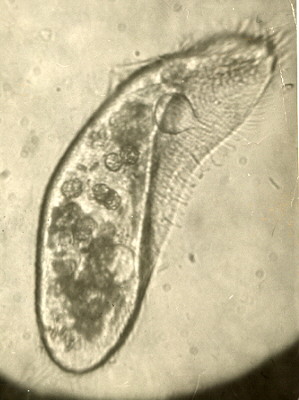 © Alan Rulis
Alan Rulis who sent the image said in his email:
'I would like to share this with you, and I thought you might be interested in seeing a photomicrograph I took as a youngster of about 14 (forty years ago!). This was taken through an inexpensive "student" microscope with mirror illumination and using a "box" camera mounted on a ring-stand in my home laboratory. I have only the 5X7 inch print; the negative is lost.
This paramecium was slowed by mixing methylcellulose with the water. When it slowed sufficiently, I snapped the photo. We printed it in a friend's darkroom. Not bad for primitive equipment, with good resolution of the cilia, etc., I'd say.

Regards, Alan Rulis, Annandale, Virginia, U.S.A.'
We were delighted to receive this image and the important message it conveys. The message is a very simple one - you don't need expensive equipment to enjoy amateur microscopy, and if our web site leaves you with any lasting message we believe that this is one of the most important.
It shows that an image with good depth and detail is quite possible with simple equipment - of a tricky subject too - a moving organism.
So whatever your microscope - have fun using it - and please share some of your work with us on this site (see contact below). We are pleased to receive an image, articles etc. no matter how simple or sophisticated your equipment.
Acknowledgements
Many thanks to Alan Rulis for sending this image and allowing his email to be published.
---
© Microscopy UK or their contributors.
Published in October 1998 Micscape Magazine.
Please report any Web problems or offer general comments to the Micscape Editor,
via the contact on current Micscape Index.
Micscape is the on-line monthly magazine of the Microscopy UK web
site at Microscopy-UK
---
© Onview.net Ltd, Microscopy-UK, and all contributors 1995 onwards. All rights reserved. Main site is at www.microscopy-uk.org.uk with full mirror at www.microscopy-uk.net.