| | |
| --- | --- |
| LARVACEANS | by Jean-Marie Cavanihac, France |
Some months ago, I wrote an article about tunicates, a family of creatures from the Phylum Chordata which have the particularity of possessing a notochord which is an embryonic nervous system and relates them as our distant (very distant!) cousins.

Among this family, one species has always intrigued me, because specimens are very abundant in spring and summer months, their density reaching and often overtaking the copepods density! Like copepods, they form a large part of the food for young fish. I have taken recently, new color pictures of these creatures and I thought it was useful to update this topic, dedicating to them a special page.

This species is a LARVACEAN and also called appendicularian. Many species exist, the more frequently encountered being Oikopleura. Larvaceans have an extraordinarily sophisticated method of feeding: they secrete many nets from an ovoid house to catch small phytoplankton or bacteria. A gland located near their pharynx secretes mucus to make these nets.

But you probably want to see how this fascinating creature looks! Here are two pictures below showing a front and side view (it's not the same specimen); in front view the notochord and neural tube is perfectly seen in the tail.


An enlarged view below of a larvacean body shows its internal organs: mainly a digestive system and reproductive system.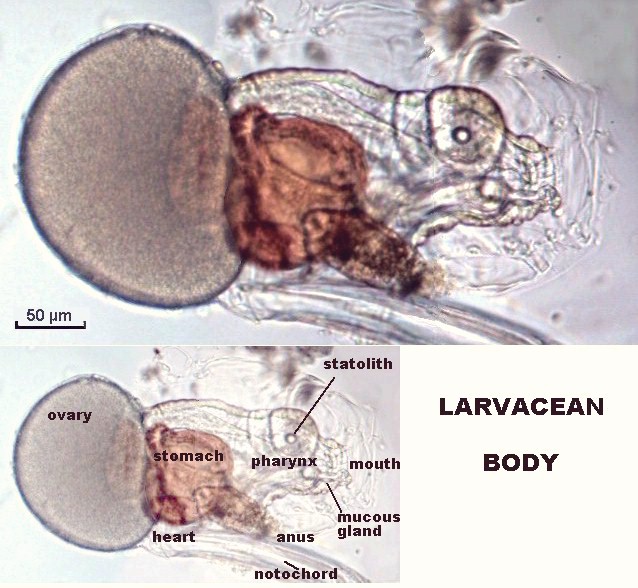 You can see a rounded structure above the pharynx which looks like an eye, (in fact the larvacean body looks like a head with a large brain - on the left - and a single eye, like a sort of extraterrestrial creature, don't you think?). But to become serious again! This quite perfect spherical structure is an equilibrium organ called a statolith, frequently encountered in marine creatures. The statolith is made of inorganic 'heavy' material like calcium sulphate or magnesium sulphate and transmits to sensitive cells the direction of movement. (See article about statoliths.)

The houses in which the animals live are delicate and it is very difficult to obtain them intact when catching plankton with a plankton net. Two types of filters are included within the house: a coarse filter screening large and unusable particles and a thin net trapping food. In the house, the larvacean continuously moves its tail with a sinusoidal movement, to create a flow of water through the filters and the thinner of them are connected to its mouth by a straw-like tube. Then a mucous flow guides food into a ciliated pharynx and stomach. (See MPEG animation by clicking here.)

(See the beautiful drawing by Wim Van Egmond of Oikopleura's fishing house.)

When the filters are clogged or when the delicate house is destroyed, a larvacean escapes from it and immediately builds a new one! Unfortunately this process is very difficult to observe because these creatures don't live for more than a day or two, even if the sampling jar is kept at a low temperature (e.g. in the refrigerator).

It's sometimes possible to see these old houses because they constitute an important part of the waste in samples (and are probably another food source for fish) but they are transparent and difficult to identify when the animal is not inside. Only once have I found a house with coarse filters clogged (pollution exists probably for larvaceans too!) and dark particles trapped inside allows its structure to be seen. In the left hand picture below, the black objects are clogged filters and in the right hand picture is detail of a part of the left filter showing the mesh.

| | |
| --- | --- |
| | In the picture above, note the space between the mesh frame of ca. 0,05 mm. In the left hand picture, darkfield illumination and a 2,5x objective, allows us to see this better in another specimen. |
Many species of larvaceans are hermaphrodites (they have both male and female reproductive organs). Precisely, these organs: testes and ovary are located in the 'brainlike' organ, but I had never observed the reproduction process. Maybe because of the very high temperatures, some specimens contained many eggs in their ovaries. The picture below shows one of them: unfortunately the specimen is badly preserved and the tail is damaged but eggs are clearly visible.

Some eggs were released into the water so you can see their detail and size. The hatching process was initiated and for the first time I observed young larvaceans: shown below are pictures at several stages of their growth.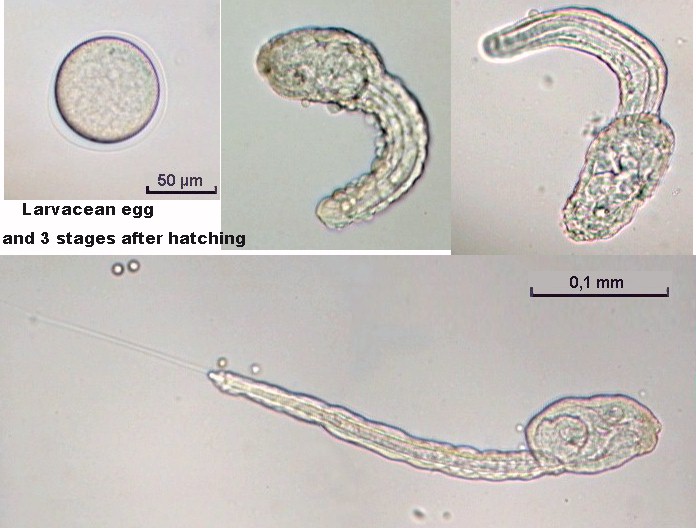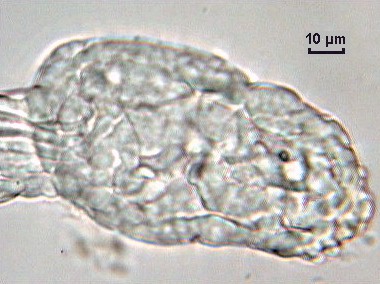 Above is a closer view of a young specimen's body which shows perfectly the small statolith already present.

Unlike other tunicates, which undergo a metamorphosis, giving an adult very different to the larva, larvaceans stay in the same state all their life.

I hope the pictures of these intriguing creature can improve - a little - a knowledge of their behavior for Micscape readers and in particular demonstrate one more time that the sea is full of marvels!

All observations (except eggs in ovary) were made on living specimens.

Go to the article 'Tunicates extraordinaire' to see animated images of a larvacean.
Comments to the author Jean-Marie Cavanihac are welcomed.
All drawings and photographs © Jean-Marie Cavanihac 2002.
---
Published in September 2003 Micscape Magazine.
Please report any Web problems or offer general comments to the Micscape Editor.
Micscape is the on-line monthly magazine of the Microscopy UK web site at Microscopy-UK
---
© Onview.net Ltd, Microscopy-UK, and all contributors 1995 onwards. All rights reserved. Main site is at www.microscopy-uk.org.uk with full mirror at www.microscopy-uk.net .