The next step was to make annuli. I decided to make them out of brass sized so that they can be placed inside of the holder like the graticule was for the measurements. To avoid complicated machining they were going to be made as two pieces that were to be joined by three short pieces of brass wire positioned in a star like fashion, 120 degrees of arc apart, and joined by soldering.

To ensure accurate concentricity each annulus had to be assembled and soldered in a small jig designed and made for it. Without the use of the assembly jig, positioning and concentricity of the annuli would be questionable.
The above shot was made with LOMO Biolam 70P2 stand using the above condenser and Reichert #2 PC objective 25/0.45 with a simple 1.3 Mp CMOS sensor camera which plugs in tubus instead of an eyepiece, no correction lenses.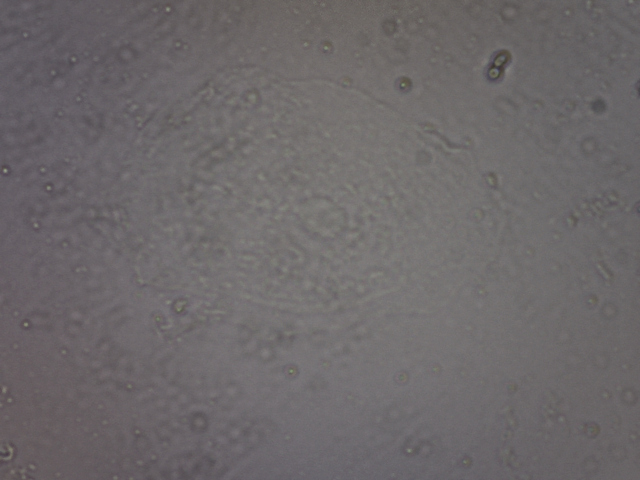 For comparison here is the bright field image of epithelial cell from inside cheek swab, mounted in water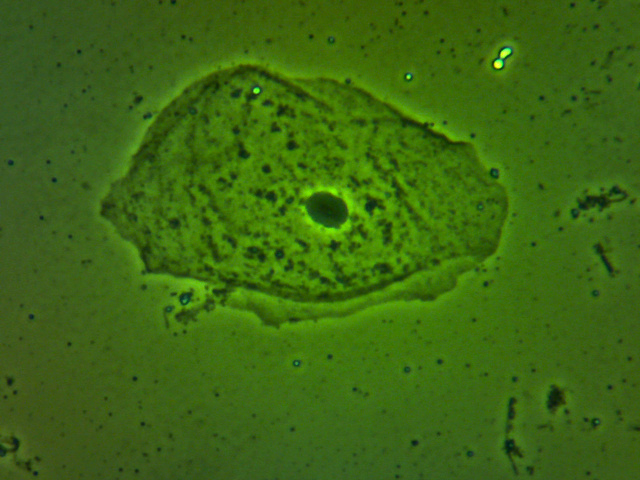 And here is the phase contrast image of the same epithelial cell
Obviously, as seen from the result of the second image, employing phase contrast technique can to a great extent enhance observation of the subject that is virtually invisible if observed in bright field. I can say that my experiment has been quite successful. Both images were made with DIY condenser, the first one without the annulus and second with annulus in place and green filter, using the #2 objective from the set 25/0.45 with the same eyepiece camera as was used on Navicula lyra.

Needless to say that there still is a load of stuff that I need to learn about phase contrast microscopy as this excursion has provided me with the tool which I have yet to explore the use of.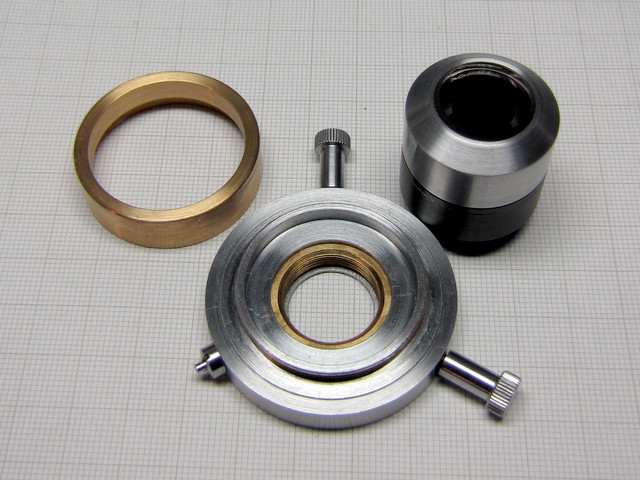 Reichert Dark Field Condenser parts that are easily put back together
Oh, I must not forget to say that the dark field condenser function is left intact. All I have to do to return to dark field is to remove phase contrast parts and screw in the DF condenser and its mounting flange. The only irreversible change done was to the Zeiss condenser, which I had no use for in its previous form.
Since the experiment worked out well, I have decided to make a new base, thus making a permanent PC condenser. The job of making the new base took a part of a weekend including a DIY nickel plating of the newly made parts. The only change in design of centring base was making the adjustment screws longer as well as adding the screw leaders, to ease annulus centring when the condenser is mounted on to the microscope.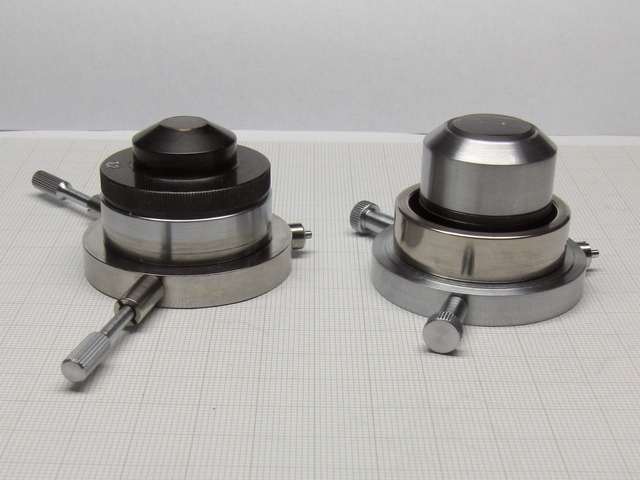 The image, on the left, shows newly made base mounted with modified Zeiss condenser with, on the right, Reichert DF condenser which was used in the experiment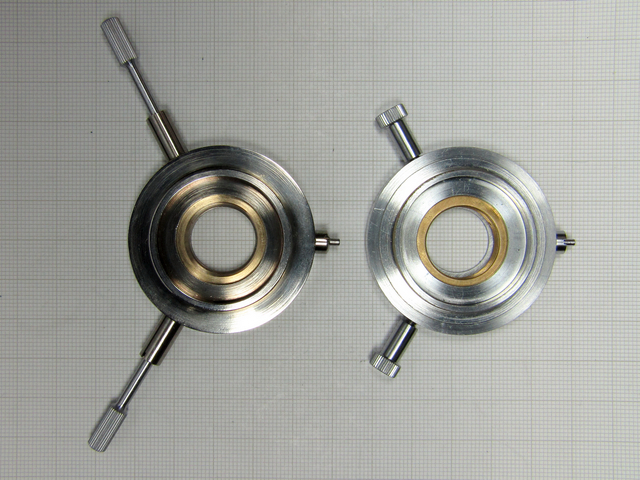 The two bases showing the upper side, on the left new one, on the right hand side the one used as a model for it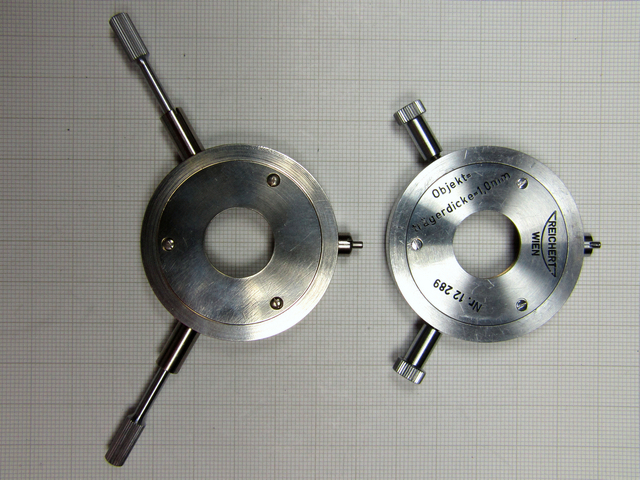 The bottom side of the two bases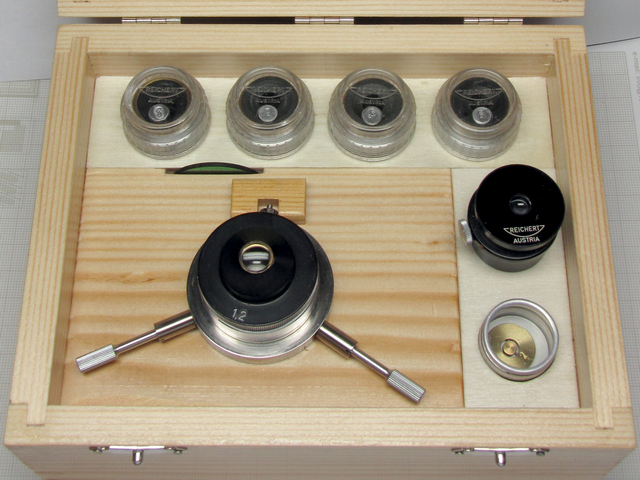 Finished DIY Phase Contrast Kit - Boxed
Quite recently it was observed, by Merv Hobden, that if thickness of annuli is wrong some interesting effects may be observed, due to diffraction from both the top and bottom surfaces of the annulus. Lucky, I guess, as I have not observed any unusual effects, however it is worth noting just in case if something does show up when making new annuli for some other objective or if someone else experiences the problem when making his own DIY phase contrast.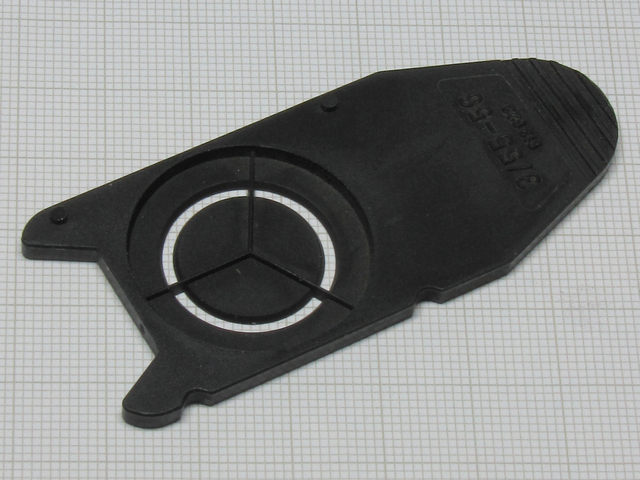 Leitz phase contrast annulus used in Laborlux D microscope
I have looked around for a possible remedy and could not come up with solution on my own short of silk screen printing annuli on flat mineral watch glass, until I encountered Leitz phase contrast annulus used in Laborlux D microscope. Leitz annuli plates are made of 1.0 mm thick black non reflecting plastic with a difference in design, to my own, in one respect only. The internal walls of annulus are not vertical but are bevelled at an angle of roughly forty five degrees of arc, forming chisel shape when viewed in cross section, as can be seen at the image of the Leitz annulus plate shown above.
It may also be beneficial if annuli were painted with matte black paint, Testors, Humbrol or some other similar product.
References:
Author's email: dushangrujich AT gmail DOT com
Published in the September 2013 edition of Micscape Magazine.
www.micscape.org