If you could only rescue one book in a calamity, which would it be? Annotations make an old book unique.
Heaven forbid there would be an impending calamity that forced a rapid house evacuation prior to its potential destruction. But after ensuring the safety of occupants and grabbing if there's time a handful of the essential house documents, which single book would you want to save from your collection and why? This is a very easy question for me to answer. Like many hobbyists on a budget, it is the content that is key and most of mine including the 19th century microscopy classics are replaceable. They are often the well used, ex-library type examples rather than the finely bound. Admittedly, some books and often modern would be a long struggle to replace cheaply. It was some years before an affordable example of Ford's splendid 'Leeuwenhoek Legacy' turned up, and Rost's two volume 'Fluorescence Microscopy' was bought just before the prices became too silly (especially Vol. 2).
The one irreplaceable book in my collection is a copy of 'Sherwin's Tables', a second edition 1726. Books of this era are usually beyond my budget but this sad looking, water stained although complete copy, was in budget. My interest in the history of logarithms and tables and the associated personalities is a spin-off from my interest in slide rules coupled with the quadricentenary of John Napier's publication of his table of logarithms in 2014. Original copies in themselves aren't that rare but it is a book's annotations when present that make each unique and this example has every spare space neatly filled with copperplate notes by one or more owners. The notes reveal at least one owner had a particular interest in the maths associated with brewing. It has notes on measuring the volume of malt on brewing floors and a guide on how to use a slide rule of the period for such calculations.
Sherwin's Tables are a compilation noted by historians as an important member of the lineage of published tables yet almost nothing is known of Henry Sherwin who compiled and published them. I'm currently trying to research the biography of the compiler.
Annotation in modern books can reduce their value although can be useful for those seeking budget copies if the text, for example, is heavily marked with biro by a student when studying. But for me, older books with annotations are a bonus. My copy of Hogg's 'The Microscope' 1871 (6th edition) has tiny copperplate handwriting which extensively annotates the author's text and gives this copy character.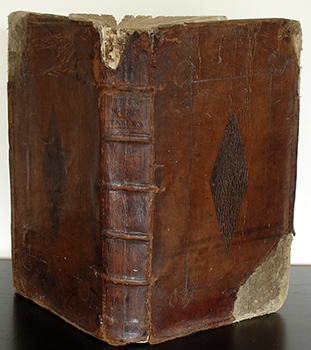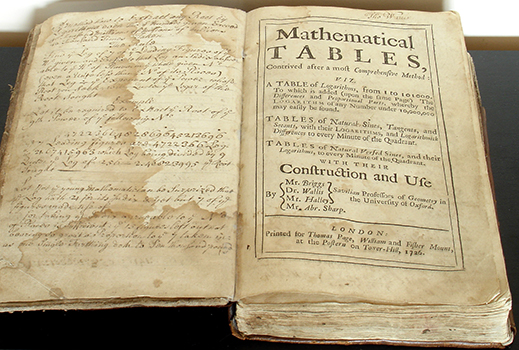 'Sherwin's Tables' 1726, second edition. As well as tables compiled from the work of Briggs, Wallis and Sharp, it has a series of essays.
The tables include both logarithmic and trigonometric functions. Logarithms of whole numbers from 1 - 100 as calculated by Briggs are given to over fifty decimal places and logs from 1 - 101 000 are to eight figures—quite a feat of calculation by hand and don't envy the publisher's typesetters!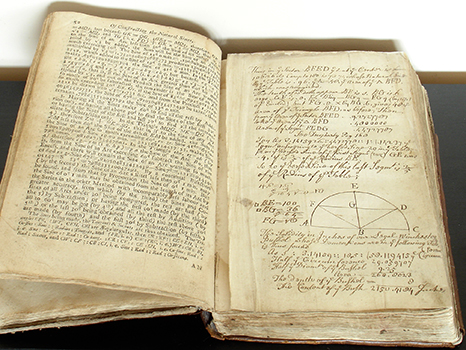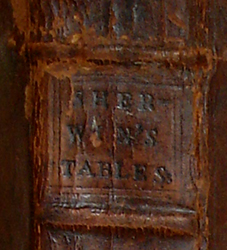 The blank righthand page and every other blank page as shown below is used for one or more previous owner's notes. The content dates them to the 18th century.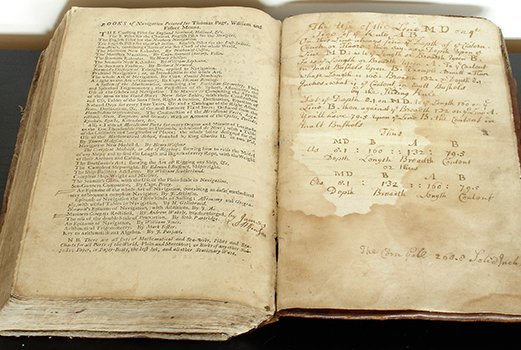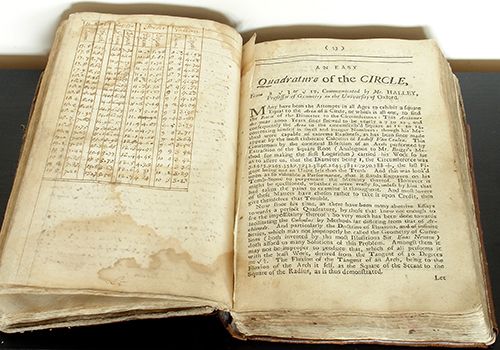 Left above. Handwritten notes on how to use a slide rule of the period to calculate the volume of grain on a malting floor. The page right is one author's own tables giving conversion factors associated with brewing.