Micscape Tool Tips 1: Allen or hex keys for microscopes.

by David Walker, UK
A set of metric Allen or hex keys are likely to be in the toolbox of most hobbyists. The hexagonal shaped recessed bolts are widely used on many more modern stands as well as on a variety of items around the home, such as bicycles and the panels of some electrical units / hifi.
For years my brother Ian and I have each found the standard typical set of keys with right angles very serviceable but for a recent set-up and servicing of a mid 90s microscope stand they were found to be unsuitable for some nuts. A set of the screwdriver style with ball heads were required.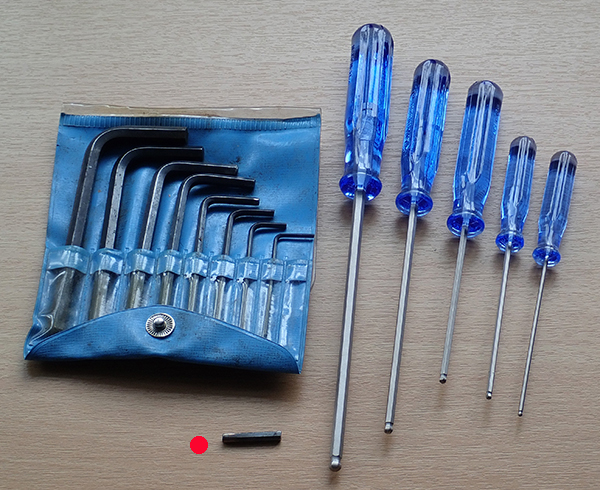 Left - the standard typical set of metric Allen keys (Draper, 1.5 - 6 mm). Right - a screwdriver set 1.5 - 4 mm with ball heads (also magnetic).
The short homemade stub marked in red (see text).
A well made but reasonably priced set (Japanese) were sourced, this set 1.5 - 4 mm on Amazon UK for £18. Now in regular use they are the kind of tools where we now think 'how have we managed to live without these for so long?' The ball heads ensures locating is easier especially for recessed nuts and can tolerate a certain amount of off-axis use. A screw handle also makes for more rapid bolt removal and replacement than with the right angled keys.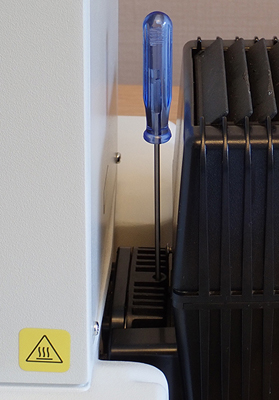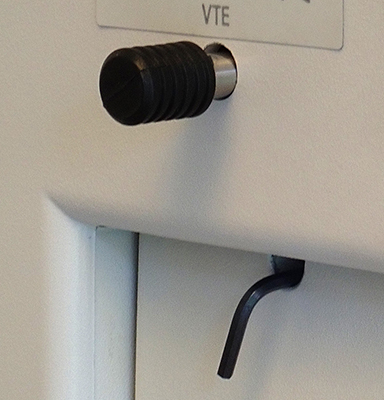 Left - a screwdriver style is vital to unclamp the lamphouse hex bolt.
Right - the trinocular head clamp bolt was so recessed that the typical small Allen key was hard to locate in the bolt and rotation was severely limited.
The screwdriver style with ball head located in the bolt quickly with greater clearance.

Keeping two examples of Allen keys can be useful where they need to be used in conjunction.
The typical example as shown above is when centring a rotating stage.
In some circumstances, accessibility may be so restricted that neither a typical Allen key nor screwdriver type is suitable. The lamphouse mount on the stand shown above needed to be dismantled to fix a chipped field lens. The correct removal method according to the service manual was a complete strip down of the stand, up end, and the base plate taken off with knob shafts inhibiting ready removal and delicate cabling to disconnect. Far easier was to remove the lampbase from behind. Some limited cabling extension allowed the base to be pulled out to access the internal Allen nuts. These could be loosened with an Allen key and then the short stub shown in red above was used to rapidly unscrew the nuts between fingers.
Rather than alter a metric key, an unwanted non-metric key close to the correct size was filed down to size. The steel is tough to saw but heating on a gas hob and allowing to slowly cool softened the metal enough to saw.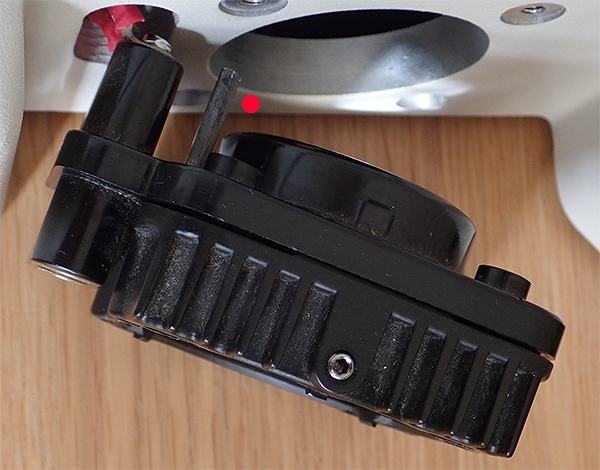 An Allen key stub can be useful as shown when space is very limited. When an Allen bolt is loosened the stub can be turned rapidly in the fingers to remove and replace the bolt.
A normal key is used to nip up or loosen the bolt.
A typical stand can use a range of hex nuts and rather than trial and error with keys / screwdrivers it can be worth making a cribsheet to have next to the scope showing what size key is used for what. On the stand above 1.5, 2, 3 and 4 mm were used, some of the smallest being used in key clamping roles such as the lamphouse (2 mm).
Comments to the author are welcomed.
---
© Microscopy UK or their contributors.
Published in the September 2019 edition of Micscape.
Please report any Web problems or offer general comments to the Micscape Editor .
Micscape is the on-line monthly magazine of the Microscopy UK web site at Microscopy-UK
---
© Onview.net Ltd, Microscopy-UK, and all contributors 1995 onwards. All rights reserved.
Main site is at www.microscopy-uk.org.uk.