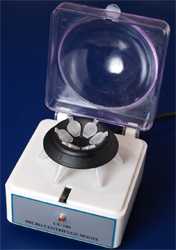 An LX-100 micro centrifuge, image by Michael Much.

Main Menu
Home (Microscopy-UK)
Article library / Issue archive
Search site
Beginners
Clubs / Socs (Pro/Am)
Micropolitan Museum
Microscopy Primer
Movies
Pond life ID kit
Projects
Schools
Shop
Smallest page on the web
3D Images


Micscape Contacts
Micscape Editor:
David Walker
Comments on Micscape and
contributions welcomed.
Micscape submission guidelines .
Microscopy-UK
parent site coordinator:
Maurice Smith

In Focus: New Book The Proper Care of Optics: Cleaning, Handling, Storage, and Shipping by Robert Schalck (SPIE Press, pub. March 2013, 236pp.) available in paper and eBook formats. Thank you to the publishers for the information. Link is to publisher's info' page with sample pages and full content list.
We are delighted to receive contributions small or large from microscopy enthusiasts whether a novice or expert. If you have an image, tip or article, why not share it, this magazine is what you make it! Have a chat with us , to see how we can help share your interests. Submission guidelines .