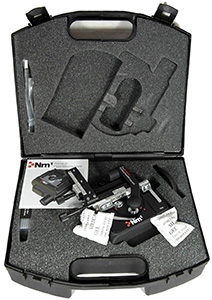 A Newton Nm1 field microscope with mechanical stage fitted. Image by R. Jordan Kreindler.

Main Menu
Home (Microscopy-UK)
Article library / Issue archive
Search site
Beginners
Clubs / Socs (Pro/Am)
Micropolitan Museum
Microscopy Primer
Pond life ID kit
Shop
Smallest page on the web
3D Images Online
3D Microscope Online
2D Microscope
Pippa's Progress



Micscape Contacts
Micscape Editor:
David Walker
Comments on Micscape and
contributions welcomed.
Micscape submission guidelines .
Microscopy-UK
parent site coordinator:
Maurice Smith

Contact form below for David Walker / Mol Smith, Mic-UK admin. To contact an article contributor directly, please use the email link offered in each article.
Please note that contributors retain copyright of their material so that any permissions requests should be directed to the contributor.
In Focus:
Cath Hodsman, British Wildlife and Natural History Artist'. Cath is a highly accomplished artist with a particular interest in sharing her enthusiasm and passion for the macro and microscopic world around us. She also offers a variety of art courses—details and dates are on her website together with examples of her stunning artwork, (see her tutorial and meeting link above). In 2014 Cath is especially keen in her 'Year of the Microscope' to promote the wonders of the macro / microscopic life around us via her art, courses and other events.
'Pippa's Progress' is a new series of monthly video tutorials produced by my colleague Mol Smith. Pippa is a 12 year old enthusiast who presents her interest in microscopy in an engaging way. The Introduction and the second video is available now. We hope the series encourages youngsters to explore the microscopic world around them. Use of both the stereo and compound microscope are described, with simple slide preparation procedures, outdoor visits to collect freshwater samples etc. Mol has produced cinema length films and each is professionally shot with an HD option available.
December 2013 articles written by students for
the 'Principles and Applications of Photomacrography' course
offered in the
Biomedical Photographic Communications (BPC) program 2013
at the Rochester Institute of Technology (RIT), NY State, USA.
Micscape Acknowledgements: Many thanks to all the students over the years for sharing their enthusiasm and skills on such a wonderful variety of topics. Writing an article for Micscape initially formed part of their course as an assignment, which was a neat idea originally proposed by Ted Kinsman the course instructor in 2004 and repeated in most following years. Thanks to Ted for all the work behind the scenes to make this happen. Also thanks to Michael Peres, the dept. head (and course instructor 2009) for his introduction and for maintaining the department's generous collaboration over the years.
BPC Program Overview by Professor Michael Peres, department head. Visit Professor Peres' website
Course tutor 2013 Ted Kinsman
All articles are in Acrobat pdf format (in order of author name). For readers with slower connections, the file sizes are given in Mbytes.

Right mouse button clicking of an article link and using 'Save As' to local PC can often be a faster download and more reliable than allowing to open in browser.
If you an enjoy an article, email feedback to an author via address in each article would be very welcome.
We are delighted to receive contributions small or large from microscopy enthusiasts whether a novice or expert. If you have an image, tip or article, why not share it, this magazine is what you make it! Have a chat with us , to see how we can help share your interests. Submission guidelines .