BBC News website 'White beetle dazzles scientists' The striking whiteness of a S. E. Asian beetle in the genus Cyphochilus prompted scientists to study its 'unique' scale structure and their findings may provide ideas for industral applications where achieving whiteness is important. The BBC News item highlights the scientists' work and the original paper 'Brilliant whiteness in ultrathin beetle scales' by P. Vukusic, P. Hallam and J. Noyes in Science Magazine Jan. 19th 2007 (local pdf copy courtesy of P. Vukusic). Images of the beetle and its scales below have been generously supplied by one of the scientists Dr Peter Kuvusic, (images not to be further distributed). Also see Dr Peter Vukusic's research page on the University of Exeter website.
Click images below to view larger.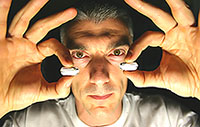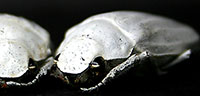 Images of the beetle and one of the scientists involved.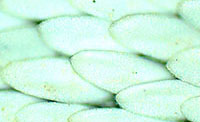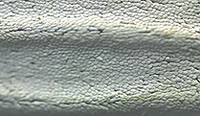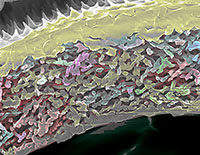 Images show the scales at increasing mag: two optical images and far right by SEM.
Microscopy-UK International Image Gallery: Thank you to the early supporters of the free new image gallery, there's a variety of interesting images to enjoy.
Webcam video / still capture software with calibration function: Marien van Westen, an amateur microscopist, has written a valuable webcam software package, who writes: 'I have written a piece of software to use a webcam with a microscope, capture images to disk and (after calibration) perform measurements on the photos. I want to make the software (with source code!) available to your users.' It is freeware and available from her website. With thanks to the author for drawing it to our notice.
Reading (UK) Convention: This popular annual meeting for microscopy enthusiasts will take place on March 10th. Please click links for programme and registration. Details kindly supplied by Kit Brownlee.