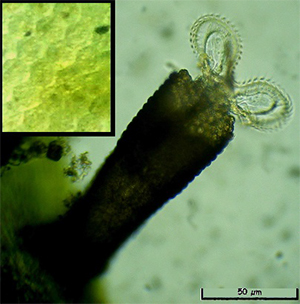 The rotifer Floscularia,
by Jean-Marie Cavanihac.

Main Menu
Home (Microscopy-UK)
Article library / Issue archive
Search site
Beginners
Clubs / Socs (Pro/Am)
Micropolitan Museum
Microscopy Primer
Movies
Pond life ID kit
Projects
Schools
Shop
Smallest page on the web
3D Images


Micscape Contacts
Micscape Editor:
David Walker
Comments on Micscape and
contributions welcomed.
Micscape submission guidelines .
Microscopy-UK
parent site coordinator:
Maurice Smith

In Focus: The Scientific Instrument Society (UK) founded in 1983 has a range of benefits to members including a quarterly journal called the Bulletin. The archive of the first 81 back issues to June 2004 and an index have generously been made available free online to any site visitor. There are a wealth of fascinating papers.

A new issue of the free e-Zine the 'Amateur Diatomist' is now online, volume 5 part II. Past issues are available in the online archive.

We are delighted to receive contributions small or large from microscopy enthusiasts whether a novice or expert. If you have an image, tip or article, why not share it, this magazine is what you make it! Have a chat with us , to see how we can help share your interests. Submission guidelines .