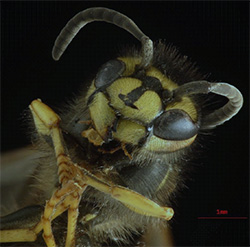 Image by Paul van Beusekom.

Main Menu
Home (Microscopy-UK)
Article library / Issue archive
Search site
Beginners
Clubs / Socs (Pro/Am)
Micropolitan Museum
Microscopy Primer
Pond life ID kit
Shop
Smallest page on the web
3D Images Online
3D Microscope Online
2D Microscope
Pippa's Progress



Micscape Contacts
Micscape Editor:
David Walker
Comments on Micscape and
contributions welcomed.
Micscape submission guidelines .
Microscopy-UK
parent site coordinator:
Maurice Smith

Contact form below for David Walker / Mol Smith, Mic-UK admin. To contact an article contributor directly, please use the email link offered in each article.
Please note that contributors retain copyright of their material so that any permissions requests should be directed to the contributor.
In Focus:
'Pippa's Progress' Part 3. This month is her first outdoor expedition to visit aquatic habitats, collect samples and bring back to study under the microscope. For readers who have not explored this series to date, this episode (15 mins. in length) is a delightful watch where Pippa shares her enthusiasm for microorganisms such as rotifers.
(Pippa is a 12 year old enthusiast who presents her interest in microscopy in an engaging way. We hope the series encourages youngsters to explore the microscopic world around them. Use of both the stereo and compound microscope are described, with simple slide preparation procedures, outdoor visits to collect freshwater samples etc. Produced by Mol Smith who has produced cinema length films and each is professionally shot with an HD option available. Sub-titles for the hard of hearing.)
A Contribution to the Diatom Flora of Leicestershire By Horace G. Barber. (Acrobat pdf format.) Meticulously compiled and presented by Steve Gill who writes on his 'The Amateur Diatomist' suite hosted by Klaus Kemp's www.diatoms.co.uk website: "The next volume of Horace Barber's notes. 178 pages of diatom notes and illustrations. This volume includes further detail of Horace's life and also his notes from the British Diatomists meeting at Malham in 1979. The manuscript for this volume was provided by Horace's son, Alan."
We are delighted to receive contributions small or large from microscopy enthusiasts whether a novice or expert. If you have an image, tip or article, why not share it, this magazine is what you make it! Have a chat with us , to see how we can help share your interests. Submission guidelines .