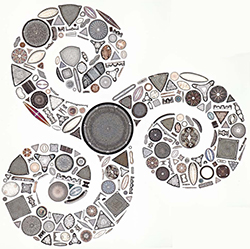 Image of a diatom arrangement
by Steve Beats.

Main Menu
Home (Microscopy-UK)
Article library / Issue archive
Search site
Beginners
Clubs / Socs (Pro/Am)
Micropolitan Museum
Microscopy Primer
Pond life ID kit
Shop
Smallest page on the web
3D Images Online
3D Microscope Online
2D Microscope
Pippa's Progress



Micscape Contacts
Micscape Editor:
David Walker

Microscopy-UK
parent site coordinator:
Maurice Smith
Please do not contact the above for image permissions. Each article contributor retains the copyright to their material so should be contacted directly via the link in the relevant article. Thank you.
Comments on Micscape and contributions welcomed.
Contributions: Any modern format welcomed i.e. pdf. doc/docx with embedded images, or html + jpegs.
In Focus: Seeking Foldscope users. Both my colleague Mol Smith and myself signed up as beta testers for Stanford University's PrakashLab Foldscope but unfortunately neither of us have received the kit (10 000 free kits were planned to be sent out). A pity, as with the huge publicity this project has garnered and on exploring the world around us with a microscope, we were hoping to build up Micscape resources on its use with suggested projects best suited to the single lens design.
If any reader has an example of the beta kit and would like to share any of their experiences on building and using it, we would be pleased to share them. (Projects should also be shared on the Foldscope Microcosmos site as the originators requested). The many uses which the microscope has been put to so far by users of all ages have been shared at microcosmos.foldscope.com
David Walker, Micscape Ed.
We are delighted to receive contributions small or large from microscopy enthusiasts whether a novice or expert. If you have an image, tip or article, why not share it, this magazine is what you make it!