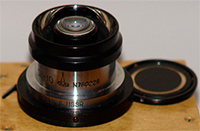 The versatile LOMO OI-10 brightfield / darkfield condenser. Image
by Thomas Black.

Main Menu
Home (Microscopy-UK)
Article library / Issue archive
Search site
Beginners
Clubs / Socs (Pro/Am)
Micropolitan Museum
Microscopy Primer
Pond life ID kit
Shop
Smallest page on the web
3D Images Online
3D Microscope Online
2D Microscope
Pippa's Progress



Micscape Contacts
Micscape Editor:
David Walker
Comments on Micscape and contributions welcomed.
Contributions: Any modern format welcomed i.e. pdf. doc/docx with embedded images, or html + jpgs.
Microscopy-UK
parent site coordinator:
Maurice Smith

Contact form below for David Walker / Mol Smith, Mic-UK admin. To contact an article contributor directly, please use the email link offered in each article.
Please note that contributors retain copyright of their material so that any permissions requests should be directed to the contributor.
In Focus:
'Pippa's Progress' Part 5. 'Pippa shows her detective skills' by demonstrating how a microscope can be used to identify the raider of her sweet box.
(Pippa is a 12 year old enthusiast who presents her interest in microscopy in an engaging way. We hope the series encourages youngsters to explore the microscopic world around them. Use of both the stereo and compound microscope are described, with simple slide preparation procedures, outdoor visits to collect freshwater samples etc. Produced by Mol Smith who has produced cinema length films and each is professionally shot with an HD option available. Sub-titles for the hard of hearing.)
Projects by Doug Clark (UK). Doug recently contacted Micscape and shared his website at www.paedia.com/ImageStudies.html He presents the results of some ingenious and fascinating projects in macro / microscopy with striking imagery and videos. These include 1) capturing images of the individual droplets ejected from an inkjet printer cartridge, 2) videos of serial sections through plant matter, by using a compound microscope stage aperture as a microtome surface, capturing a series of stills and compiling into a video, 3) the action of paramecia colonies under an electric field (negative galvanotaxis) and 4) a macro / microscopic tour of an exotic butterfly presented as if flying above the surface.
We are delighted to receive contributions small or large from microscopy enthusiasts whether a novice or expert. If you have an image, tip or article, why not share it, this magazine is what you make it! Have a chat with us , to see how we can help share your interests. Submission guidelines .