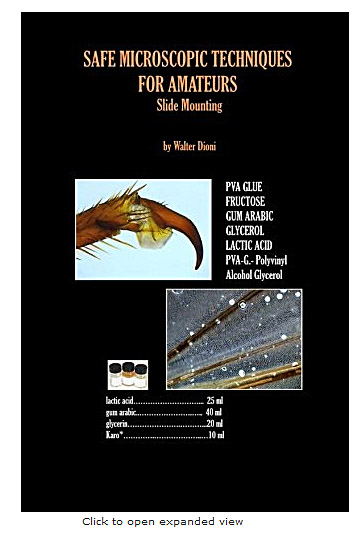 New book: Walter Dioni's nine web article suite 'Safe Microscopic Techniques for Amateurs. Slide Mounting.' originally published on Micscape, has been compiled into a paperback by Microscopy UK's founder Maurice Smith. Modified classic microtechnique protocols or new ones are suggested using chemicals readily available to most. Contents below.
It is now available on a local Amazon (e.g. US / UK / FR / DE ) for ca. $17 or local equivalent (102 pp., A5, B/W images). A cheaper Kindle version also, but the auto-convert software to keep costs down doesn't retain all the book format.
As remarked in a recent news item, Walter aged 86 has advanced lung cancer and wished to present him with a physical archive of part of his large output as well as hopefully providing a more convenient paper form for the many microtechnique protocols that he shares in the book. The book is being sold just above cost price, the small profit will go to Walter's family to help pay for his treatment.
Contents

Chapter 1 - Introduction – Liquid Media
Chapter 2- Solidifying Media
Chapter 3 - The Mixed Formulae
Chapter 3a - Formulae Derived From Fructose FG—Fructose-Glycerol Medium
Chapter 3b - PVA-lactic Acid And PVA-glycerol Mountants
Chapter 4c - The Mixed Formulae - Gum Arabic Media
Chapter 4 - The Glycerin Jellies
Chapter 5 - Ten Years After
Chapter 6 - Finale