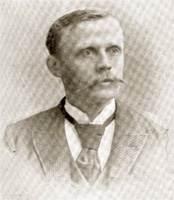 Heinrich Hensoldt, detail of a photo published in The Arena, sourced by B. Stevenson and S. Gill.

Main Menu
Home (Microscopy-UK)
Article library / Issue archive
Search site
Beginners
Clubs / Socs (Pro/Am)
Micropolitan Museum
Microscopy Primer
Movies
Pond life ID kit
Projects
Schools
Shop
Smallest page on the web
3D Images


Micscape Contacts
Micscape Editor:
David Walker
Comments on Micscape and
contributions welcomed.
Micscape submission guidelines .
Microscopy-UK
parent site coordinator:
Maurice Smith

In Focus:
Nikon Small World 2013 winners announced. Oct. 30th. Congratulations to our regular contributor Wim van Egmond for his first place with a stunning image of colonial marine diatoms. Congratulations to all the other placed entries and the gallery can be admired here.
Microscopy-UK / Micscape Christmas competition. The prize is a handheld wireless video microscope, 5 - 200X (total mag. on typical screen, not optical) kindly provided by Apex Microscopes with competition organised by the site co-founder Mol Smith. See the main site index for details and how to enter. Shipping worldwide is included for the winner.
'Microscopy. A virtual garden.' Neil Tucker is creating an interesting and versatile resource for sharing the microscopical world found in his garden. Explore his virtual garden at http://www.activefrance.com/microscopy. Thank you to Neil for sharing this.
We are delighted to receive contributions small or large from microscopy enthusiasts whether a novice or expert. If you have an image, tip or article, why not share it, this magazine is what you make it! Have a chat with us , to see how we can help share your interests. Submission guidelines .