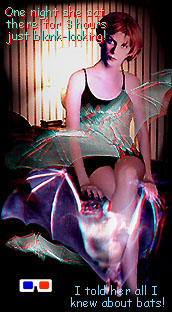 Van was much better during the day but in the evening she drifted away again. She sat on the bed almost motionless staring into thin air. I sat next to her and I told her something special: "Honey..." I said, "...do yer remember the stuff we found on the car yesterday? Well those little blobs are a special sign of something: BATS!"

I'm not saying here to you folks that this had any dramatic effect or anything, but I knew she was hearing me and I knew, normally, she would be intrigued by the mention of these little critters.

I talked to her until very late.

"The stuff on the car... they're 'droppings': a sure sign, I reckon, that the old church across the road is a nesting place for 'em. Most people don't see bats," I told her, "because they are very small and only normally fly around when the light fails!"

I said: "You and me Van, we got a chance here to do a bit of studying and get to know more about bats. How would you like that honey?"


She nodded here and there as though she was picking up on what I was saying. I got her into bed, and tucked the blankets up nice and safe around her. As I lay there next to her wondering if my plan would help, I stroked her hair and whispered quietly to her about all the exciting things we were going to do together. When I was sure she was asleep and wouldn't hear me... I cried silently for the pain I felt at seeing someone as vibrant and warm as my Vanessa going through so much agony. I must've cried more than I thought 'cos her hair was damp at the back when we woke Monday morning!

She seemed a bit more lively at breakfast. As we sat and drank tea, Moira - who runs Kirklea - came in to say a package had arrived for us from Andrew Syred. Vanessa kept quizzing me about it over breakfast... but I told her it was a surprise and she couldn't see it yet!

Mind you, just to try and tease her curiosity, I told her it was a special thing that was going to help us become aware of something that most people never get to witness. I kind-off like the 'awareness' thing because this was a word she was bound to associate with!

The rest of the day we spent in Edinburgh. I bought Van some new clothes and she seemed a lot more with-it but still kinda tired and dazed looking. Back at the guest house, I told her we were going out for the evening and to dress up. As we left Kirklea, I suggested we take a short-cut to the bus-stop through the church grounds. Van agreed.
As we walked past the church, I stopped sharply, turned to Van and said, "Shhsh... listen honey... what do you hear?"

"Silence," she said, "just the still night!"

In my pocket, was the thing Andrew had sent. I switched it on, removed it quickly, and pointed it towards the black sky, saying: "Now what do you hear..?"