Page 2
The camera is, without doubt, an excellent image capture device for use at the end of a microscope... but there are alternatives other this camera for such a function, so just where does the Eurocam score points over such alternatives?
Allow me to tell you where - because the next feature I'm about to show you, made me fall in love with the Eurocam. In fact, I was so impressed by what follows, I felt like rushing out and buying the camera myself. The Eurocam has the most extraordinary Macro capability I've ever seen in a video or digital camera without additional accessories or extra lenses. Let me demonstrate...
I set up a shot to capture the centre of this very tiny flower. You can see from the image below, just how small it is. The background is nothing more than a blurred photo of a landscape - used here to support the illusion that my final shot was taken outdoors instead of in my study. Don't pay much attention to the clarity of this first picture. I quickly 'snapped' it without focusing the camera or making lighting adjustments, just to give you an idea of size.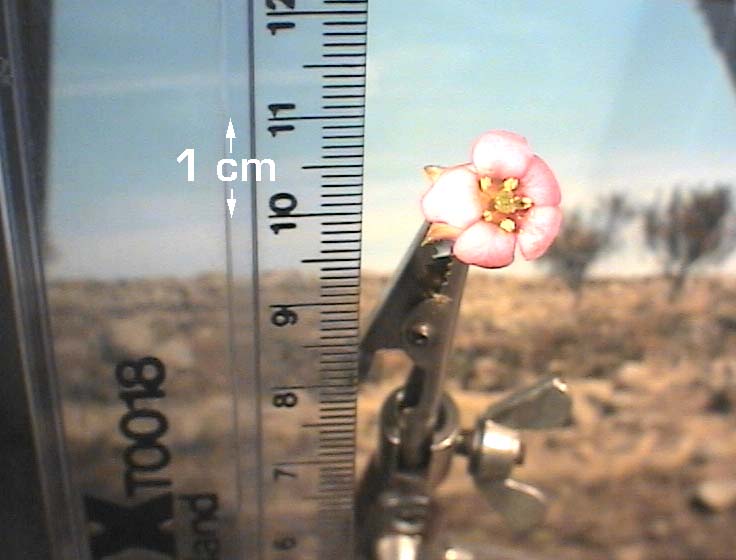 Here, below, is my Macro shot of the flower. Isn't it a stunner?!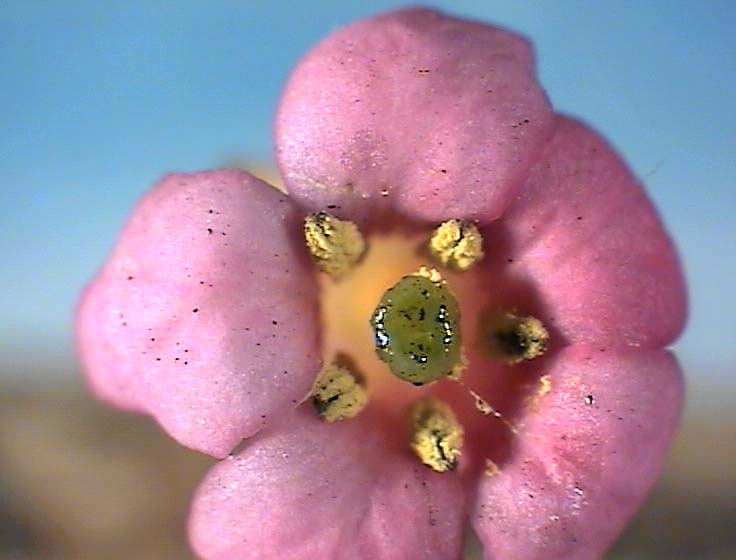 You should see it in TIFF format instead of this medium quality JPEG image to really appreciate the detail. The beauty of the Eurocam is that you can get the camera lens right up close, almost touching the subject, and still focus onto the target. More than this, the camera is very smart at compensating for lighting levels automatically, so even when you are very close to the subject, it's still able to 'gather' sufficient light to produce a sharp bright image. Remember, no additional lenses or accessories were used to take this shot - the camera alone has the capability to represent images at approx. 50x the subject's real size through its macro functionality!
The Eurocam is an ideal resource for quickly demonstrating subject matter to students and is a vital tool for microscopists wishing to capture still or video images. It easily out-performs VHS camcorders and probably out-performs SVHS camcorders (not compared). At around 550.00 UK pounds plus VAT - it is affordable by the educationalist, the professional microscopist, and the enthusiast (amateur) microscopist.
We thank Meta Scientific for giving us the opportunity to see this well-designed resource in action. If you are interested in finding out more about the camera with a view towards a possible purchase, you contact Meta Scientific through their email address below or through the following:- Meta Scientific Ltd 7 Fosters Grove, Windlesham, Surrey, GU20 6JZ England Tel: 44-1276 475407 (from outside the UK) or... 01276 475407 if you are within the UK Meta Scientific Ltd also sell an extensive range of microscopes and accessories.
---
Please select:- | Specifications | Inquires | Meta Scientific | Email | Mic-UK | Micscape Index Pages: 1 | 2 | 3 | 4 |
---
Top of page Review by Comments to the author sent via our contacts page quoting page url plus : ('micuk','')">Maurice Smith
Page and images copyright Micscape Magazine 1998 All rights reserved.
---
© Onview.net Ltd, Microscopy-UK, and all contributors 1995 onwards. All rights reserved. Main site is at www.microscopy-uk.org.uk with full mirror at www.microscopy-uk.net.