by Chris Thomas
You will need to take extra care when checking this one out. It may not be what you expect!
---
What do you think this is? Choose an answer below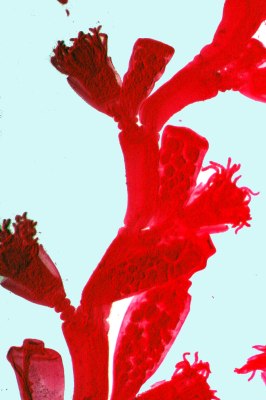 Click on one of the answers below

Obelia hydroids

Lobelia with heavy spider mite infection

Gills of a sea slug
---
---
Copyright ©2000 Chris Thomas
e-mail:
Chris
---
---
© Microscopy UK or their contributors.
Published in the June 2000 edition of Micscape Magazine.
Please report any Web problems or offer general comments to the Micscape Editor,
via the contact on current Micscape Index.
Micscape is the on-line monthly magazine of the Microscopy UK web
site at Microscopy-UK
---
© Onview.net Ltd, Microscopy-UK, and all contributors 1995 onwards. All rights reserved. Main site is at www.microscopy-uk.org.uk with full mirror at www.microscopy-uk.net.