Fast net connection version, 2.0 Mbyte download. Click here for slower connection, 0.5 Mbyte version.
Old Lindley Moor looking west. Appearances are deceptive; one of the busiest motorways in the UK, the M62, runs just behind the left-hand ridge. But despite this, the sights and sounds of the countryside can be enjoyed not far from the hustle and bustle of modern life. Hiding in this landscape waiting to be found and enjoyed are stone water troughs; attractive in their own right but of additional interest to the naturalist. The author reflects on what fascinates him about these freshwater habitats below.
I live on the outskirts of Huddersfield, a town in England nestling in the south Pennines. The Pennines are a long range of hills up to 893m high that are often described as the 'backbone' of northern England. Like many microscopy enthusiasts I have a general interest in natural history and enjoy regular walks and cycles in the local countryside. I wouldn't describe it as the ideal landscape for the freshwater naturalist as well established ponds on publicly accessible land are not common. There are large upland reservoirs* but they tend to be nutrient deficient and don't offer the wealth of life often found in lowland nutrient rich water bodies. (* See my brother's photo essay in the June 2004 issue.)
But as you gently stroll along the roads, tracks and field paths, a fascinating habitat can reveal itself, the stone water trough. 'Reveal itself' is the right term, here's an example. I've walked the footpath through the field below countless times, if you stick to the path which follows the curve left it looks like a typical pasture, the feature arrowed just looks another rock outcrop. But wandering off the path one day the outcrop turned out to be a spring feeding into a stone water trough.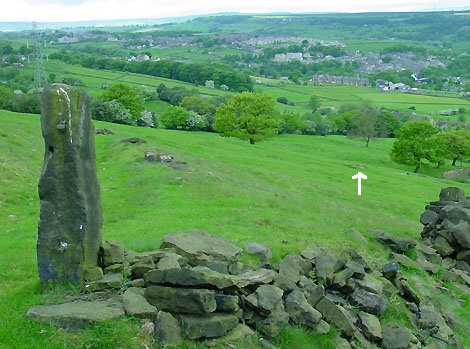 These troughs can offer a wealth of microhabitats in a small area of interest to the enthusiast of both botany and microscopy. In this case the habitats include: splash zones, wet mosses and liverworts; epiphytes on the calcium rich channel of mortar; in the trough there are habitats for plankton and epiphtyes on algae, higher plants or the stonework; and bottom dwellers. Below the trough there are mud / sandy areas permanently or intermittently wet.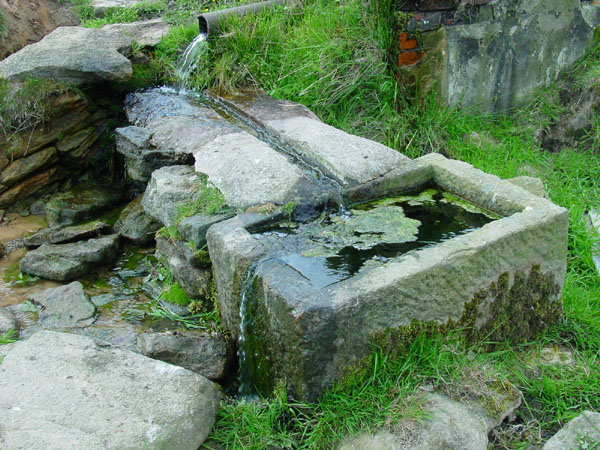 Spring in field east of Old Lindley Moor Road
The trough above has been carved out of a single block of the local rock, a type of coarse sandstone which is also used extensively for the dry stone walls and local buildings. I would imagine that it's one of the easier rocks to 'work', but suspect a long job when they were hewn out by hand. This trough is full throughout the year and I've only seen it dry once in the last eight years (in 2003's unusually dry autumn / early winter).
I think this trough is spring fed (with a modern outflow pipe) although for the casual observer like myself, it's not easy to firmly establish what the water source is for the troughs that remain filled; modern field drainage and road developments may have altered the original supplies. Some troughs, as this one is, do correspond to the position of wells or near springs marked on older maps. I have casually inspected the microfauna in this trough but haven't extensively studied the others in the area to date. Sampling has to be done with some care, particularly those troughs that are fed by drainage from the pastures containing livestock.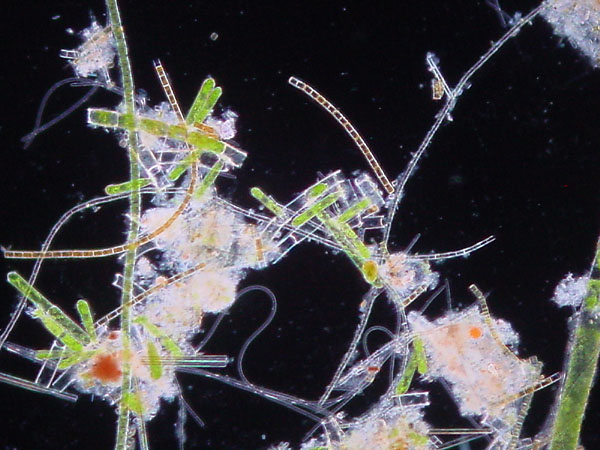 A sample from the water trough above shows some of the typical microscopic fauna and flora (darkfield illumination).
These include filamentous algae, diatoms, protozoa, nematodes, rotifers; small snails were also found.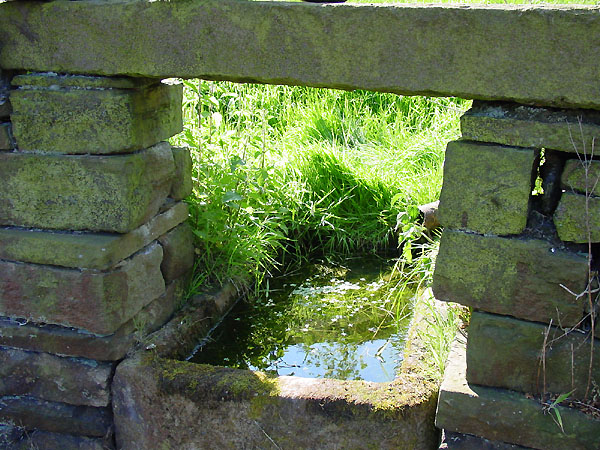 Trough on Stainland Dean, near Outlane
The above is another trough hewn out of one block and had this healthy water level after a dry spell. It's probably spring fed as the steeply rising field above it does have a well marked on the local map. This one had a good growth of larger water plants in addition to algae. It's set into a roadside wall with stone lintel.
The trough below is my favourite found to date of the single hewn out block design, as it's in a delightful setting on a quiet single track road called Burnt Plats Lane. It was a glorious late spring day when I photographed this when the south Pennines are at their best with a profusion of buttercups in the fields and the hawthorn in full blossom. The sight and sound of the trickling water were enjoyed, with the skylarks singing in the background. This trough is probably spring fed and had clear water with attractive surrounding plant life.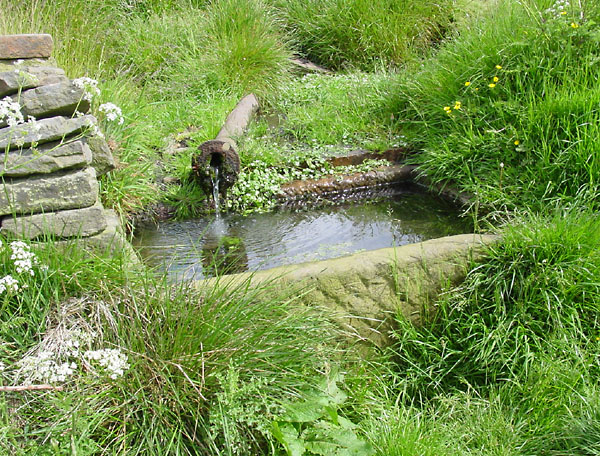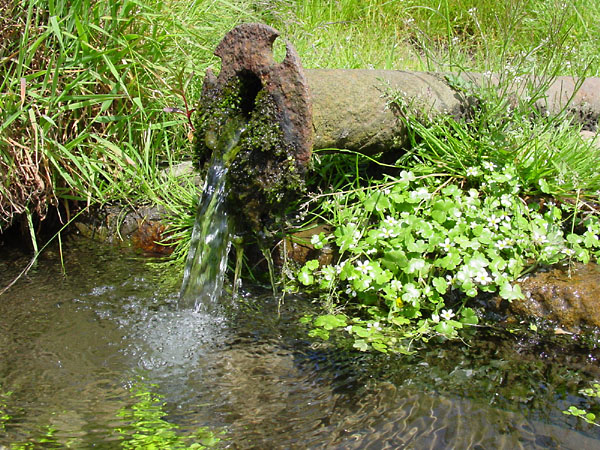 Water trough Burnt Plats Lane. The white flowers to the right of the outlet is water crowfoot,
provisionally round leaved water crowfoot (Ranunculus omiophyllus).
Also seen, particularly along roadsides, are much shallower stone 'trays' (see photos below) and may be built into the bank of the field as shown below, or into a wall. When they are regularly fed with water as the one below is, the luxuriant growth of plants can make the low trough hard to spot.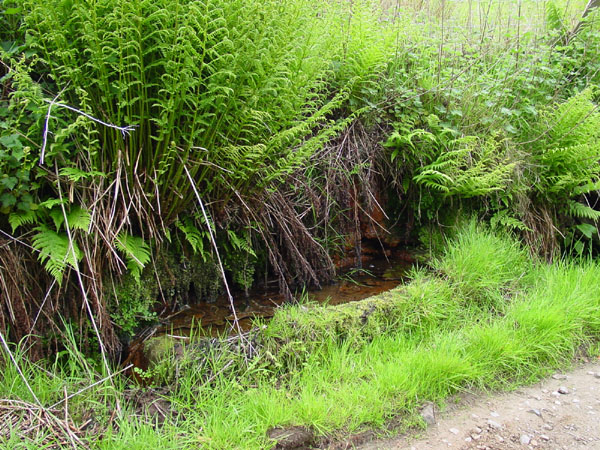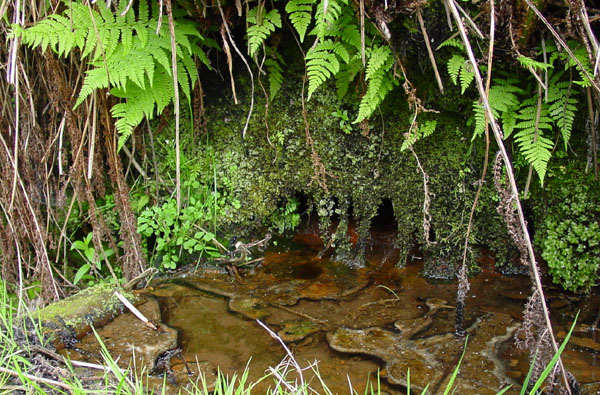 Trough on the roadside field bank of Old Lindley Road with an attractive growth of ferns, mosses and liverworts. This trough is fed by a seepage (a spring and/or drainage?) from the bank of the pastures above. The iron rich deposits hasn't made it a very appealing one to date for the author to explore the microfauna.
A second type of trough seen in this area were made by assembling rectangular 'flags' of the local stone. This design allows much more elaborate structures to be built than the troughs hewn out of a single stone block.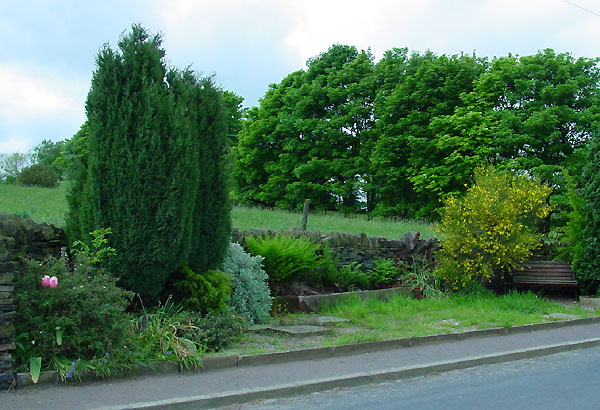 The central low stone feature is a set of three water troughs off Old Lindley Moor Road, Jagger Green. A local map published in 1854 shows a trough marked here; its surroundings have been planted to make an attractive setting which is maintained by the local residents of the hamlet of Jagger Green.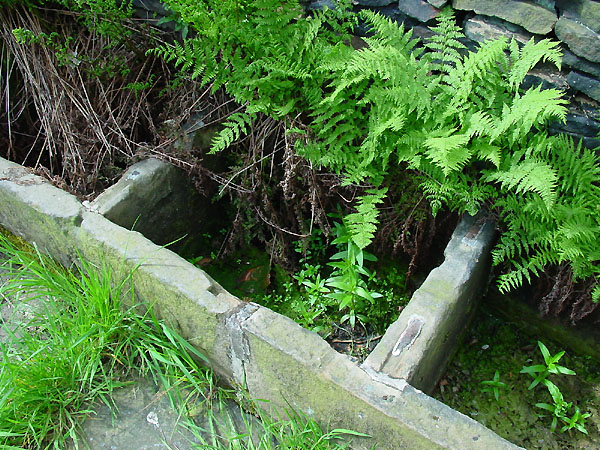 Looking down on these water troughs shows their construction from stone flags. They are only infrequently full of water so may have lost their original supply. I've occasionally rescued frogs from the far right trough where they can become trapped but don't seem put off laying their spawn in them.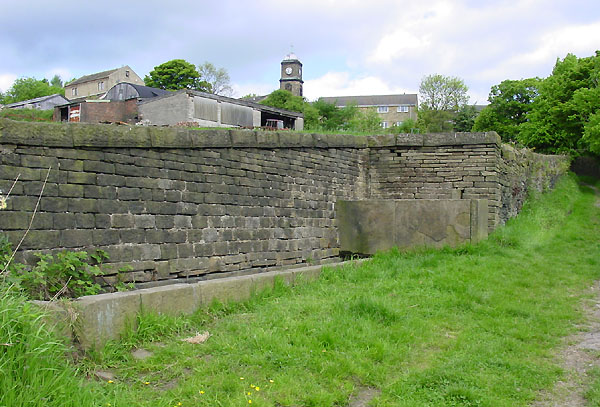 A well inscribed 'CARR HALL WELL' Carr Hall Lane, Holywell Green, eastern end of Stainland. This is an impressive feature with a walled-off section. This isn't the 'holy well' that gives the area its name. Apparently Holywell Green is named after St. Helen's well which is not far away off the main road but is now a dried up feature with its original attractive setting spoilt by modern housing.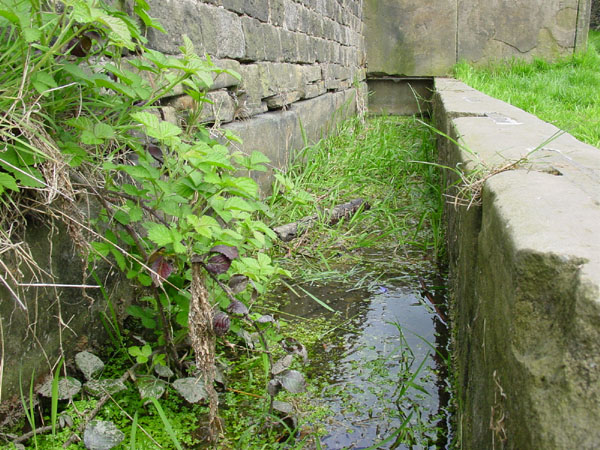 Looking along the length of the Carr Hall well. The water level seems to fluctuate so may be predominantly rain fed; it has been nearly level with the top on occasions. The pinning of the individual slabs can be seen along the top face.
Many water troughs in the local area aren't as attractive as those featured above as they no longer have a regular water supply and don't attract plant or aquatic life although still interesting landscape features. Three such troughs are below.
Shallow trough alongside Old Lindley Moor Road.

Trough in a house boundary wall, Marsden Gate, near Vicar's Lot.

Above left and right, two different trough designs built into boundary walls.
Right: Notice the size of this trough, supports and lintel; considerable work must have gone into creating these features.

Large trough alongside Highfield Road, Moorside Edge.
As you may have gathered by now, I have a particular fascination for water troughs, but not just because of their potential interest to the amateur naturalist like myself. The troughs are often at their best when the weather is at its worst; in winter they offer a lush growth of mosses and liverworts when higher plants have long since died back, and under a thundery sky the many hues of greens and browns of the stones and lower plant life can really brighten up an otherwise cold and wet walk.
As remarked, maps published in the mid-19th century show many of the springs, wells and associated troughs illustrated here and as you admire their changing aspects on a bleak winter's day or fine summer's day you can imagine times past when life was tough and the locals were eking out a living from this often harsh landscape and acquiring life-giving water both for themselves and for their livestock from these sources.
Finally, coming back to the present ... after enjoying a gentle stroll in the south Pennines, here's another welcome landscape feature, a bench to rest the legs, listen to the birds and to admire the views!
A bench in Jagger Green Dean, in an attractive setting carefully maintained by the local residents.
Comments to the author Dave Walker are welcomed.
Footnote: There was a programme on the UK television that included a section showing how original water troughs have apparently become a popular garden feature. Hopefully these are all responsibly sourced from areas where it is unavoidable that the landscape will be disturbed, e.g. for new road schemes or for housing, but otherwise do think that if at all possible they should remain as part of the original landscape; they are part of the history of an area, attractive and a potentially important habitat for fauna and flora. An excellent replica can often be made with modern materials or of stone and aged if desired.
For a photographic tour of the fauna and flora of Old Lindley Moor in the context of the landscape, please see my brother Ian Walker's article on Old Lindley Moor.
All images taken by the author using a Sony S75 digicam.
A selection of resources on the Web:
www.old-maps.co.uk - this is a fantastic online resource for the UK based reader by 'Landmark'. The 'Ordnance Survey (OS) County Series 1:10,560 scale First Edition' published from ca. the mid-19th century onwards can be accessed online. It's fascinating to compare the manmade features on these old maps with the current landscape for your local area. This scale of map shows many water troughs, springs and wells in the local area around Huddersfield.
For UK readers interested in detailed landscape features, the modern 1:25000 Ordnance Survey maps in the 'Explorer' series are wonderful. These show wells as a blue 'W' and springs as a blue 'Spr'. This scale of map, as well as being available in printed form (including a double-sided map for the 'South Pennines'), are also freely accessible via the 'Get-A-Map' feature on the Ordnance Survey web site.
Tolson Museum, Huddersfield offers online versions of booklets on various aspects of the local history. This includes 'History of the Huddersfield Water Supplies' by T. W. Woodhead, 1939. Of particular interest to the author in this booklet was 'CHAPTER III - PUBLIC WELLS, CISTERNS AND WATERING PLACES. PRIVATE SUPPLIES AND LOCAL WATER COMPANIES.'
---
© Microscopy UK or their contributors.
Published in the June 2004 edition of Micscape.
Please report any Web problems or offer general comments to the Micscape Editor.
Micscape is the on-line monthly magazine of the Microscopy UK web site at Microscopy-UK
---
© Onview.net Ltd, Microscopy-UK, and all contributors 1995 onwards. All rights reserved. Main site is at
www.microscopy-uk.org.uk
with full mirror at
www.microscopy-uk.net
.