Amoeba proteus in closer detail
by Wim van Egmond, The Netherlands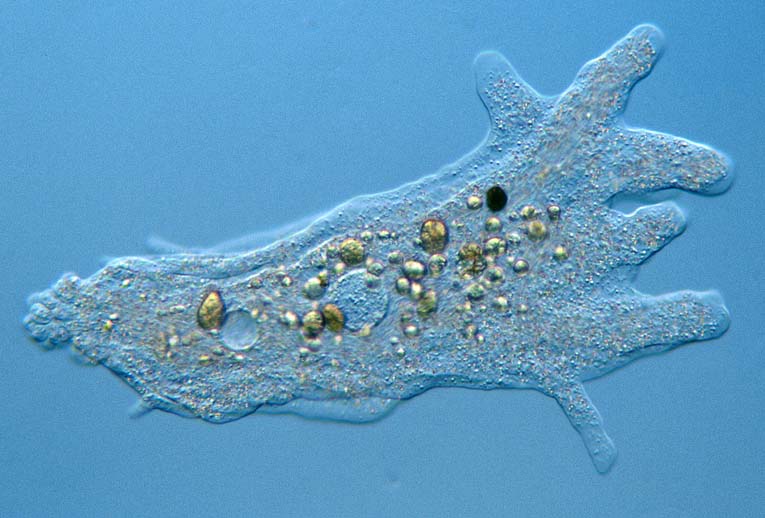 The enlarged image shows the flowing of the cytoplasm when the amoeba locomotes. At the front end several pseudopods are formed. The typically lobed area at the rear end is called the uroid. In the centre of the cell the single nucleus is visible. Left to it lies a water expelling vesicle. Remains of prey are enclosed in food vesicles. Tiny crystals make the cell look granular.
All comments to the author Comments to the author sent via our contacts page quoting page url plus : ('wegmond','')">Wim van Egmond are welcomed.
Find out more about microscopic pond life on The Smallest Page on the web
The Pond Life Identification Kit may help you identifying small freshwater organisms
Visit Wims home page for links to his many webpages on microscopy
---
© Microscopy UK or their contributors.
Published in the September 2001 edition of Micscape Magazine.

Please report any Web problems or offer general comments to the Micscape Editor,
via the contact on current Micscape Index.

Micscape is the on-line monthly magazine of the Microscopy UK web
site at Microscopy-UK
---
© Onview.net Ltd, Microscopy-UK, and all contributors 1995 onwards. All rights reserved. Main site is at www.microscopy-uk.org.uk with full mirror at www.microscopy-uk.net.