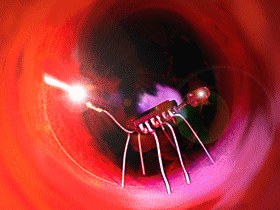 Engineering at the minute scale has led to major advances in technology, especially in the area of microchips. Around the world, forward-thinking companies are committing funds into nanotechnology.
The development of super-micro-machines has already begun. Microscopists in the 21st century will have the delight of studying these devices under their microscopes. How long will it be before nanobots are used inside the human body, possibly like the imagined one here - burning fat from an artery wall?
Computers and imaging technology are adding powerfuls tools to enhance microscopic study.