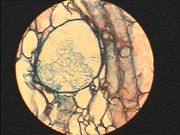 The advent of digital cameras coupled to optical microscopes, and utilising powerful software, is taking optical study past previous limitations. Deep-field microscopy, where details at different depths of a specimen can be seen in a single focused image, is now possible.
Synoptics
- in the UK - is already producing software to transform optical microscopy!
Software can also construct 3D images - making flat-field microscopy a thing of the past. Enthusiast and professional microscopists can now take advantage of the stunning technological advances of today.
But as the science moves forward, the past is not forgotten!