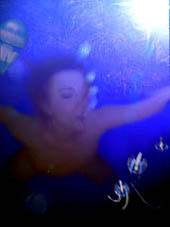 I was in the water in a flash. Maybe there was a fleeting thought about capability... water-logged clothes... and purpose... but it was wiped aside by an overwhelming feeling that my Vanessa was gonna die. Thinking back... I realize now - it was 'time' and 'fate' as 'hand and arm' which took me in that moment, and tossed me like a dart into the sea of our possible futures!

In quiet moments late in the evening here in Putney, when I stand alone and watch with a late night drink in hand - the timeless Thames crawling darkly beneath - I realize I did not dive to save her... but to die with her! And I tremble with that shiver which comes when one connects momentarily with an instinctive sense of 'before-life' and 'after-death'...

...or is it just the drink?


As I look into the dark Whisky of my last glass tonight, I see again Vanessa's face slipping, as if asleep and somehow contented, into the lower ocean and away from the bright light of optimism and this temporary reality we call 'life'.

I was stilled with cold in the sea. It was an instant thing.
It wasn't the ocean: it was the cold of seeing beloved flesh turn white, and life leaking through lovers lips... ...and me here, 5 yards too short to stop a gasp - which should have been triumphant scream, with eyes wide - not shut, and 2 souls joined by love in the dark - instead of that muted sigh alone.
I saw her clearly... dead... the 'half' of me... and knew I was lost!