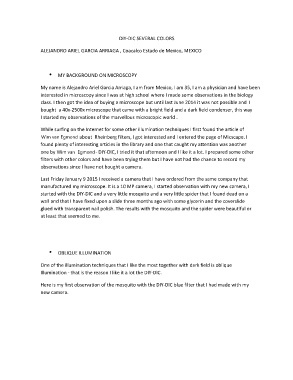 DIY-DIC SEVERAL COLORS

ALEJANDRO ARIEL GARCIA ARRIAGA , Coacalco Estado de Mexico, MEXICO

     MY BACKGROUND ON MICROSCOPY

My name is Alejandro Ariel Garcia Arriaga, I am from Mexico, I am 35, I am a physician and have been
interested in microscopy since I was at high school where I made some observations in the biology
class. I then got the idea of buying a microscope but until last June 2014 it was not possible and I
bought a 40x-2500x microscope that came with a bright field and a dark field condenser, this way
I started my observations of the marvellous microscopic world .

While surfing on the Internet for some other illumination techniques I first found the article of
Wim van Egmond about Rheinberg filters, I got interested and I entered the page of Micscape. I
found plenty of interesting articles in the library and one that caught my attention was another
one by Wim van Egmond - DIY-DIC, I tried it that afternoon and I like it a lot. I prepared some other
filters with other colors and have been trying them but I have not had the chance to record my
observations since I have not bought a camera.

Last Friday January 9 2015 I received a camera that I have ordered from the same company that
manufactured my microscope. It is a 10 MP camera, I started observation with my new camera, I
started with the DIY-DIC and a very little mosquito and a very little spider that I found dead on a
wall and that I have fixed upon a slide three months ago with some glycerin and the coverslide
glued with transparent nail polish. The results with the mosquito and the spider were beautiful or
at least that seemed to me.

     OBLIQUE ILLUMINATION

One of the illumination techniques that I like the most together with dark field is oblique
Illumination - that is the reason I like it a lot the DIY-DIC.

Here is my first observation of the mosquito with the DIY-DIC blue filter that I had made with my
new camera.