About MIC-UK
Microscopy-uk is a long established free resource site for amateur and enthusiast microscopy with free monthly magazine - Micscape. Here you can find out about microscopes and what to study with them. Access our quick visual menu here.


Have a question and want a fast answer regarding microscopy and microscopes? Get answers here!
Microscopes for sale
you CAN afford!


Our sponsors:
Brunel Microscopes
Brunel Microscopes & Apex Microscopes are business entities of Brunel Microscopes - a long established family business selling microscopes, accessories, and offering training to both professional and amateur microscopists in the UK.

Brunel & Apex Resources
Shop Catalogue
(Everything)
Brunel Secure Shop

Microscopes last for decades. Why purchase a new one, when a good second hand one works just as well but it's cheaper...
Refurbished Use Microscopes

Choosing your first Microscope

Contact Brunel directly

Low Power Microscopes
High Power Microscopes
Stereo Microscopes
Digital Microscopes
Portable Microscopes
McArthur Type Microscope
School Microscopes
Bee keeping Microscopes
Used Microscopes & Equipment
Accessories
Study Slides
Mounting
Microtomes
Dissecting equipment
Guides & Books
Training Courses
Safety

Apex Microscopes
Apex Secure Shop
Search (Find it here

Budget Microscopes
Used, refurbished microscopes offer great value for money with older instruments using lenses often polished by hand and superior to most microscope lenses used today. This month's budget bargains...

Brunel SP24
A new microscope used only by ourselves for assessment. A binocular microscope with achromatic objectives x4, x10, x40 and x100 (oil immersion) with x10 wide field eyepieces giving an overall magnification range of x40 to x1000. Mechanical stage with drop down controls and double vernier scale. Substage condenser with iris diaphragm and filter carrier. Coaxial coarse and fine focus controls Brightness controlled halogen illumination 6v 20watt. A bargain indeed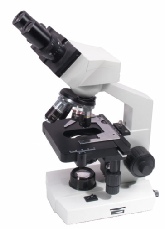 ---
Brunel Desk Top 5M Microscope
The ideal microscopes for the office, workshop or home use. The unit can be handheld or supported by one of three possible stands that are available as accessories. The Desk Top Microscope is a digital system that provides an image directly to a laptop or PC for viewing.The series microscopes have a magnification range of x10 to x200 and have in built LED illumination with brightness control.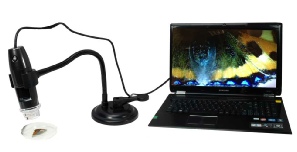 ---
Antique Brass Microscope
This is a fine antique monocular brass microscope in its original case dating from approximately 1890. It has no makers name but there are features that attest to its quality. The cabinet itself is well made and which is very unusual for a microscope of this age it has its key. The brass is in good condition for its age. Large swivel mirror. Coarse focus controls with a separate fine focus system. The microscope has two objectives each with its own brass objective pot and ine eyepiece.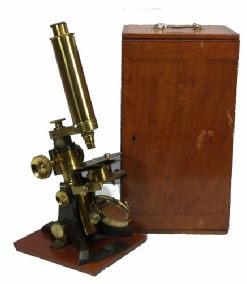 ---
Love Antiques?

An antique microscope can be seen as an item of intrisic beauty and value. Most, still work today - there cratmanship and quality were so good. By clicking on the image below, you can explore some of these rare instruments and possibly buy one either for yourself or as a very special gift for someone.





Each instrument is in fine condition and sold by Brunel Microscopes in the UK, a reputable and trusted family-run small business.

Cath Hodsman, British Wildlife and Natural History Artist
Celebrating British Wi and Natural History through Cath's beautiful art.

See her beautiful illustrations here...

---
This Month: Micscape Magazine
DAPHNIA by: ALEJANDRO ARIEL GARCIA ARRIAGA,
COACALCO DE BERRIOZAAL ESTADO DE MEXICO, MEXICO
One of the most rewarding things we can find as amateur microscopists is observing pond life, mainly after the rainy season because ponds are full of life.
Among all those creatures in ponds, daphnia are one that is found almost every time, although this organism is not exactly microscopic because they can be seen with bare eyes swimming in the containers we filled with pond water.
However, the fine details of this creature are only appreciated under the lenses of the microscope...

Read in PDF format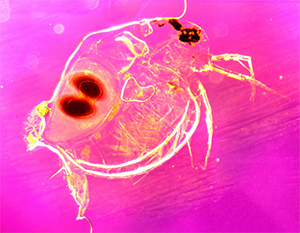 ---
A Foldscopes Travelogue in S. E. Asia by Richard Dorsett, Tacoma, USA

This is the second article featuring Richard Dorsett's trip to Asia to distribute Foldscopes, the fully functional microscope, which users construct by origami principles. The Rotary Club of Tacoma #8 funded the Foldscopes for adventurer and hiking and biking enthusiast Richard Dorsett.

Read in html format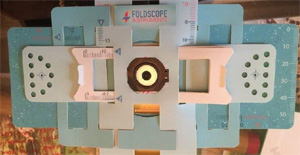 ---
A Little-known Accessory to the Zeiss Standard Microscopes by Fritz Schulze, Canada
There is a little-known accessory to the Zeiss Standard Microscope series: the magnification changer 1.6x. This little optical accessory is either originally installed when the microscope is bought or can be added as a retrofit later on provided the microscope in question is appropriately equipped...

Read in PDF format

---
The Vickers Patholux Microscope. A brief description and comparison with its related smaller models by Peter Guidotti, Houston, USA
This instrument was produced by Vickers Instruments Ltd, in the UK, shortly after their subsidiary Cooke, Troughton and Simms (CTS) was merged with C. Baker Instruments Ltd., in 1959. At this point, their microscopes started to be marketed under the Vickers name...

Read in PDF format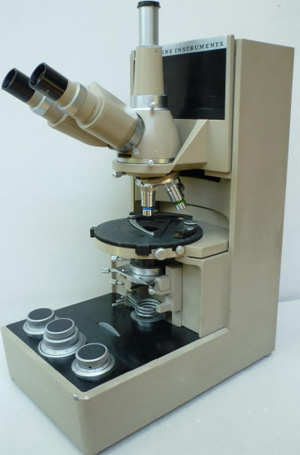 ---
Sulphur crystals
by Ruud Herold
Sulphur is an element that can be found in nature in its pure form, typically in areas of volcanic activity, or in minerals as a sulphide or sulphate e.g. H2S in sour natural gas, pyrite (FeS2) and gypsum (CaS04)1.
The name sulphur is derived from the Sanskrit name 'Shulbary' which...

Read in PDF format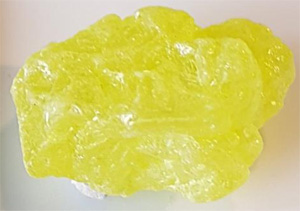 Exploring the use of Peltier plates for a microscope cold stage. Further trials: Water freezing under a coverslip and frost crystal formation on uncovered surfaces.
by David Walker
Trials of the annular plate have continued and various aspects are shared .... My particular goal was to be able to study water freezing under a coverslip with indoor comfort.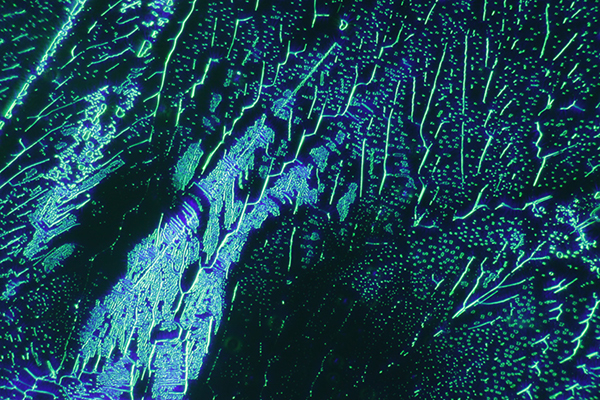 Last Month: Micscape Magazine
RGB UNDER THE MICROSCOPE
BY: ALEJANDRO ARIEL GARCIA ARRIAGA,COACALCO DE BERRIOZABAL, ESTADO DE MEXICO, MEXICO

Read in PDF format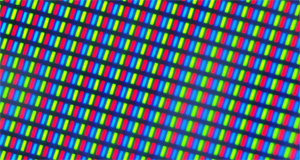 ---
Using a Microscope to Examine Integrated Circuits
by Andrew Menadue, UK

Read in PDF format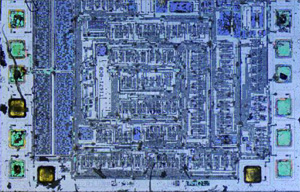 ---
Exploring the use of a Peltier plate with central hole (TES1-11930) as a cold (or hot) stage for transmitted light microscopy.
by David Walker, UK

Read in HTML format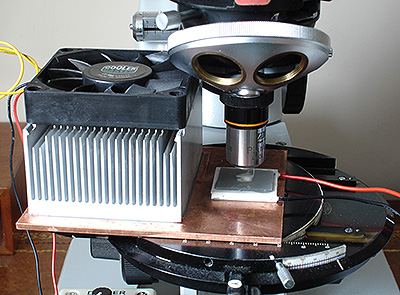 ---
Digital Photomicrography with a Zeiss Photomicroscope
Fritz Schulze, Canada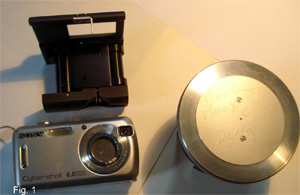 ---
Purchasing Permanent Slides at Low Cost
by Gregor Overney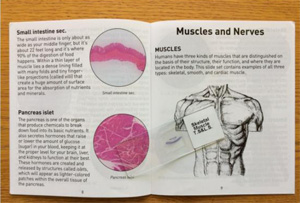 ---
THOSE OTHER MOUNTS BY ADOLF SCHULZE: NEW EVIDENCE
Peter B. Paisley, Sydney, Australia

Read in DOC format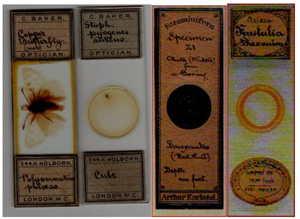 ---
IMARSHES, GHOSTS, AND FLYING CLAMS: A MICROSCOPIST'S ALPINE ADVENTURE
By T. Rand Collins, USA
A haunted old tunnel, a tiny alpine marsh, and tiny creatures that traveled thousands of miles and shouldn't be there. What more could a wandering microscopist need?
Read in PDF format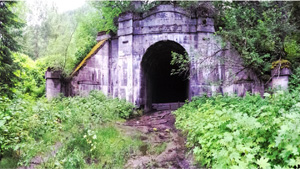 ---
Identification of Plankton from the web site of The Microbiological Association, Hamburg. A GREAT PAGE TO GET STARTED on studying these living forms.
Accolades
Amateur microscopists are sharing there observation all across the social media. We present some from various sources.
---
Other Amateur's Obervations
James Weis shared a link from Facebook Amateur Microscopy page: Peranema is Explained.
400x, fresh water sample...
---
MICSCAPE YEARBOOK
Our Yearbook can provide a permanent record of many interesting explorations into the small scale world. Material taken from our library and online magazine - Micscape - has been collected together and reformatted, providing a full colour book to delight everyone interested in enthusiast microscopy.
More info?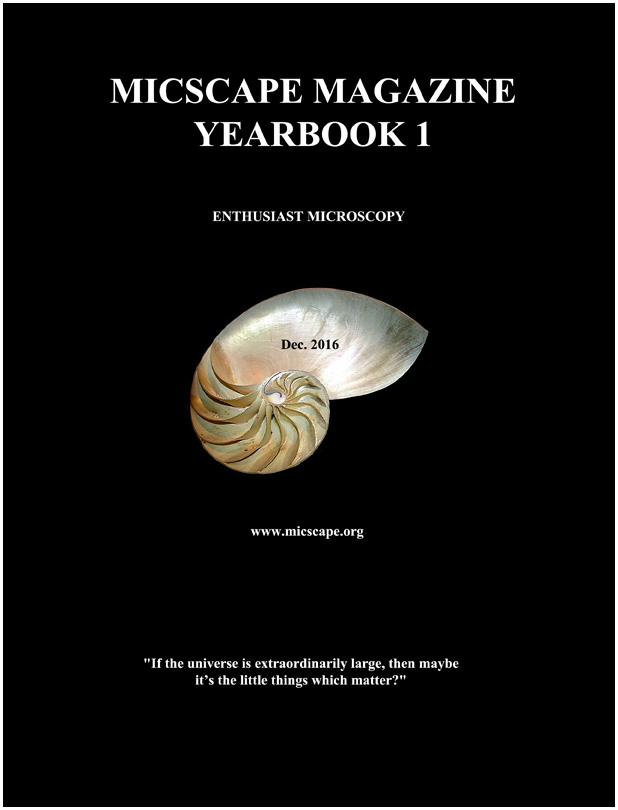 Micscape Magazine Yearbook 1
Price: £12.95 BUY UK

Price: $18.75 BUY USA

Price: $16.91 BUY EURO
*PRICE APPROX FOR EURO COUNTRIES.
---
BEE KEEPING
Norfolk Honey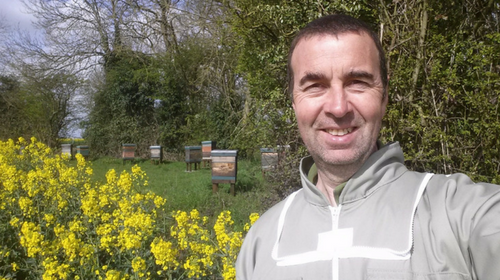 Many bee keepers use microscopes to help maintain their bees and to determine what pollen is being collected to make the honey. This is one of the best resources online for bee keepers. Full of useful tutorials and tons of videos showing you how best to manage bees. Visit here...
---
TRAINING
Brunel Microscopy training courses are fit for professionals and enthusiasts alike, and are almost unique in offering microscopy expertise in the form of bespoke training courses. Training, especially for the hobbist is almost non-existent so Brunel Training is a good place to start if you would like to really learn microscopy quickly and thoroughly.
Microscopy is a science with many options. They offer tuition in their own centre for private individuals, groups (maximum size 12) or industrial applications in their own premises - the choice is yours.
---
FACEBOOK AMATEUR MICROSCOPY GROUP
Some of our favourite facebook Amateur Microscopy Group postings from the last few weeks.
Images are copyright of their owners!
(Click on any image to visit the posting).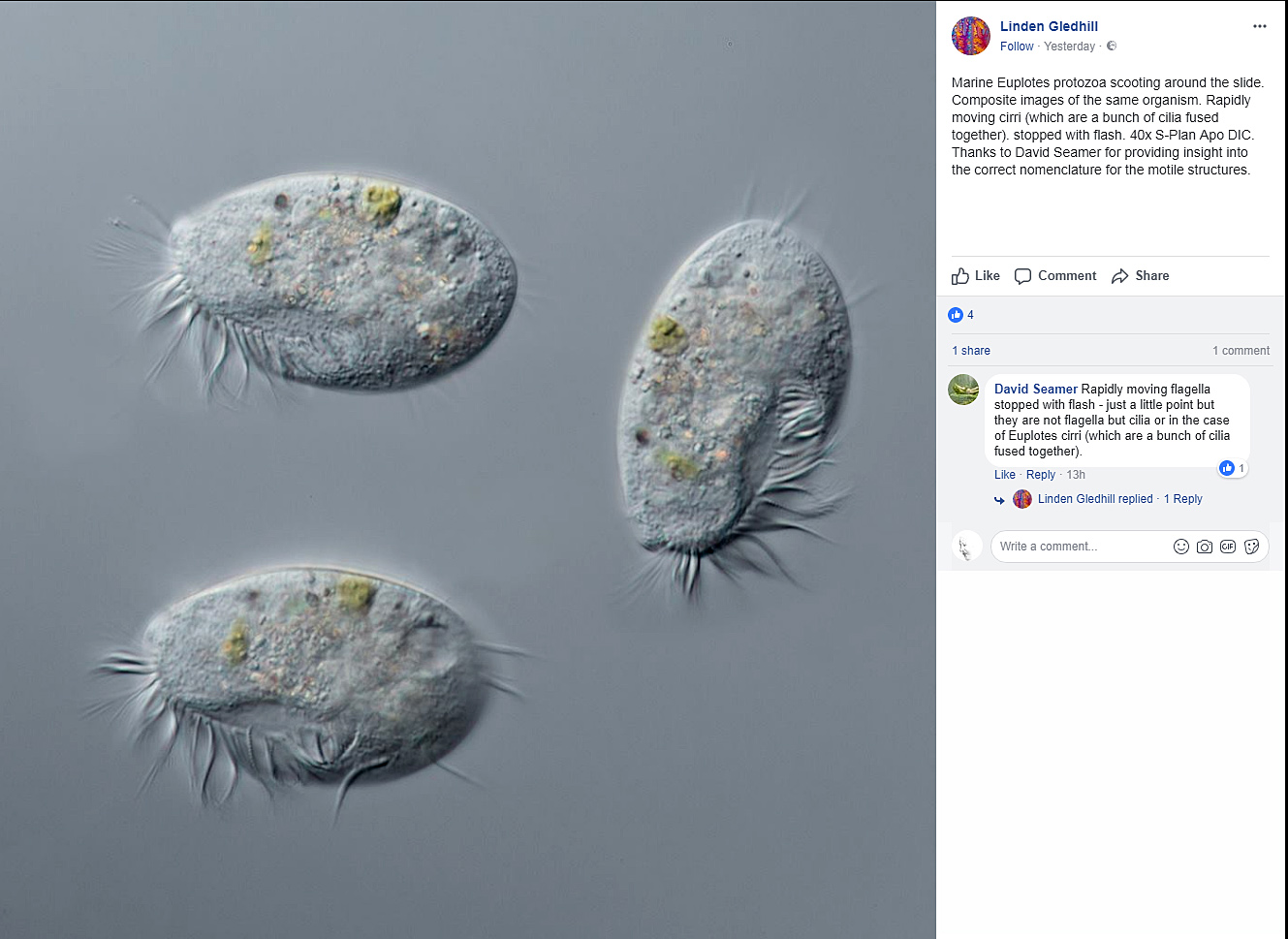 Marine Euplotes protozoa scooting around the slide. Composite images of the same organism. Rapidly moving cirri (which are a bunch of cilia fused together). stopped with flash. 40x S-Plan Apo DIC. Thanks to David Seamer for providing insight into the correct nomenclature for the motile structures. by Linden Gledhill.
---
Rotifer, normal illumination and Dark Field.
Single rotifer, video with standard brightfield and one with standard dark field. Any preferences, people?

Bryan Shumaker (Facebook Amateur Microscopy Group)
---
Wim van Egmond
Wim has been a giant in the microscopic world of study and exploration. One of the first contributors to Micscape and microscopy-uk, he has continued to surge forward throughout many years, achieving accolades and awards for his detailed and informative work. Learn more about him by visiting his page here...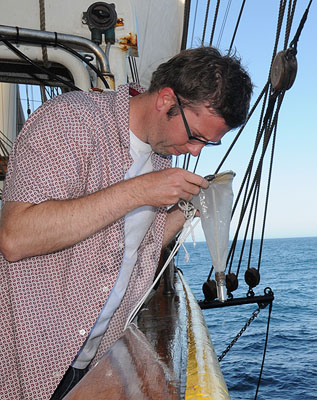 ---
JOIN A CLUB
Like other hobbies and interests, clubs and friendly organisations exist where you can become a member of a Microscopy Group and share information with others. Join one of these...

Germany
Microbiological Association Of Munich is a society established over a hundred years ago.

The BERLINER MIKROSKOPISCHE GESELLSCHAFT eV is an association of professionals and amateurs from the most diverse professions. They maintain a common hobby - microscopy with regular meetings every two weeks at the Freie Universität Berlin.

The Microbiological Association, Hamburg, also has a very helpful web site and is dvery worth a visit. Many pages are in English.

Belgium
The Royal Antwerp MicroGraph Society (KAGM) is an association which welcomes new members and is based in Antwerp with regular meetings at The University of Antwerp, Campus Three Oak. Building O, Bioruimte (3rd floor), Fort 6 street, 2610 Wilrijk

United States Of America
The New York Microscopical Society. In over sixty years of the society's existence they have accumulated a trove of prized possessions. The walls of their meeting building is lined with shelves of books on microscopy and about 30 antique brass microscopes are on permanent display. There is a large collection of microscope slides, specimens and up-to-date microscopes with which to examine them.

Microscopical Society of Southern California, Founded in 1938, the club is devoted to the study and practice of the science and art of microscopy and to the collection and study of related scientific devices.

San Fransico Microscopical Society. The society was developed as a non-profit educational institution devoted to the teaching of microscopy and as a meeting place where members could share their experiences and techniques.

United Kingdom
Manchester Microscopical & Natural History Society established over one hundred and forty years ago and currently with a membership of over one hundred people. Welcomes new members.

Kernow Microscopical Society holds monthly meetings on Saturday afternoons to explore all aspects of microscopy at Chacewater, in the village hall, Killifreth room. TR4 8PZ.

Northamptonshire Natural History Society hold meetings and events at at The Humfrey Rooms, 10 Castilian Terrace, Northampton, NN1 1LD

The Postal Microscopical Society was established in 1873, with its primary aim the circulation of boxes of microscope slides and notes to the members. This is still the aim today when, after fluctuating fortunes over the years, a membership of around 240 contributes to a lively and friendly society. In 1998 the PMS celebrated 125 years of existence.

The Quekett Microscopical Club - Formed in 1865 by John Thomas Quekett, one of the most prestigious of the enthusiast microscopy clubs in the world.

Leeds Microscopical Society meet twice a month on Thursday evenings.

The British Phycological Society, based in Northern England, is a charity devoted to the study of algae founded in 1952, was one of the first to be established in the world, and is the largest in Europe.

Worldwide
Online Facebook Group Amateur Microscopy Group sharing pictures and videos and is a lively group.
Clever Stuff
MACRO WORLD

Enjoy the Macro world with this channel on Vimeo...
Explore Macro World
---
Thermal Engine
The heart of this unusual thermal engine is a thin ring of Nitinol wire (0.3mm). Some warm water is enough to make the Nitinol Engine run. Nitinol is an alloy of nickel and titanium which has exceptional properties: at low temperatures it is soft and bendy, but as soon as it is heated above a certain transition temperature, it instantly becomes hard and flexible like spring steel.
And the good news is...
You can own one for just: £27.99
from our favourite science toy site: Grand Illusions - right here
---
New and bizarre discovered species has 414 legs, 4 penises and no eye

(Click on image to find out more!)
© Unreal Universe 2017
Contact: contato@universoincrivel.com.br
---
Blowflies use drool to keep their cool

In hot times, sturdy, big-eyed Chrysomya megacephala flies repeatedly release — and then retract — a droplet of saliva, Denis Andrade reported January 4 at the annual meeting of the Society for Integrative and Comparative Biology. This process isn't sweating. Blowfly droplets put the cooling power of evaporation to use in a different way, said Andrade, who studies ecology and evolution at the Universidade Estadual Paulista in Rio Claro, Brazil.
READ MORE HERE...
---

A new gel could help in the fight against deadly, drug-resistant superbugs

A new antibacterial ointment could help take down drug-resistant bacteria.In human skin samples and mice, the medicine completely cleared wounds of MRSA, the strain of Staphylococcus aureus that is resistant to methicillin and other antibiotics, and antibiotic-resistant Acinetobacter baumannii. Both microbes are known to cause serious infections in hospital patients. Researchers in the Netherlands created the gel's key ingredient, a chain of amino acids called SAAP-148, by improving on a bacteria-fighting peptide found in humans.
READ MORE HERE...
---
LOVE / HATE
Microscopists lov optics and appreciate optical effects and clever devices which play with light. So, we thought you might enjoy this inexpensive wonder which would make a lovely surprise gift for someone you know, or of course, your good self!

Want one? Only £10.00 .

Buy yours here
from Grand Illusions
---
STAR SAND
Only half a dozen beaches in the world have star sand. New to you? Star sand is comprised of timy almost microscpoic creatures. Here is a fun intro to sand and an indight to star sand...

That was from Grand Illusions but if you would like to explore sand in more detail, click on the image below!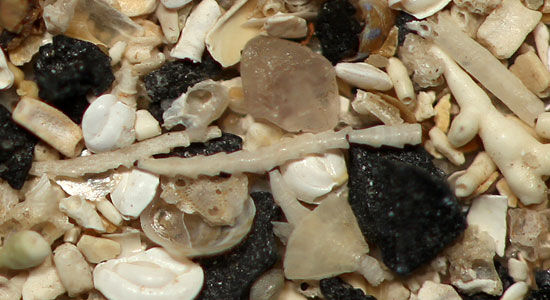 ---
SLIME MOLD IDENTIFCATION
A group on Facebook for ID, discussion and photos of slime molds. These interesting organisms often mistaken for fungi are understudied, weird and beautiful!l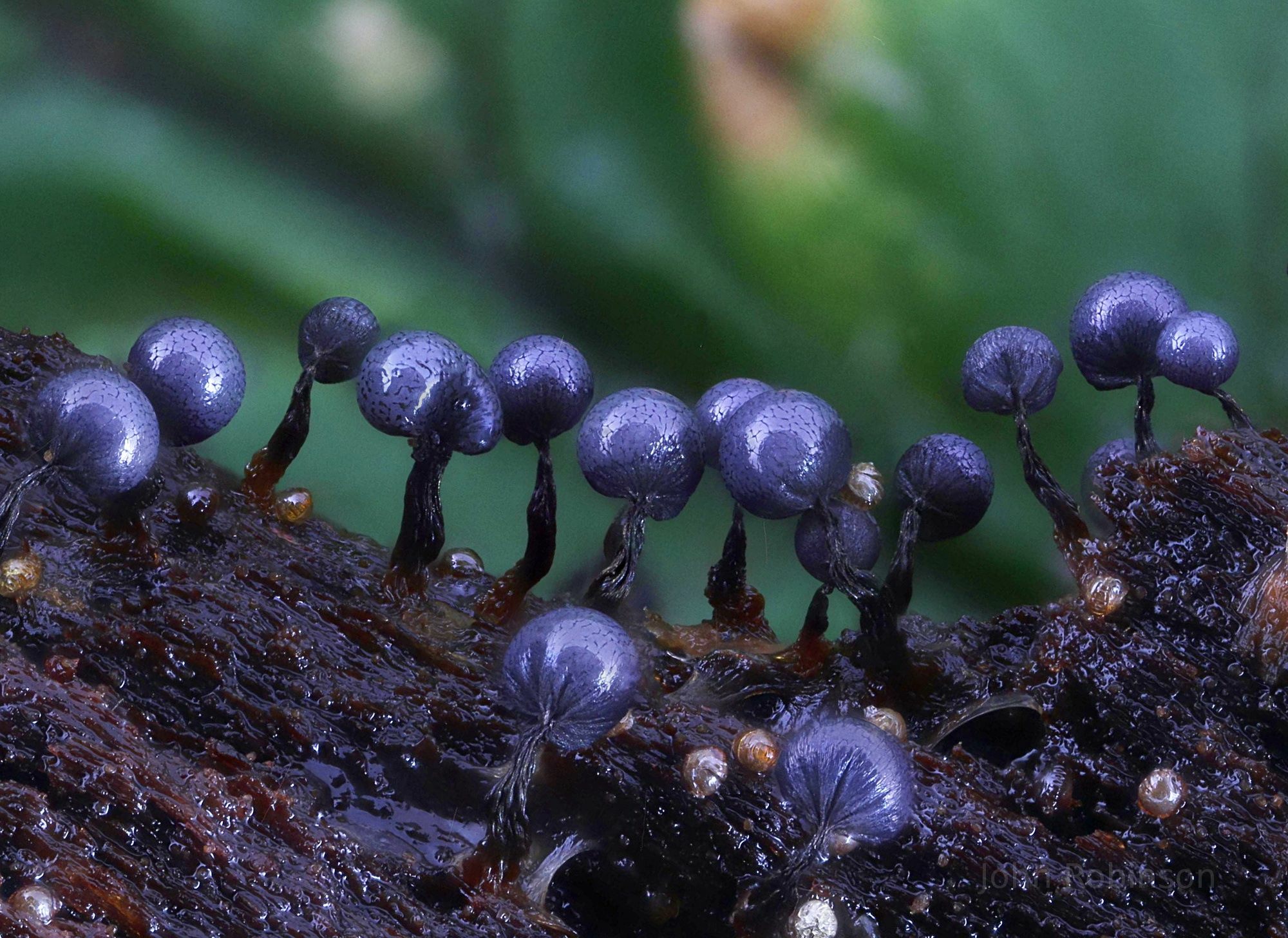 Click on image to visit the group here...
---