Micscape Magazine
BENZOIC ACID CRYSTALS
by Ruud Herold

Preparing microcrystals by sublimation is a method described in scientific literature but is not that easy to conduct in a home laboratory as it can be difficult to find suitable materials. With sublimation we change the state of the material...

Read in PDF format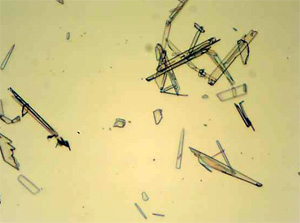 ---
Cyanobacteria
by Alejandro Ariel García Arriaga
Coacalco de Berriozábal, Estado de México, Mexico
As I have remarked several times, observing bacteria is one of the most rewarding things we, as amateur microscopists, can do. The reason is that most of the time we are going to be limited to optical...

Read in PDF format


---
A Padded Storage Box for Microscope Condensers
Copyright © 2018 Carl Hunsinger
Any serious microscope hobbyist who has been involved in the hobby for any length of time likely owns a fair amount of microscope equipment. Even a relative newcomer to the hobby who only owns a single microscope will, if they remain in the hobby and their interest becomes serious, eventually find themselves with multiple objectives, eyepieces, condensers, and so on, for their microscope.

Read in PDF format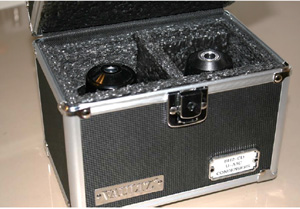 ---
The Cooke M25 Series Microscopes
by Peter Guidotti, Houston, USA
The M25 series of microscopes was introduced Cooke, Troughton and Simms in 1954 and lasted into the mid-1960's. The name of the company was often abbreviated to Cooke, or CTS, as in the company logo. During production of this series, the name was dropped

Read in PDF format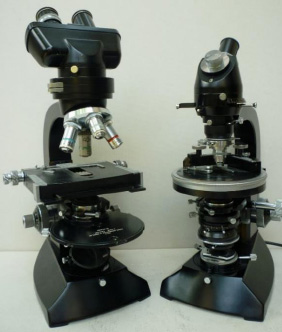 ---
Near infrared gallery: An urban walk in Huddersfield, a northern England town by David Walker (UK).
David shares scenes from urban walks near to his home taken using a home modified Sony S75 camera.

Read in html format

Last month highlight: A Foldscopes Travelogue in S. E. Asia by Richard Dorsett, Tacoma, USA

This is the second article featuring Richard Dorsett's trip to Asia to distribute Foldscopes, the fully functional microscope, which users construct by origami principles. The Rotary Club of Tacoma #8 funded the Foldscopes for adventurer and hiking and biking enthusiast Richard Dorsett.

Read in html format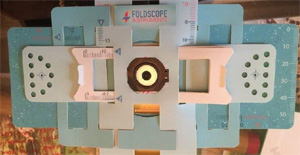 ---
From our archives...
Van Leeuwenhoek's secret revealed
by Wim van Egmond, the Netherlands

More than 325 years ago Anthonie van Leeuwenhoek discovered the microworld. He was the first person who observed blood cells and micro organisms like ciliates, rotifers and bacteria (1). In his time he was the only one who made these observations and it would take many decades before other people could confirm his observations.
How was it possible that someone without any scientific background and with very primitive equipment could make such historic discoveries? Was it the special optics he used or some kind of secret method of illumination? In this little photo essay I will give some insights that may come as a surprise for those who have never visited the Netherlands.

Read in html format

l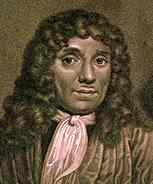 ---
From Our Sponsors
Brunel Microscopes & Apex Microscopes are business entities of Brunel Microscopes - a long established family business selling microscopes, accessories, and offering training to both professional and amateur microscopists in the UK.

Brunel & Apex Resources
Shop Catalogue
(Everything)
Brunel Secure Shop

Microscopes last for decades. Why purchase a new one, when a good second hand one works just as well but it's cheaper...

Refurbished
Used Microscopes

Choosing your first Microscope

Contact Brunel directly

Low Power Microscopes
High Power Microscopes
Stereo Microscopes
Digital Microscopes
Portable Microscopes
McArthur Type Microscope
School Microscopes
Bee keeping Microscopes
Used Microscopes & Equipment
Accessories
Study Slides
Mounting
Microtomes
Dissecting equipment
Guides & Books
Training Courses
Safety

Apex Microscopes


Search (Find it here)

Budget Microscopes

Used, refurbished microscopes offer great value for money with older instruments using lenses often polished by hand and superior to most microscope lenses used today. This month's budget bargains...


Vickers Monocular
We have a small quantity of these extremely well built Vickers microscopes. All original and therefore also collectors pieces. Large stable illumination base with 6v 15watt lighting. Stage with slide clips and usual substage condenser with iris. Coaxial coarse and fine focus controls. Objectives x5, x10 and x40 with x10 eyepiece. Very good value for a vintage British made microscope.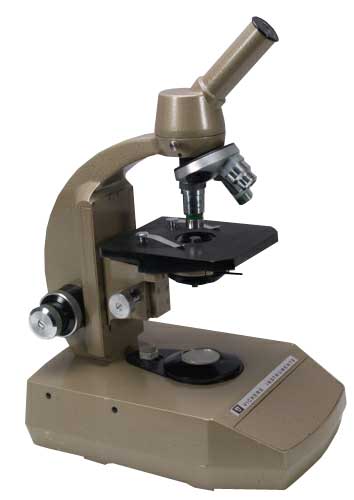 ---
Watson Microsystem 70
A fine example of this classic Watson monocular microscope. This is an all original microscope making it a collectors piece as well as a good optical instrument. Objectives x4. X10 and x40 with x10 eyepiece. Rheostat controlled halogen illumination. Focusing condenser with iris. Stage clips.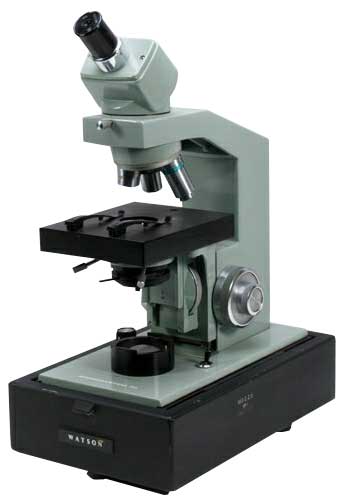 ---
Euromex Monocular Microscope
Aimed at the educational and schools market this is a very robustly built microscope from Holland. There are several minor chips to the body paint work which in no way detracts from its performance. An ideal starter budget instrument - made to last. Objectives x4, x10 and x40 with a turret space for a x100 (can be supplied). Separate coarse and fine focus controls. Fixed Abbe condenser with iris diaphragm. Good sized stage with slide clips. Tungsten illumination.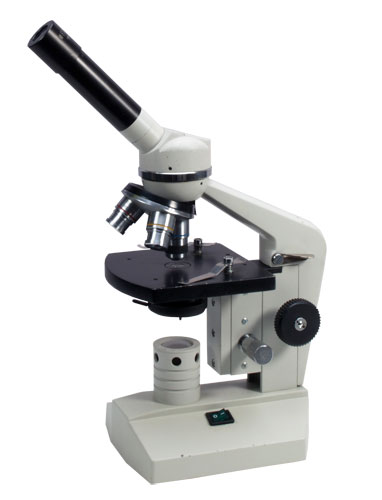 Price £66.67 + vat
---
NEWS AND EVENTS
---
Micscape Yearbook
Our Yearbook can provide a permanent record of many interesting explorations into the small scale world. Material taken from our library and online magazine - Micscape - has been collected together and reformatted, providing a full colour book to delight everyone interested in enthusiast microscopy.
More info?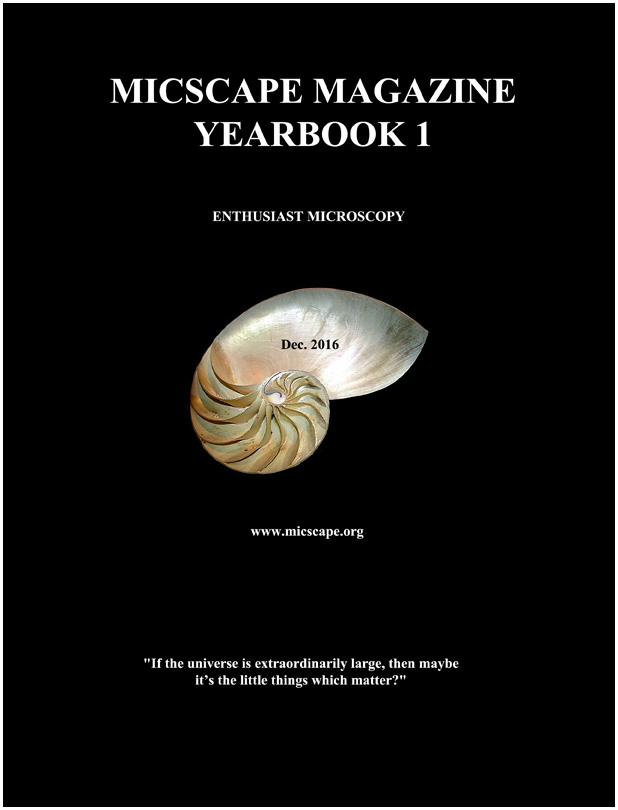 Micscape Magazine Yearbook 1
Price: £12.95 BUY UK

Price: $18.75 BUY USA

Price: $16.91 BUY EURO
*PRICE APPROX FOR EURO COUNTRIES.
---
BEE KEEPING
Norfolk Honey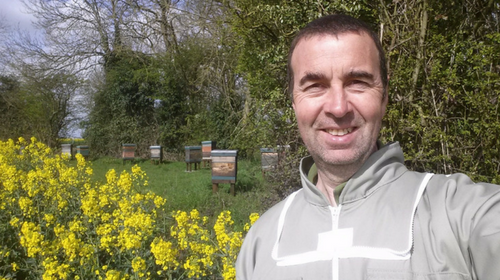 Many bee keepers use microscopes to help maintain their bees and to determine what pollen is being collected to make the honey. This is one of the best resources online for bee keepers. Full of useful tutorials and tons of videos showing you how best to manage bees. Visit here...
---
TRAINING
Brunel Microscopy training courses are fit for professionals and enthusiasts alike, and are almost unique in offering microscopy expertise in the form of bespoke training courses. Training, especially for the hobbist is almost non-existent so Brunel Training is a good place to start if you would like to really learn microscopy quickly and thoroughly.
Microscopy is a science with many options. They offer tuition in their own centre for private individuals, groups (maximum size 12) or industrial applications in their own premises - the choice is yours.
---
Wim van Egmond
Wim has been a giant in the microscopic world of study and exploration. One of the first contributors to Micscape and microscopy-uk, he has continued to surge forward throughout many years, achieving accolades and awards for his detailed and informative work. Learn more about him by visiting his page here...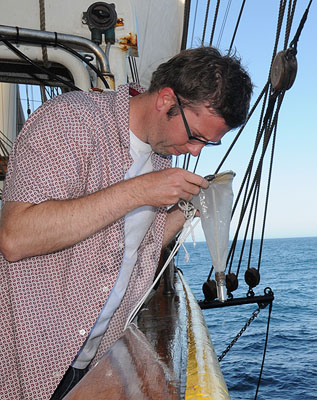 ---
3D Microscopy


Click on images to see in 3D...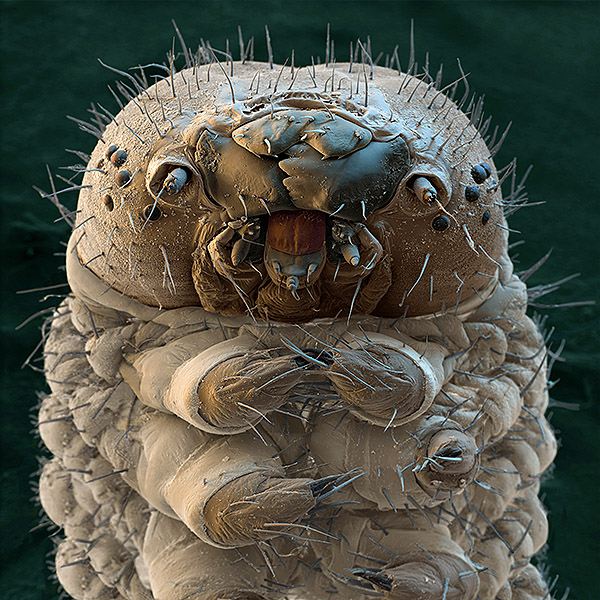 Silkworm. Image courtesy and copyright of Oliver Meckes of Eye of Science
---
Click on images to see in 3D...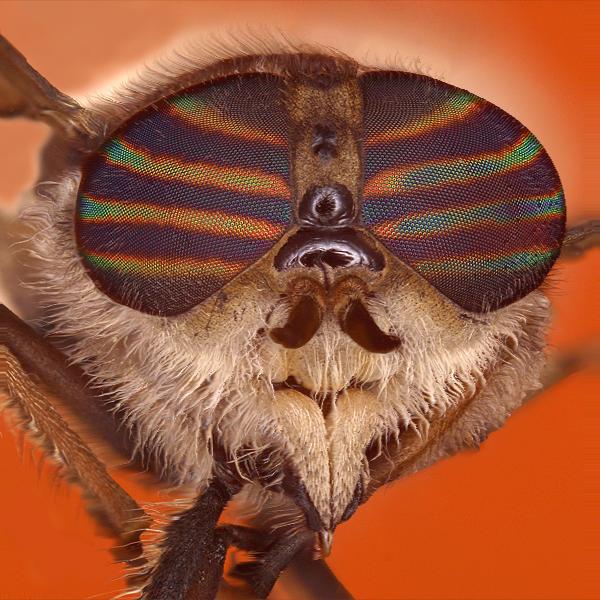 Horse-fly Head
by Michael Reese Much USA
---
Enthusiast Web Sites
Other microscopists Web sites...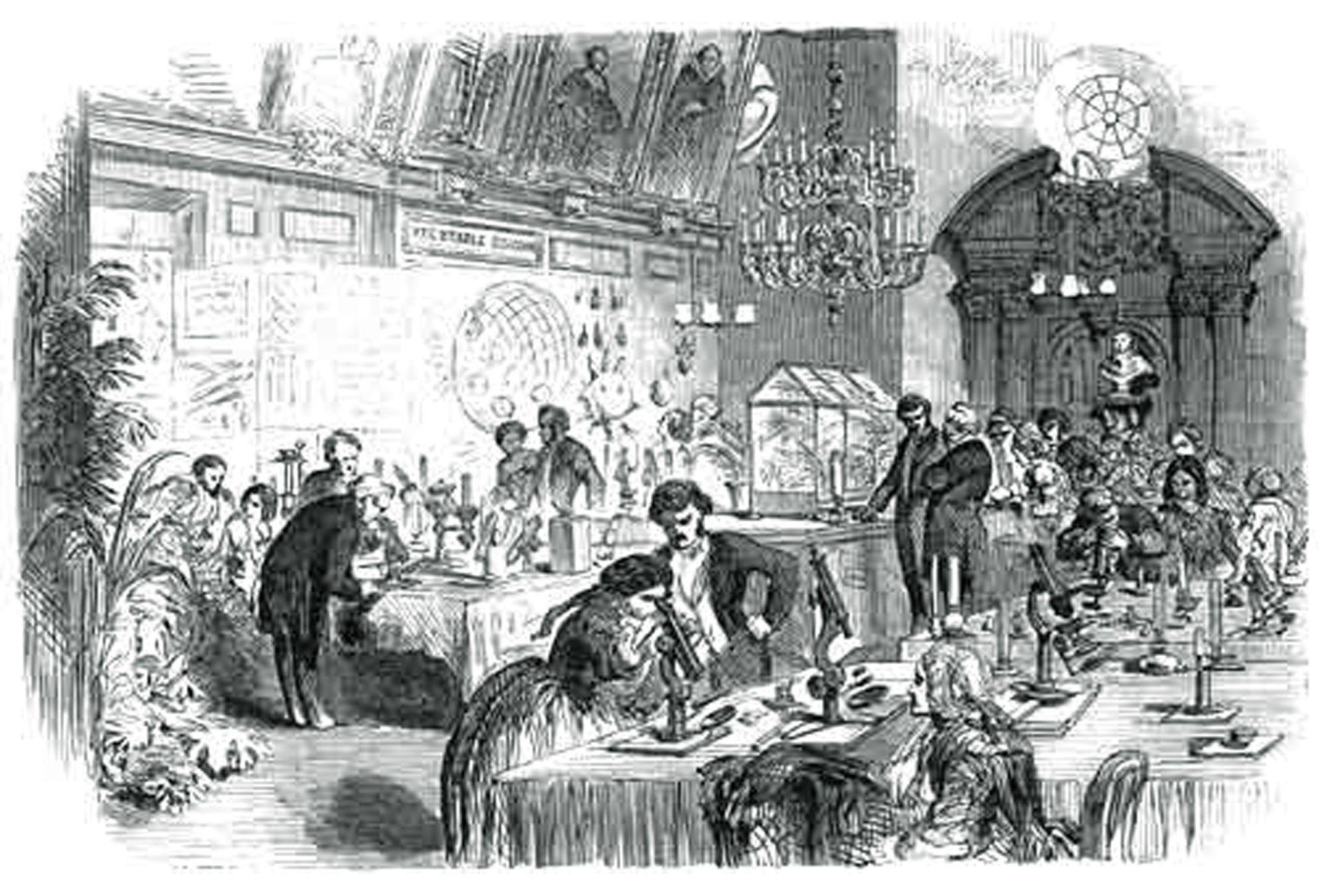 Click on any image above or below to visit other microscopists web sites.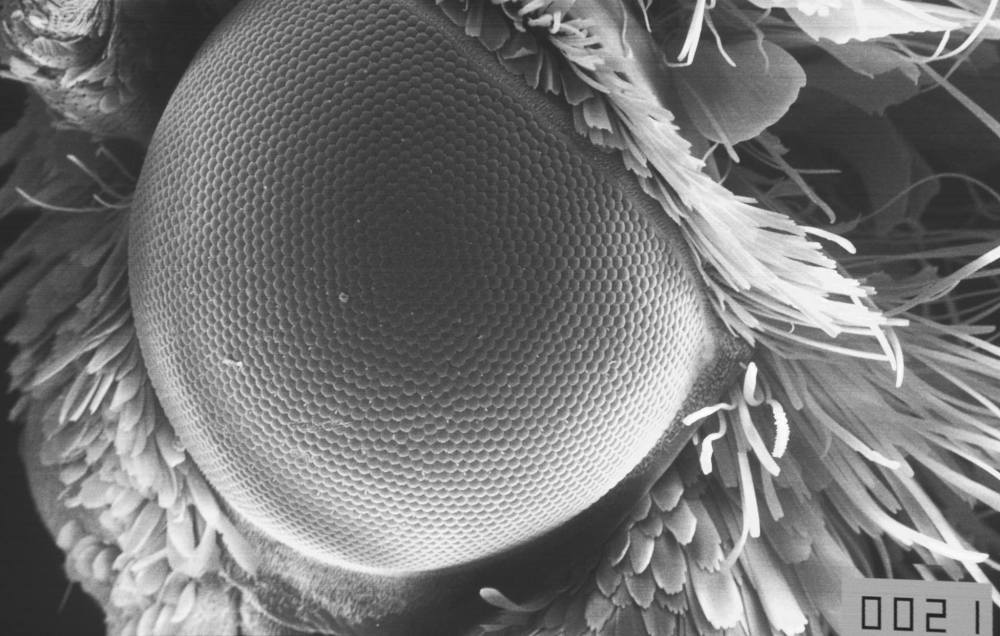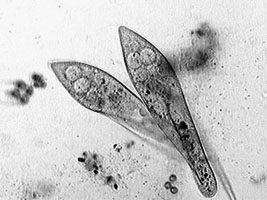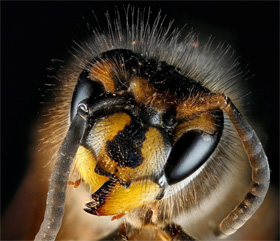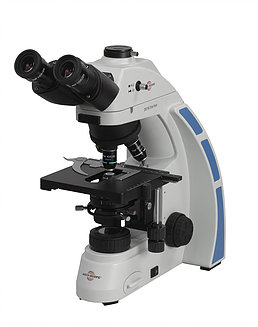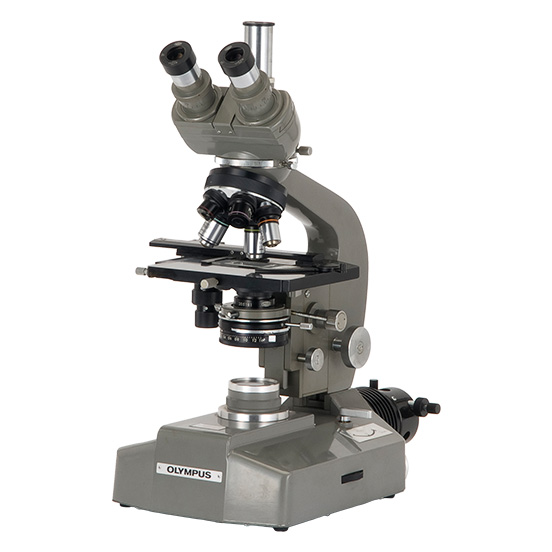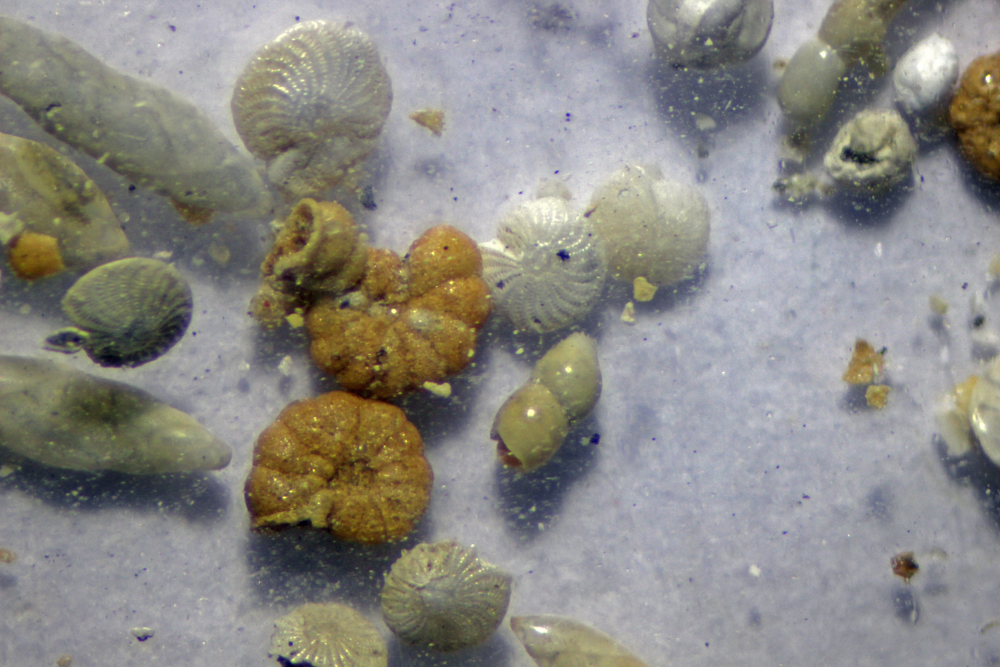 ---
Join a Club
Like other hobbies and interests, clubs and friendly organisations exist where you can become a member of a Microscopy Group and share information with others. Join one of these...

Germany
Microbiological Association Of Munich is a society established over a hundred years ago.

The BERLINER MIKROSKOPISCHE GESELLSCHAFT eV is an association of professionals and amateurs from the most diverse professions. They maintain a common hobby - microscopy with regular meetings every two weeks at the Freie Universität Berlin.

The Microbiological Association, Hamburg, also has a very helpful web site and is dvery worth a visit. Many pages are in English.

Belgium
The Royal Antwerp MicroGraph Society (KAGM) is an association which welcomes new members and is based in Antwerp with regular meetings at The University of Antwerp, Campus Three Oak. Building O, Bioruimte (3rd floor), Fort 6 street, 2610 Wilrijk

United States Of America
The New York Microscopical Society. In over sixty years of the society's existence they have accumulated a trove of prized possessions. The walls of their meeting building is lined with shelves of books on microscopy and about 30 antique brass microscopes are on permanent display. There is a large collection of microscope slides, specimens and up-to-date microscopes with which to examine them.

Microscopical Society of Southern California, Founded in 1938, the club is devoted to the study and practice of the science and art of microscopy and to the collection and study of related scientific devices.

San Fransico Microscopical Society. The society was developed as a non-profit educational institution devoted to the teaching of microscopy and as a meeting place where members could share their experiences and techniques.

United Kingdom
Manchester Microscopical & Natural History Society established over one hundred and forty years ago and currently with a membership of over one hundred people. Welcomes new members.

Kernow Microscopical Society holds monthly meetings on Saturday afternoons to explore all aspects of microscopy at Chacewater, in the village hall, Killifreth room. TR4 8PZ.

Northamptonshire Natural History Society hold meetings and events at at The Humfrey Rooms, 10 Castilian Terrace, Northampton, NN1 1LD

The Postal Microscopical Society was established in 1873, with its primary aim the circulation of boxes of microscope slides and notes to the members. This is still the aim today when, after fluctuating fortunes over the years, a membership of around 240 contributes to a lively and friendly society. In 1998 the PMS celebrated 125 years of existence.

The Quekett Microscopical Club - Formed in 1865 by John Thomas Quekett, one of the most prestigious of the enthusiast microscopy clubs in the world.

Leeds Microscopical Society meet twice a month on Thursday evenings.

The British Phycological Society, based in Northern England, is a charity devoted to the study of algae founded in 1952, was one of the first to be established in the world, and is the largest in Europe.

Worldwide
Online Facebook Group Amateur Microscopy Group sharing pictures and videos and is a lively group.