The Larry Legg (Learner) Section
Page 5

---
Making your first slide
Here's one of mine!
---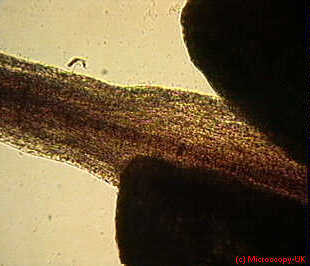 This is a large pollen grain from the flower called Rosebay Willow-herb. You can only see a tiny fraction of the pollen here because even at low magnification, it's so big! Fructose is an ideal mountant for all pollen grains.


Ask Larry something!




---
© Microscopy UK and our contributors 1996-97

---
© Onview.net Ltd, Microscopy-UK, and all contributors 1995 onwards. All rights reserved. Main site is at www.microscopy-uk.org.uk with full mirror at www.microscopy-uk.net.