The Larry Legg (Learner) Section
Page 5

---
Making your first slide
Here's one of mine!
---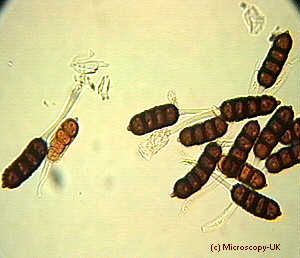 This is my favourite one. It is commonly known as Bramble Brand, Phragmidium bulbosum. It is a mould found on Bramble leaves and these are the spores scrapped from one such leaf. You can often see tiny brown specks covering bramble leaves, each speck is 'raised' from the leaf surface. Now you know what it looks like under a microscope. If you want others to see your first slide or slides, why not send one to me: Larry Legg, c/o Microscopy-uk, 69 Commonside West, Mitcham, Surrey. CR4 4HB. England. I'll open up a small exhibition of READERS FRUCTOSE SLIDES so we can all share your work.

Ask Larry something!




---
© Microscopy UK and our contributors 1996-97

---
© Onview.net Ltd, Microscopy-UK, and all contributors 1995 onwards. All rights reserved. Main site is at www.microscopy-uk.org.uk with full mirror at www.microscopy-uk.net.