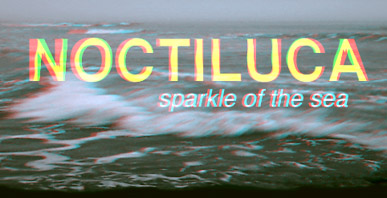 One of the marvels of the ocean is a little creature called Noctiluca scintillans, commonly known as the seasparkle. It is a dinoflagellate, a little single-celled algae. Floating in swarms of millions these organisms cause the glowing of the sea. The archetype of a dinoflagellate has a flattened spherical body shape and is armoured by plates covered with an intricate texture. They propel themselves with two (or sometimes more) flagella. One is pointed downward, the other is running as a spiral through a groove running along the equator of the cell. Noctiluca however has a different body plan. It forms a gas bag that enables the creature to float right under the surface of the ocean. There still are two flagella although one is exceptionally thick. This large one is clearly visible while the other one is very insignificant (just noticeable in the picture above the large flagella).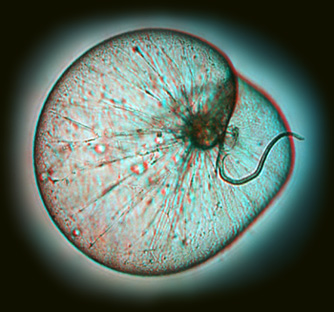 Like Volvox these creatures give a unique twist to the concept 'plant'. Noctiluca is heterotrophic, which means it devours other organisms. Because of its large size for a unicellular creature (up to one millimetre) it is interesting to study them. They can be caught from the surface of the sea with a plankton net or with a fine sieve. With a strong magnifying glass they are easy to watch.
THE INSTITUTE FOR THE PROMOTION OF THE LESS THAN ONE MILLIMETRE


Comments to the author Wim van Egmond are welcomed.
---
All Material Copyright: © Wim van Egmond
Please report any Web problems or offer general comments to the Micscape Editor,
via the contact on current Micscape Index.

Micscape is the on-line monthly magazine of the Microscopy UK web
site at Microscopy-UK

WIDTH=1
---
© Onview.net Ltd, Microscopy-UK, and all contributors 1995 onwards. All rights reserved. Main site is at www.microscopy-uk.org.uk with full mirror at www.microscopy-uk.net.