this page should be viewed with red and blue 3D glasses
The Larva of the Starfish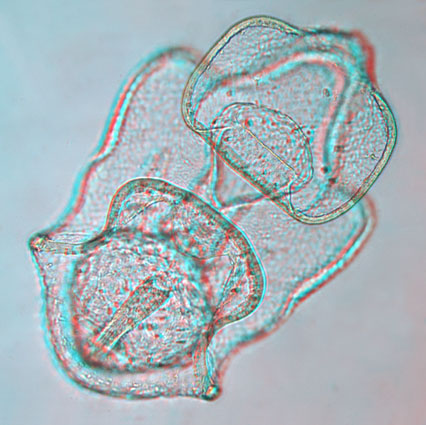 A ghost like appearance in marine plankton, although less than a millimetre long, the transparent body of the larva of the starfish is a magnificent lifeform. Covered with ciliated bands it has an elegant way of locomotion. Slowly does it glide through the water. In the centre you can see the mouth-opening leading towards a round gut below. The strip in front of it is the anus.
More about the development of these larvae can be found in the Micscape article Growth of a Starfish.
THE INSTITUTE FOR THE PROMOTION OF THE LESS THAN ONE MILLIMETRE


Comments to the author Comments to the author sent via our contacts page quoting page url plus : ('wegmond','')">Wim van Egmond are welcomed.
---
All Material Copyright: © Wim van Egmond
Please report any Web problems or offer general comments to the Micscape Editor,
via the contact on current Micscape Index.

Micscape is the on-line monthly magazine of the Microscopy UK web
site at Microscopy-UK

WIDTH=1
---
© Onview.net Ltd, Microscopy-UK, and all contributors 1995 onwards. All rights reserved. Main site is at www.microscopy-uk.org.uk with full mirror at www.microscopy-uk.net.