this page should be viewed with red and blue 3D glasses
| | | | |
| --- | --- | --- | --- |
| | STENTOR | | The trumpet animalcule |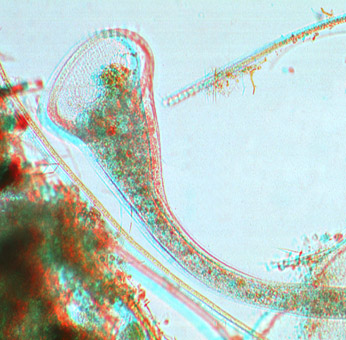 The trumpet animalcule Stentor is one of the largest unicellular organisms. Most of the time it lives attached to a surface. With it's cell stretched Stentor feeds on bacteria and other small creatures using a crown of fused cilia (hairlike structures). But when disturbed it uses it's cilia to locomote. As an aid to reach a large size, sometimes two millimetres long, Stentor has within it's cell a string of many nucle´.
More can be read in the Micscape article: The Stentor
More about Stentors relatives in Ciliates
THE INSTITUTE FOR THE PROMOTION OF THE LESS THAN ONE MILLIMETRE


Comments to the author Comments to the author sent via our contacts page quoting page url plus : ('wegmond','')">Wim van Egmond are welcomed.
---
All Material Copyright: ę Wim van Egmond
Please report any Web problems or offer general comments to the Micscape Editor,
via the contact on current Micscape Index.

Micscape is the on-line monthly magazine of the Microscopy UK web
site at Microscopy-UK

WIDTH=1
---
© Onview.net Ltd, Microscopy-UK, and all contributors 1995 onwards. All rights reserved. Main site is at www.microscopy-uk.org.uk with full mirror at www.microscopy-uk.net.