| | | | |
| --- | --- | --- | --- |
| | Always there but seldom noticed: | | SPIROGYRA |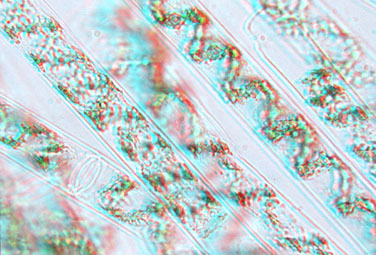 Spirogyra is a filamentous algae that can be found in almost every pond or ditch. At the end of the summer
Spirogyra
and it's relatives Mougeotia and Zygnema grow to such numbers that they form a thick scum on the surface of the water. Not many people know what beauty lies hidden inside this formless mass. The chloroplasts are arranged in a variety of ways. In Spirogyra, it runs through the cell like a spiral.
Like their relatives the desmids, they belong to the phyla Gamophyta, the conjugating green algae. They have a very special way of reproduction. In one of the next issues of Micscape magazine you will read everything about how Spirogyra reproduces.
THE INSTITUTE FOR THE PROMOTION OF THE LESS THAN ONE MILLIMETRE


Comments to the author Comments to the author sent via our contacts page quoting page url plus : ('wegmond','')">Wim van Egmond are welcomed.
---
All Material Copyright: © Wim van Egmond
Please report any Web problems or offer general comments to the Micscape Editor,
via the contact on current Micscape Index.

Micscape is the on-line monthly magazine of the Microscopy UK web
site at Microscopy-UK

WIDTH=1
---
© Onview.net Ltd, Microscopy-UK, and all contributors 1995 onwards. All rights reserved. Main site is at www.microscopy-uk.org.uk with full mirror at www.microscopy-uk.net.