I compared BF, BF with a green interference filter, COL, DF, and DF with a blue filter using images taken from Stauroneis phoenicenteron. I used an achromat 40x objective with NA 0.65 for all DF work to ensure that my simple darkfield stop in my Abbe slider condenser offers optimal DF. I used a semi-apochromat 40x objective with NA 0.75 for BF and COL. Since the Abbe condenser offers an NA of around 0.75 when used dry, my setup for COL does not contain much light from the so-called DF component, which is light that is only captured by the objective when diffracted in the specimen plane. The results are depicted in Figure 2. When taking these photomicrographs, I carefully focused on just one row of dots located towards the middle of this diatom.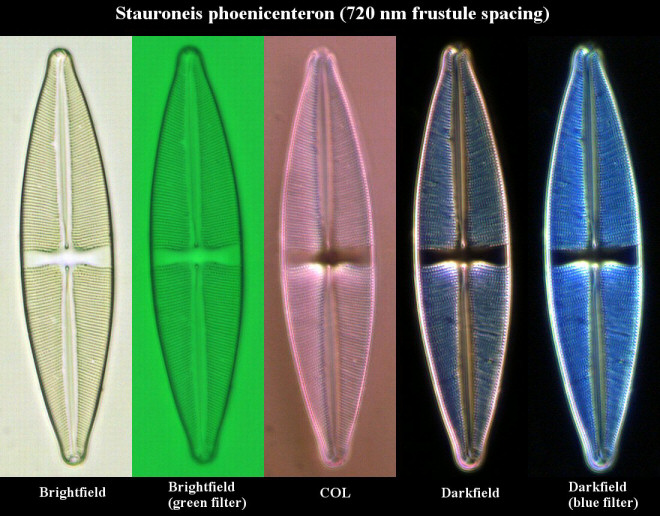 Figure 2 - Diatom Stauroneis phoenicenteron. For the first three images, I used a semi-apochromat 40x objective with an NA of 0.75. For the last two images (darkfield images), I used an achromat 40x objective with an NA of just 0.65. The images were recorded with a digital camera using a CMOS image sensor. (Click on image for larger version.)
In a second step, I cropped the row I selected for focusing, including some neighboring rows, out of each of the five individual images and enlarged the cropped sections by a factor of two for better visibility. I summarized the results in Figure 3. For reference, I also added a higher resolution image that I obtained with an achromat 100x objective with NA 1.25 using BF (see lower right image in Figure 3). Of course, I used immersion oil for this reference image. Figure 4 shows Stauroneis phoenicenteron observed with an achromat oil immersion 100x objective and an achromat condenser with NA 0.90 using BF. For Figure 4, I did not use immersion oil between the achromat condenser and the slide. Of course, Figure 4 does not show a real high-resolution image of this diatom. Using a special darkfield oil immersion condenser, finer detail could be revealed.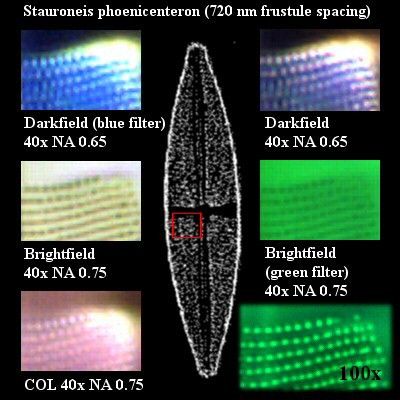 Figure 3 - Five of these image sections are taken from the images of Figure 2. The inset depicts a diatom with a red square surrounding the area that has been cropped out. The image, which is located towards the bottom right, shows the same section of this diatom recorded with an achromat 100x oil immersion objective with an NA of 1.25.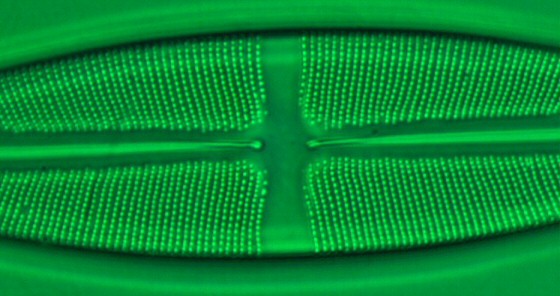 Figure 4 - For this image of Stauroneis phoenicenteron I used an achromat 100x oil immersion objective with an NA of 1.25 together with an achromat condenser with an NA of 0.90/dry using BF. A green interference filter was used. (Click on image for larger version.)
I was using a PixeLink PL-A662 FireWire digital camera. This device offers great flexibility to control the imaging process and connects directly to a C-mount adapter connected to a trinocular viewing body. When looking at these images of Figure 3 that were obtained with DF, we can easily see very bright sections indicating intensities that were not adequately captured by the digital imaging device (see upper right corners of the two topmost images in Figure 3). This has nothing to do with DF but is due to a limitation of the 10-bit sampling used by the digital imaging device. Today, most digital imaging sensors perform the analog to digital (A/D) conversion at a 12-bit or even 14-bit sampling rate.
DF is indeed a very powerful method to study the fine structure of diatoms. DF illumination is easy to setup and, a little to my surprise, I recognized more detail in this particular structure using DF together with the cheaper 40x objective than I was able to see with BF or COL using the much more expensive semi-apochromat.