In focus: Updated Dec. 21st.
'Diffracted light contrast: Improving the resolution of a basic light microscope by an order of magnitude' by W. Barry Piekos, Yale Univ. This article in the November 2006 issue of 'Microscopy Today' has, not surprisingly, prompted interest and discussions amongst microscopy enthusiasts, both in the public forums, i.e. see Yahoo Microscopes forum thread and personal communications. Essentially a very simple stop at the plane of the field lens iris and defocussed with condenser is reported to offer considerable benefits. As the practical aspects of the technique as reported seem repeatable by the enthusiast, it offers an opportunity to assess the technique on our own set-ups.
A pdf of the November 2006 article is hosted on Micscape with the kind permission of the 'Microscopy Today' Editor, Ron Anderson. The public domain US Patent 6,600,598 (2003) and an earlier paper in Microscopy Research and Technique describes the procedure but not the newer reports in the most recent article. ('Microscopy Today' is available as a free subscription to North American readers.)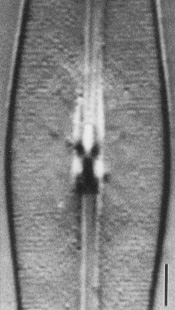 With thanks to two Micscape contributors for bringing this article and related resources to our attention.
Dec. 21st 'DLC' update. The author Barry Piekos has kindly sent us a recent image of the well known test diatom Frustulia rhomboides taken with DLC. Barry remarks: 'the striae in F. rhomboides have a periodicity of ~300 nm and they are easily resolved using my DLC technique. Indeed, it appears as though the dots are resolved in the upper left corner of the diatom'. Details supplied: Leitz plan fluotar 40x NA0.70 objective. Leitz Diaplan microscope. 40 mm opaque stop used at field iris plane as described for DLC. Image shared with author's permission.
Olympus Bioscapes 2006: The results of the 2006 Olympus Bioscapes International Digital Imaging Competition are online. Congratulations to the winners and hon. mentions.
Downloadable Micscape issues: these have only been available for the last three years to subscribers, but we are finding that the majority of subscribers don't take up the download offer but simply wish to support the venture. So we now offer them free to all readers now that broadband is becoming widely available.

Benefits:
- fully working copy of Micscape on your PC, browse articles at leisure without net access
- typically 10 - 15 MByte download each month (takes ca. 5 - 10 min on typical broadband connection)
- unzips to a dedicated directory with own magazine index and all fully illustrated articles
- has dedicated offline article search index
- for users with broadband access, all mags from Jan 2004 to present are available to download in zipped versions
- builds up over the months into an off-line resource
- please note that the downloadable current issue is available about 3 - 4 days after a new issue goes online
Click here for the downloadable Micscape issue index.